Anantara Siam Hosts Top Chef Thailand and Thaipioka Bar
for an Exclusive Dining Experience
18 – 20 October 2018
Anantara Siam Bangkok Hotel's signature Thai restaurant Spice Market will host Thailand's first Top Chef Tam, Chudaree Debhakam, with an elite dining experience for only 40 guests per evening from 18 – 20 October 2018.
Chef Tam is the first winner of Top Chef Thailand, the reality television culinary competition. Spice Market will feature an innovative menu crafted by Chef Tam exclusively for the special dining nights.
Select highlights from Chef Tam's special dinner menu include "Duck larb terrine and chicken liver mousse with Khao Kum rice grilled flatbread", "Thai Mackerel bushi fingerroot broth with cold egg-noodles", and "Blue swimming crab, white turmeric, and crab curry sauce".
The 3-night event will also be attended by Vipop Jinaphan (Tor), award-winning mixologists and Chanchai Rodbamrung (Boyd) head bartender from "Thaipioka" Bar, who will create a special cocktail menu themed around exotic Thai flavors such as "Niam – Kamquat", "Phraya Old Fashioned", "Tumeric Thai Tea" and "Ground Toasted Rice – Yogurt" to compliment Chef Tam's creations.
The 6-course dinner is priced at THB 3,500++ per person. (Prices are subject to 10% service charge and 7% government tax). Each dinner will take place from 6.30 pm, at Spice Market, 1st floor, Anantara Siam Bangkok Hotel (BTS Ratchadamri). Please book early to avoid disappointment.
For more information and reservations, please call +66 2126 8866 Ext. 1232 or email spicemarket.asia@anantara.com website www.siam-bangkok.anantara.com
About Chef Tam:
Chef Tam graduated from The International Culinary Center in New York City. She was the youngest competitor during her season of Top Chef Thailand. Since winning she has travelled and cooked in 6 different countries showcasing modern Thai cuisine.
Chef Tam's cooking focuses on responsibly grown and sourced local produce, with some traditional Thai flavours and modern American flare. She is the Chef Ambassador for Thai Harvest/SOS and UNEP campaigns and is an advocate of food waste reduction.
เอ็กซ์คลูซีฟดินเนอร์กับเชฟตาม ท็อปเชฟไทยแลนด์คนแรก
ณ ห้องอาหารไทย สไปซ์ มาร์เก็ต โรงแรมอนันตรา สยาม กรุงเทพ
18 – 20 ตุลาคม 2561
โรงแรมอนันตรา สยาม กรุงเทพ ร่วมกับเชฟตาม ชุดารี เทพาคำ ผู้ชนะเลิศท็อปเชฟไทยแลนด์ คนแรกของประเทศไทย (Top Chef Thailand) จัดป๊อบอัพดินเนอร์  ในวันที่ 18 – 20 ตุลาคม 2561  ณ ห้องอาหารไทย สไปซ์ มาร์เก็ต
เชฟตาม ชุดารี เทพาคำ ผู้ชนะเลิศจากการแข่งขันในรายการเรียลิตี้ ท็อปเชฟไทยแลนด์ ปี 2560 โดยเธอเป็นผู้เข้าแข่งขันที่อายุน้อยที่สุดในรายการ (อายุ 24 ปี)  เชฟตามจบการศึกษาจาก The International Culinary Center ประเทศสหรัฐอเมริกา และได้ร่วมทำงานกับเชฟแดน บาร์เบอร์ (Dan Barber) เชฟชื่อดัง ณ ร้านอาหาร Blue Hill at Stone Barns ในมหานครนิวยอร์ก ก่อนจะมาลงแข่งขันในรายการนี้
ในครั้งนี้ เชฟตาม ได้คัดสรรวัตถุดิบชั้นดีและมีเป็นเอกลัษณ์เฉพาะในแต่ละท้องถิ่น จากทุกภาคของประเทศไทย รังสรรค์ด้วยส่วนผสมสมุนไพรและเครื่องเทศ ให้สอดคล้องกับคอนเซ็ปของห้องอาหารไทย สไปซ์ มาร์เก็ต โดยจะนำเสนออาหารไทยในรูปแบบที่ทันสมัย  เมนูใหม่สำหรับดินเนอร์ 6 คอร์สสุดพิเศษนี้ คือ "เทอร์รีนเป็ดเครื่องเทศลาบเหนือและมูสตับไก่ เสิร์ฟกับขนมปังข้าวก่ำปิ้ง", "บะหมี่เย็น เสิร์ฟพร้อมซอสปลาทูกลิ่นกระชาย และผักดอง", "ยำปูม้าใบชะพลู พร้อมซอสแกงคั่ว และขมิ้นขาว", "ไก่ตะเภาทองอบขมิ้น เสิร์ฟกับข้าวเม่าดอยห่อใบขมิ้น และซุปไก่ข้น", "เนื้อซี่โครงวากิวไทย ตุ๋นซอสเครื่องเทศจีน 12 ชั่วโมง เสิร์ฟพร้อมลาซานญ่า ทำจากมันแกวและใบเหลียง" และ "พานาคอตต้าน้ำผึ้งป่า เสิร์ฟกับลูกหม่อนและครัมเบิ้ลน้ำตาลอ้อย"  ในราคา 3,500 บาท ++  ต่อท่าน (ราคาไม่รวมเครื่องดื่ม ภาษีมูลค่าเพิ่มและค่าบริการ)
นอกจากนี้ ยังมีค็อกเทลสูตรพิเศษ สไตล์ทรอปิคอล ปรุงโดยบาร์เทนเดอร์รับเชิญจาก ไทยพิโอก้า (Thaipioka) คุณต่อ-วิภพ จินาพันธ์ และหัวหน้าบาร์เทนเดอร์ คุณ บอย-ชาญชัย รอดบำรุง ที่โดดเด่นด้วยการใช้วัตถุดิบจากพืชผักและสมุนไพรของไทย อาทิ "Niam – Kamquat", "Phraya Old Fashioned", "Turmeric Thai Tea" และ "Ground Toasted Rice – Yogurt" เพื่อให้ได้รสชาติที่ลงตัวเมื่อทานคู่กับอาหารในค่ำคืนพิเศษนี้
สอบถามรายละเอียดและสำรองที่นั่งล่วงหน้า  เพียงคืนละ 40 ที่นั่ง 3 คืนเท่านั้น ตั้งแต่ 18-20 ตุลาคม 2561 เริ่มเวลา 18.30 น.  ณ ห้องอาหารไทยสไปซ์ มาร์เก็ต ชั้น 1 โรงแรมอนันตรา สยาม กรุงเทพ  (รถไฟฟ้า BTS ราชดำริ)   โทร.  0 2126 8866 ต่อ 1232 อีเมล: spicemarket.asia@anantara.com  เว็บไซต์ www.siam-bangkok.anantara.com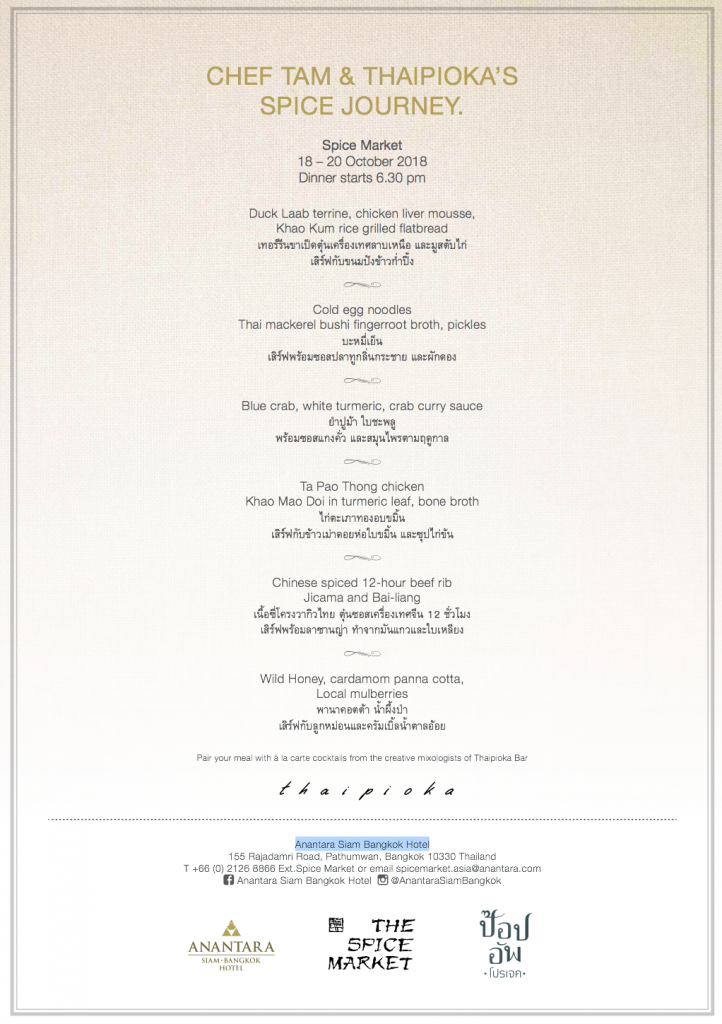 Related posts: