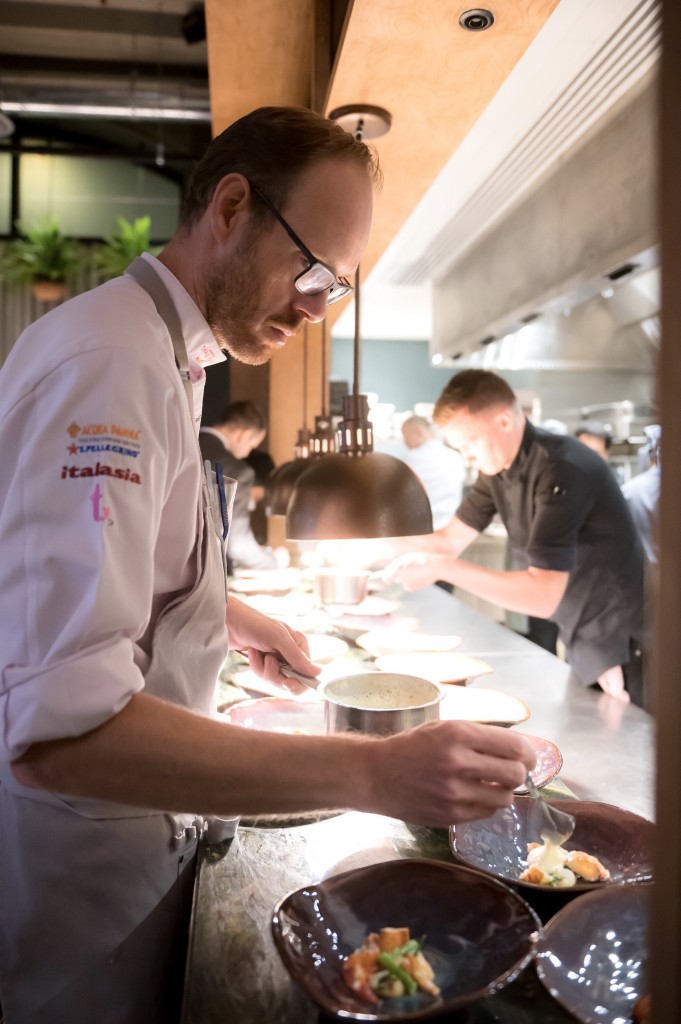 เชฟปีเตอร์ แกสต์ (Peter Gast) โด่งดังระดับหนึ่งดาวมิชลิน จากร้านอาหาร Graphite ในกรุงอัมสเตอร์ดัม  เป็น 1 ในบรรดาเซเลบริตี้เชฟที่มาร่วมงาน เวิล์ด กูร์เมต์ เฟสติวัล โรงแรมอนันตรา สยาม กรุงเทพ เมื่อเร็ว ๆ นี้
สูตรอาหาร ที่เชฟนำมาฝาก คือ Lobster – Onion / Asparagus / Sea Herbs / Mussel Curry  ลอบสเตอร์กับโฟมน้ำซุปหอยแมลงภู่  1 ในเมนู 8 จาน เสิร์ฟในเทศกาล เวิล์ด กูร์เมต์
เชฟเล่าว่า แท้จริงแล้วซุปหอยเป็นอาหารพื้นบ้านดัตช์  แต่ตัวนี้นำมาเพิ่มครีม  แครอท และใส่เครื่องเทศเคอรี่   ผสานด้วย หอมเล็ก  แอสพารากัสเขียว และผักเขียวที่เป็นพืชน้ำท้องถิ่นรสออกเค็ม เชฟฝีมือเยี่ยม  คุมการใช้วัตถุดิบได้ละมุนที่สุด  อย่างเช่นเครื่องแกงกะหรี่ที่ใส่ในซุป กินอร่อยช่วยชูรส แต่จับต้องแทบไม่ได้ไม่รู้สึก  รสชาติความอร่อยเป็นหนึ่งในที่สุดของ 8 จาน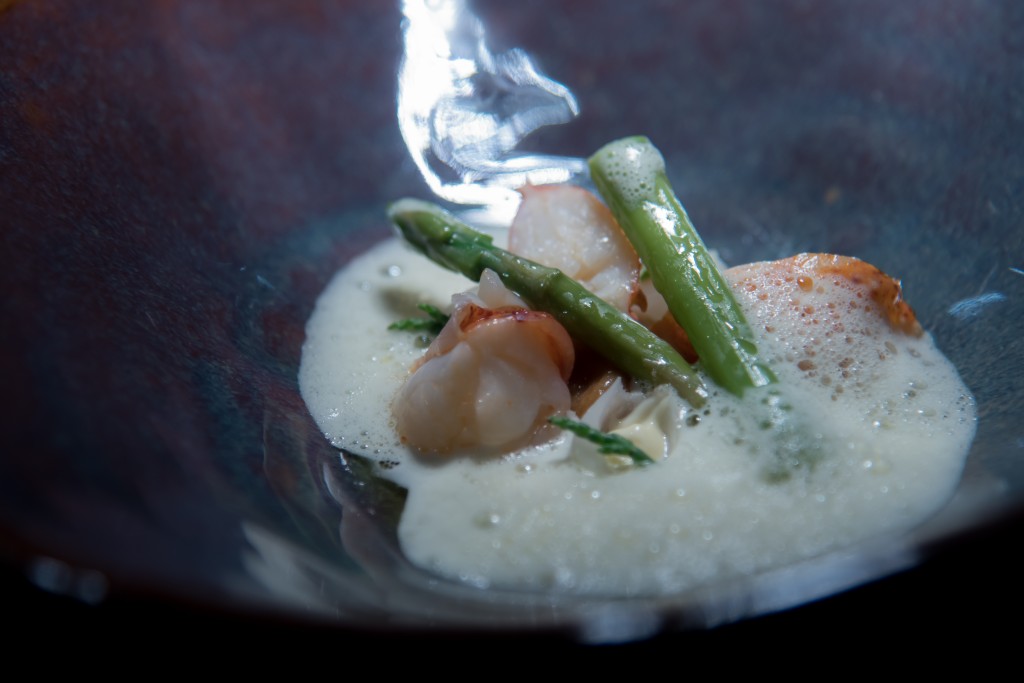 Lobster – Onion / Asparagus / Sea Herbs / Mussel Curry
Lobster
Needed:
• 1 lobster 600/700gr serves 8 pax 
Method:
3 minutes in boiling water/ clean and portion Keep in butter at 40 degree's under foil
Union creme
Needed:
• Union creme (40 pax) we serve a quenelle • 1 kg of sliced onions
• 200 gr butter
• 100 gr creme fraiche
• Salt to taste
Method:
Confit de unions in the butter untill really soft. Sieve and run thru kitchen blender..if to dry add the butter juice. Add creme fraiche and salt to taste. Run thru a fine sieve
Baby unions (Meloes union) Needed:
• 1 baby union per 2 persons 
Method:
Clean the mini meloes onions (button unions) and cook them in stock, let cool off en separate the segments. Fill the segment with lime mayonaise and garnish with seaherbs available
Lime mayonaise
1 liter serves 40 pax 
Needed:
• 1 liter sunflower oil
• zest of 1 lemon
• zest of 1 lemon
• 1 stalk of lemongrass • 2 grams of kaffir leaf
Method:
1⁄2 day in the roner Let it cool down Sif
Method:
Magimix, drop by drop oil
Asparagus green
Needed:
• One asparagus per person 
Method:
blanch 7 minutes and cool on ice water. Reheat in butter when served
Mussel curry sauce
1.6liter serves 50 pax 
Needed:
• 2 kg Zeeland mussels
• 1 liter of white wine
• 2 liter water
• 1 star anise
• 40 grams finely chopped carrot • 40 grams finely chopped onion • 40 grams finely chopped fennel • 20 gr parsley/garlic/celery
• 1 liter of double cream
• salt
• 35 grams of butter
• 35 grams of crème frache • 35 gr myoted curry
Method:
Sweat the vegetables in the pan. Add the mussels, along with the star anise. Shake these around in the pan and deglaze with white wine, add water until all mussels are covered.
Bring to a boil and let cool. Then strain and reduce the liquid till 1 liter is left Add 1 liter of cream and reduce till 1.5 liter is left
Season with salt, the butter and crème frache and the curry.
Serve & topping:
Serve the dish with seaherbs and seavegetables available in season
Related posts: