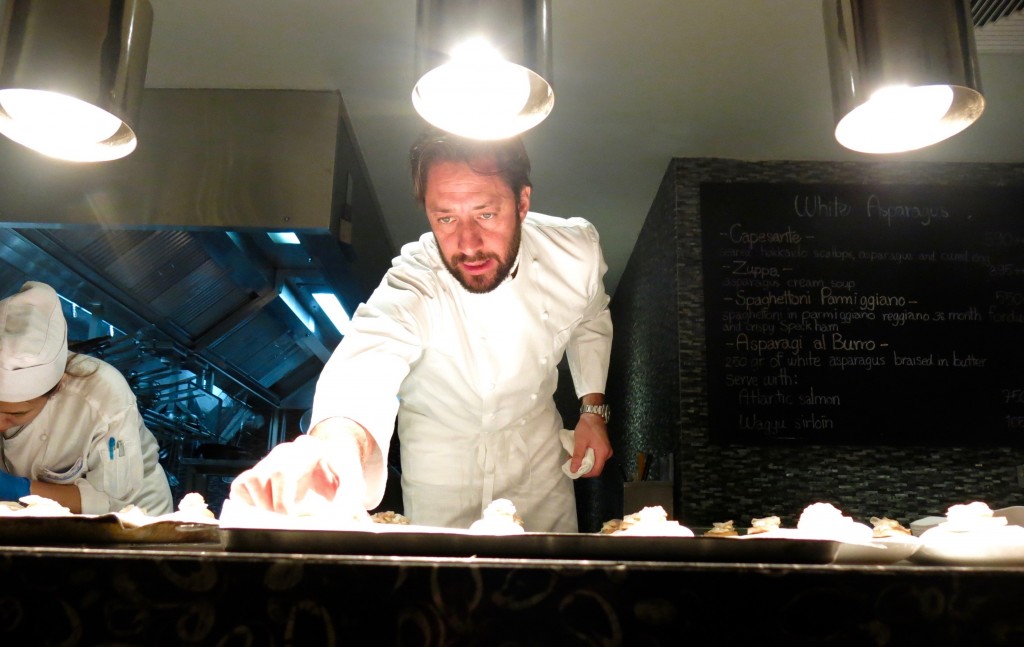 เมื่อเร็ว ๆ นี้  เชฟมิชลินสตาร์ระดับหนึ่งดาว Luigi Taglienti   แห่งห้องอาหาร LUME  จากเมืองมิลาน ประเทศอิตาลี  บินตรงมาปรุงอาหาร ณ  ห้อง La Tavola   โรงแรมเรเนซองส์ กรุงเทพฯ ราชประสงค์
หนึ่งในเมนู 5 คอร์ส อร่อยล้ำในแบบอิตาเลียนร่วมสมัย คือ "Risotto with Fresh Turmeric Root and Laurel Powder"  ข้าวอิตาเลียนหุงกรุบกรอบด้วยน้ำขมิ้นชัน ตามด้วยชีสพาร์เมซาน และน้ำไซทรัส  แม้จะปรุงตามแบบฉบับอิตาลีดั้งเดิม  หากสูตรนี้ประยุกต์ให้สดใสด้วยรสชาติบางเบา  จานนี้เชฟน่ารักมาก ให้ recipe  มาฝากกัน
RISOTTO WITH FRESHLY SQUEEZED TURMERIC ROOT, WILD BLACK PEPPER AND LAUREL POWDER
Ingredients for 4 people
For the lemon base: 10 lemons
Separate skin, supreme and juice of the lemons. Blanch the skin for 3 times.
In a large casserole with low sides let the lemon juice reduce of 1/3, add the supreme, the zest and leave to cook for at least 5 minutes.
Blend everything until you obtain a smooth cream.
For the turmeric base:
200g of fresh turmeric root deprived from the external skin and cut into a regular brunoise 50g of sparkling water
Blend the turmeric and the water together until you reach a smooth and homogeneous paste.
For the rice:
280g of Gallo Carnaroli rice
30g of fresh butter
20g of 16 months old Parmigiano Reggiano
1g of Penja white pepper powder
1l of boiling hot salted water, 3 grams of salt per liter
In a medium-sized casserole with a dash of heated olive oil, toast the rice grains, soften with water and bring to cook by adding water every time the preparation requires it. Once the rice is cooked, take the casserole off the hob and cook until creamy with butter, Parmigiano, turmeric paste and lemon cream.
Finishing and presentation
Ease the risotto on the plate and finish up with the laurel powder and wild black pepper.
Related posts: