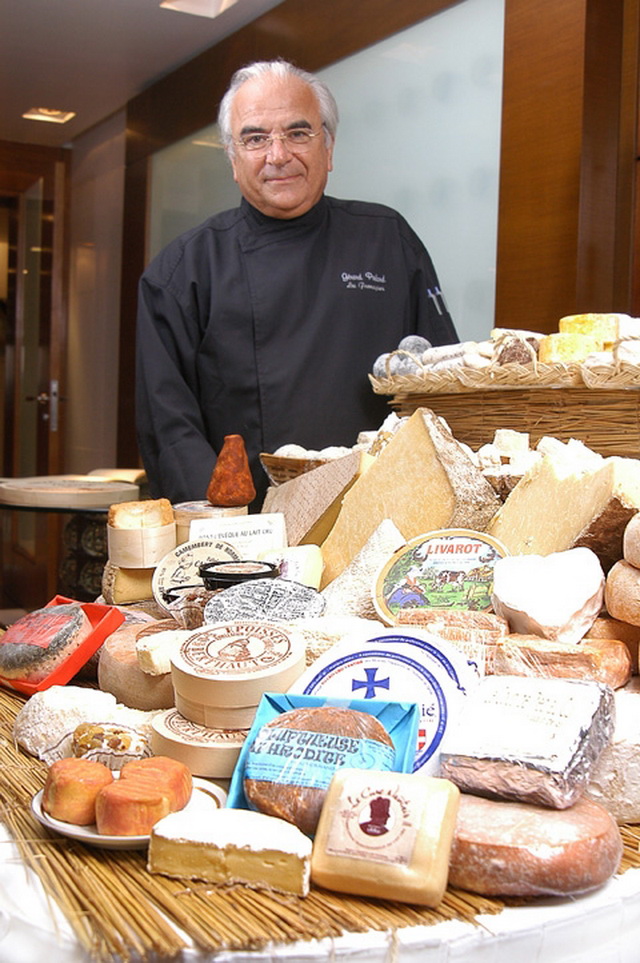 Scarlett Wine Bar & Restaurant, Pullman Bangkok Hotel G
9th -30th  June 2014
The third time's the charm, as France's official Cheese Ambassador to the world, Gérard Poulard, is back by popular demand to our very own Scarlett wine bar & restaurant in June 2014. On this visit, this famed "Maître Fromager", the Cheese Master, will present his 2014 Collection of Fromages de France, bringing with him 150 varieties of French farmed cheese from the best of France's boutique producers — available at Scarlett in June & July 2014.
 Since 1999, Gérard Poulard has become internationally renowned as the world's expert to the enjoyment and presentation of the fine cheeses sought after by gourmet dining restaurants in over 22 countries around the world. In collaboration with his son Olivier, he has received an ever increasing list of prestigious awards for his knowledge regarding France's most delectable exports, including The Order of Agricultural Merit, the Cordon Bleu France, and the Prosper Montagné from Quality House.
For over 20 years, the Cheese Master has travelled throughout the French countryside discovering its varied history and culture, especially every nuance concerning his favorite topic: cheese. His knowledge about France and its countryside is so vast that he sometimes even knows the name of the goat or cow from which the precious milk has been drawn.
Extremely passionate about cheese and his incredible collection of its knowledge, behind the cheeseboard, in front of the customer, Gérard Poulard impresses and arouses the desire of those who meet him, speaking about the unique flavors of various cheeses and allowing time to look at the cheeseboard. He carefully asks each guest about his cheese palate.
Come to Scarlett Wine Bar & Restaurant and meet the Cheese Master himself. Gérard Poulard will visit during 7th – 15th June to demonstrate his expertise in perfectly arranging the tastes and textures of a wide range of France's numerous cheeses into various mouthwatering combinations with breads, cold cuts, wines, fruits and teas. Fantastic cheeses such as Fourme Laqueuille Memee Aoc, Rigotte de Condrieux, Bouyguette du Segala Romarin, and so very many more, are on the way.
Among them are a selection of exquisite goat cheeses from France, a lesser known but delicious variety of cheese that possesses numerous health benefits over that made from cow's milk, including being substantially lower in fat and calories. Goat cheese is also higher in protein and calcium, as well being a good brain food that boosts metabolism and has heart beneficial properties along with other nutrients. There really is no excuse not to make this date with Scarlett and the Cheese Master.
His presence supported by China Airlines!
Scarlett Wine Bar & Restaurant is located on the 37th floor, Pullman Bangkok Hotel G
Open: Everyday from 6:00 pm to 1:00 pm
Book now via telephone: 0 2238 1991
or email: H3616-FB@accor.com
or Facebook: www.facebook.com/Scarlettwinebarbangkok
**********
ผู้เชี่ยวชาญด้านชีสชื่อดังจากประเทศฝรั่งเศส
กลับมาอีกครั้งตามคำเรียกร้อง
ณ ไวน์บาร์และห้องอาหารสการ์เล็ต  โรงแรมพูลแมน กรุงเทพ จี (สีลม)
มร. เจอราร์ด พูลลาร์ด ผู้เชี่ยวชาญด้านชีส (เนยแข็ง)"Maître Fromager" ชื่อดังจากประเทศฝรั่งเศส กลับมาเยือนไวน์บาร์และห้องอาหารสการ์เล็ต อีกครั้งตามคำเรียกร้อง ระหว่างวันที่ 17 – 22 มิถุนายน 2556 นี้ โดยการมาเยือนครั้งนี้ เจอราร์ด จะนำเสนอคอลเลคชั่น Fromages de France 2013 ที่พิเศษหลากหลายไปด้วยฟาร์มชีสชั้นดีส่งตรงจากประเทศฝรั่งเศสมากกว่า 150 ชนิด ซึ่งชีสทั้งหมดจะมีจำหน่ายถึง 31 กรกฎาคม 2556
ตั้งแต่ปี พ.ศ 2542 เป็นต้นมาชื่อเสียงของเจอราร์ด พูลลาร์ด เป็นที่รู้จักไปทั่วโลก ในฐานะ"ผู้เชี่ยวชาญด้านชีส" หรือ "Maître Fromager"  จากการขนานนามและเป็นที่ยอมรับจากร้านอาหารชั้นนำจาก 22 ประเทศทั่วโลก ด้วยพรสวรรค์ในการบ่มเพาะ คัดสรร และนำเสนอชีสคุณภาพเยี่ยมให้เป็นที่ประจักษ์ต่อผู้คน  โดยเจอราร์ด จับมือกับลูกชาย กวาดรางวัลต่างๆ มากมายจากองค์กรชั้นนำ  อาทิ เป็นผู้มีความเชี่ยวชาญด้านชีส – สินค้าบริโภคส่งออกชั้นนำที่อร่อยที่สุดของประเทศฝรั่งเศส รวมไปถึงรางวัล The Order of Agricultural Merit – รางวัลเกียรติยศสำหรับผู้สร้างชื่อเสียงให้กับวงการเกษตรกรรมของประเทศฝรั่งเศส The Cordon Bleu France – รางวัลจากสถาบันสอนทำอาหารอันเลื่องชื่อของประเทศฝรั่งเศส และ รางวัล The Prosper Montagnéจาก Quality House
นับเป็นเวลามากกว่า 20 ปี ที่เจอราร์ดได้เดินทางไปทั่วทุกแห่งหนของประเทศฝรั่งเศส ไม่เว้นแม้แต่ย่านชนบททั่วทุกภูมิภาค เพื่อเสาะแสวงหาความเป็นมาและวัฒนธรรมโดยเฉพาะลักษณะพิเศษ และลักษณะเฉพาะต่างๆของชีส ความรู้ความเชี่ยวชาญที่เขามีนั้น หาตัวจับได้ยากยิ่ง แม้แต่ชื่อชนิดของแพะ หรือวัวตัวนั้นๆที่เป็นผู้ผลิตนมชนิดต่างๆออกมา เจอราร์ดก็สามารถที่บอกได้เลยทีเดียว
เจอราร์ด พูลลาร์ด ผู้ซึ่งหลงไหลในชีสเป็นอย่างมากประกอบกับความรู้ที่เขาสะสมมามากมายด้านชีส เมื่อได้นั่งฟังเขาสาธิตให้เห็นถึงความพิเศษในเชิงรสชาติของชีสแต่ละชนิดแล้ว จะสร้างความประทับใจ และปลุกความสนใจของผู้ที่ต้องการจะลิ้มลองได้อย่างแน่นอนทีเดียว
คุณจะได้พบกับความเป็นเลิศของผู้เชี่ยวชาญด้านชีสคนนี้ในการคัดสรรรสชาติที่แตกต่างของชีสหลากหลายประเภท ซึ่งจะมีการจับคู่ชีสแต่ละชนิดให้เหมาะกับอาหารและเครื่องดื่มต่างๆ ขนมปัง ไวน์ โคลด์คัท ผลไม้ ชา และอีกมากมาย เพื่อให้คุณได้สัมผัสกับรสชาติที่เป็นเอกลักษณ์จากต้นตำรับอย่างแท้จริง
ในครั้งนี้ เจอราร์ดจะมานำเสนอชีสหลากหลายชนิดเช่น "Le brin d'amour" ชีสที่ทำมาจากนมแกะเพศเมีย "L'extase Deauvillais"  ชีสนมวัวจากนอร์มังดี "Le Chèvre Coeur", "Les têtons de Simone" ชีสที่ทำจากนมแพะผลิตโดย เกษตรกรนามว่า "ซิโมน" และอีกมากมาย  ซึ่งชีสต่างๆที่กล่าวมานั้นจะตราตรึงในความทรงจำของคุณไม่มีวันลืม  อย่าพลาดการลิ้มลองและพูดคุยกับสุดยอดผู้เชี่ยวชาญด้านชีสครั้งนี้
ไวน์บาร์ และห้องอาหารสการ์เล็ตตั้งอยู่ชั้น 37 โรงแรมพูลแมน กรุงเทพ จี
เปิดบริการ จันทร์ ถึง เสาร์ (ปิดวันอาทิตย์) ตั้งแต่เวลา 18.00น. ถึง 01.00น.
สอบถามรายละเอียดเพิ่มเติมและสำรองที่นั่งได้ที่ โทร 0 2238 1991
อีเมล์ H3616-FB@accor.com
หรือ เฟซบุ๊ค www.facebook.com/Scarlettwinebarbangkok
หมายเหตุ :เจอราร์ด พูลลาร์ด เดินทางมาประเทศไทยครั้งนี้ด้วยการสนับสนุนของสายการบิน ไชน่า แอร์ไลน์   และจะไปปรากฏตัวและแนะนำชีส ที่ห้องอาหาร เดอะบีชคลับ ที่โรงแรมพูลแมน พัทยา จี ในวันที่ 25 มิถุนายน เป็นพิเศษอีกด้วย เพื่อที่ท่านจะได้สัมผัสกับการสาธิตถึงฝีมือการนำเสนอชีสที่ไม่เหมือนใคร ในบรรยากาศริมทะเลอันแสนสบาย ณ โรงแรมพูลแมน พัทยา จี
——————–
By V
Related posts: