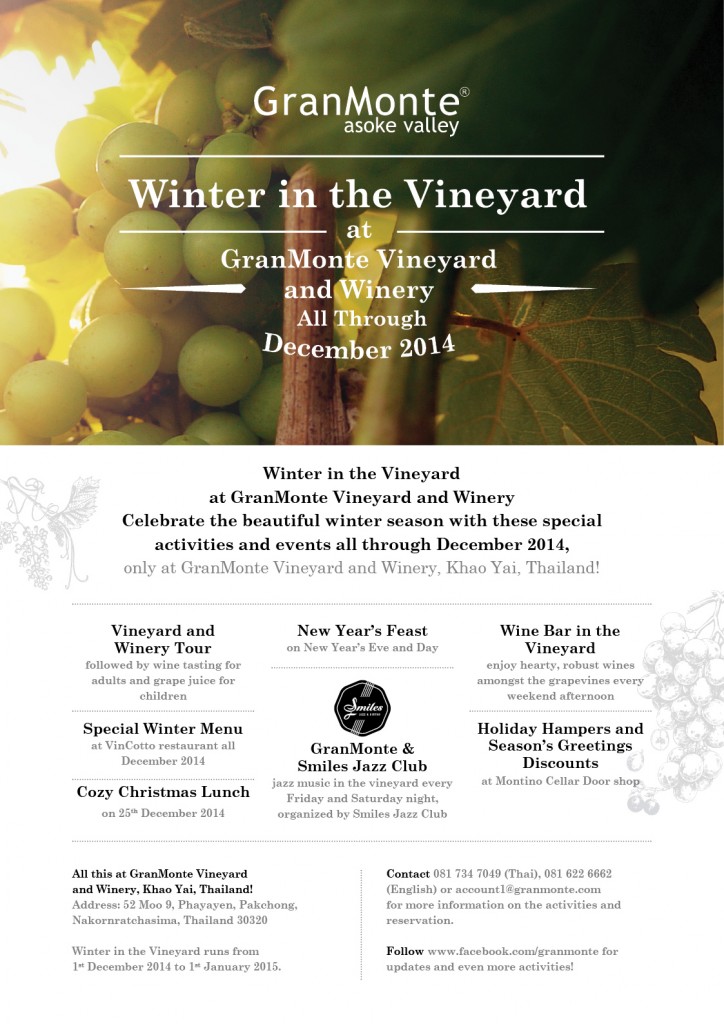 Winter in the Vineyard at GranMonte                                                            1st December 2014 – 1st January 2015
GranMonte Vineyard and Winery is set for a month long "Winter in the Vineyard"  events  filled with special dishes at VinCotto restaurant, discounts and gifts at Montino Cellar Door, and music on the weekends to enhance the festive mood . Running from 1st December 2014 to 1st January 2015, "Winter in the Vineyard" has something for everyone.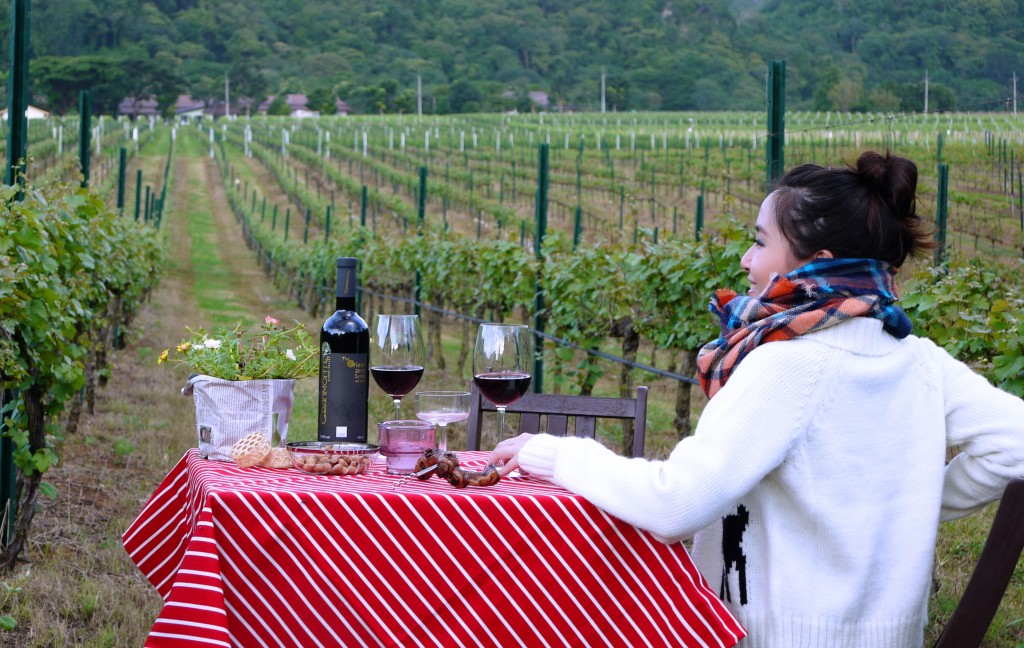 The VinCotto restaurant  offers  a special "Winter in the Vineyard" menu , for lunch and dinner,  in addition to the  regular menu. Special feasts for Christmas lunch, New Year's Eve, and New Year's Day are also on the programme.
A Vineyard and Winery Tour through GranMonte's vineyard will get everyone  to learn more about their vines and winemaking in just one  hour.  The popular tour will  end at the  wine  tasting room for a thorough wine tasting session for adults, with complimentary grape juice for minors.
To enhance the  festive mood at GranMonte, there will be special musical guests  every weekend.  Jazz performers from Bangkok's famed Smiles Jazz Club take the stage every Friday and Saturday night to liven up the atmosphere and add even more flavours to your VinCotto dinner.
The main band is Pomme Alysha & The Trio: Pomme is an experienced freelance vocalist and is trained both in jazz and musical theater. Her acting background adds wonders to her performance/presence as a singer, and we guarantee everyone will love the trio's exceptional jazz performance when they take the stage.
For New Year's Eve and Day, Will Corbin, Kitti Bronco and Damian Simpson will take the stage from 12 to 3 pm and again from 6 to 10 pm. Will Corbin and Kitti Bronco, both Thailand's Ukulele co-champions of 2011, have been performing together successfully for 4 years in various venues around Bangkok. Their performance incorporates a variety of styles and genres, both Thai and Western, including original songs from Will Corbin's 2013 album Au Contraire. Joined by Damian Simpson, a flugel horn player also featured on Au Contraire, their musical expression bleeds a mixture of class, groove, humor and folk, perfect for afternoons and evenings at the vineyard.
The weekend treats do not stop at music. With the beautiful weather and unrivalled view that GranMonte has, guests can also enjoy  the best of them all by relaxing at the  Wine Bar in the middle of  Vineyard  from 1 to 6 pm.  and  stroll  through the vines in the fresh cold air while tasting GranMonte's hearty, robust wines.
Montino Cellar Door shop at GranMonte is joining this season of giving by offering special discounts on select wines and homemade goods, with  rare limited-release wines to artisanal foods for you to bring home.
"Winter in the Vineyard" runs from 1st December 2014 to 1st January 2015. Contact 081 734 7049 (Thai), 081 622 6662 (English) or account1@granmonte.com for more information on the events and reservation. Follow www.facebook.com/granmonte for updates and even more activities!
หนาวนี้ที่ทุกคนรอคอย…. ไร่กราน-มอนเต้จัดกิจกรรม Winter in the Vineyard ตลอดเดือนธันวาคม พรั่งพร้อมด้วยสินค้าใหม่ๆ และโปรโมชั่นต่างๆจาก ร้านมอนติโน ร้านอาหารวินคอตโต้ จัดเมนูสำหรับเทศกาลฤดูหนาว เมนูคริสต์มาส เมนูส่งท้ายปีเก่าต้อนรับปีใหม่ มีดนตรีแจ็ส จาก Smiles Jazz Club มาร่วมสร้างบรรยากาศและสีสัน โดย Pomme Alysha & The Trio ตั้งแต่ 6 โมงเย็นถึง 4 ทุ่ม ในคืนวันที่ 5, 6, 12, 13, 19, 20, 26 และ 27 ธันวาคม
สำหรับกิจกรรมครอบครัว ท่านจะสนุกสนานไปกับการเรียนรู้กระบวนการปลูกองุ่นและทำไวน์โดย GranMonte Vineyard and Winery Tour   รถทัวร์พิเศษจะพาท่านพร้อมกับไกด์ท่องไปในท่ามกลางไร่องุ่นไวน์  โรงทำไวน์ จบด้วยการชิมไวน์สำหรับผู้ใหญ่ และน้ำองุ่นสดสำหรับเด็ก
พิเศษในคืนวันส่งท้ายปีใหม่ และวันขึ้นปีใหม่ ขอเชิญพบกับ การแสดงประกอบดนตรี จาก Will Corbin, Kitti Bronco, และ Damian Simpson
สำหรับท่านที่หลงใหลรสไวน์ เลือกเพลิดเพลินไปกับไวน์บาร์ Wine Bar in the Vineyard  จิบไวน์กราน-มอนเต้รสเยี่ยมท่ามกลางอากาศเย็นและเดินเล่นชมผลองุ่นที่เริ่มสุกงอมทุกบ่ายวันหยุดสุดสัปดาห์ และวันนักขัตฤกษ์ ตลอดเดือนธันวาคม จนถึงวันที่ 4 มกราคม 2558
ร้านมอนติโน มีของขวัญพิเศษต่อเนื่องตลอดเดือน  ทั้งสินค้าราคาพิเศษ  ของแถมมากมาย  ไวน์รุ่นพิเศษที่หาซื้อที่อื่นไม่ได้ อาหาร ขนมโฮมเมดต่างๆ รวมทั้งตะกร้าของขวัญที่สวยงาม
เทศกาล Winter in the Vineyard เริ่มตั้งแต่ 1 ธันวาคม 2557 ถึง 1 มกราคม 2558 ติดต่อขอข้อมูลเพิ่มเติมหรือสำรองที่ 081 734 7049 (ภาษาไทย) และ 081 622 6662 (ภาษาอังกฤษ) หรือ account1@granmonte.com
ติดตาม www.facebook.com/granmonteสำหรับข้อมูลใหม่ๆเพิ่มเติม
ท่านสามารถสั่งซื้อกระเช้าของขวัญผ่านทาง marketing@granmonte.com โดยดูรายละเอียดได้จาก www.granmonte.com
ที่อยู่ไร่กราน-มอนเต้ เลขที่ 58 หมู่ 9 ต.พญาเย็น อ.ปากช่อง จ.นครราชสีมา 30320 GPS Coordinate: 14.567980, 101.277780
Related posts: