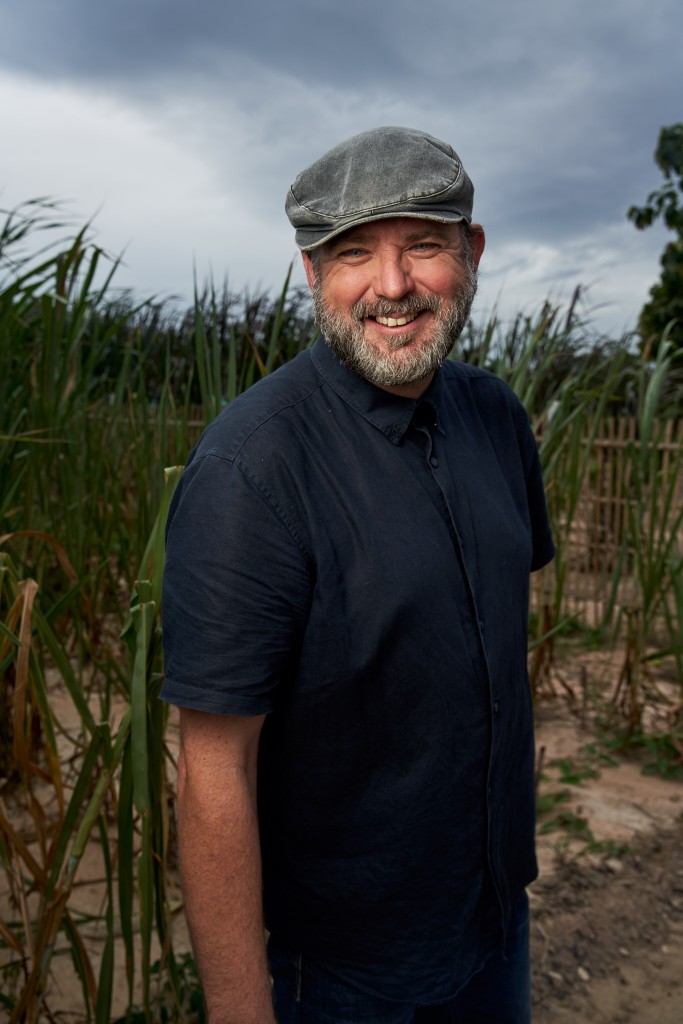 Banyan Tree Bangkok to Host "Culinary Farmer" Chef James Noble for Exclusive Pop-Up
Unique menu concept to showcase 2-Michelin Star
British Chef's own-farm grown ingredients 
Banyan Tree Bangkok announces an exclusive pop-up restaurant dining event featuring the unique culinary talents of Chef James Noble, renowned for his work in organic farming and agro tourism as well as his much acclaimed cooking.
Chef Noble, who was a mastermind behind the kitchens of two-Michelin starred restaurant in the UK, is founder of Ori9in, Thailand's first organic farm dedicated to the cultivation and enjoyment of gourmet-quality produce. The Chiang Mai farm-resort is a popular agro-tourism destination offering participatory tours and farm-fresh dining
The event will be presented in a white menu format in which guests specify their preference of preparation time and dietary direction while the chefs select the actual foods used. Utilizing the day's best available ingredients, Chef James and his team will prepare dishes that blend elements of cooked-to-order dining with the element of the unknown of Japanese omakase.
The Ori9in approach of sustainable, organic farming, "closed circuit" sourcing and white menu format emphasizes on maintaining a low carbon-footprint and reducing food waste.
Chef James Noble will assume the flash residency at Banyan Tree Bangkok for this rare event from 11 – 13 December 2020 at Saffron restaurant.
The dining package of THB5,999 includes
Dining experience for 2 persons
One night accommodation in Horizon room at Banyan Tree Bangkok (room only)
Complimentary admission to Ori9in Farm valid for 1 year for 2 persons
For further information to make reservations, please call Banyan Tree Bangkok at Tel: +66 2679 1200 or email: reservations-bangkok@banyantree.com.
About Banyan Tree
Banyan Tree offers a Sanctuary to rejuvenate the mind, body and soul in awe-inspiring locations around the globe. Rediscover the romance of travel as you journey to iconic destinations where authentic, memorable experiences await. An all-villa concept often with private pools, Banyan Tree provides genuine, authentic service and a distinctive, premium retreat experience.
About ORI9IN 
ORI9IN is the first gourmet organic farm in Thailand, where the number 9 in its name pays tribute to the country's farming father King Rama 9. Focusing on Agro Tourism, it grows the finest products for the industry and works with Michelin-star chefs, hailing from top restaurants and hotels through retained farming.
A joint venture with Banyan Tree Group, ORI9IN The Gourmet Farm offers managed organic farming and growing facilities focused on affordability and transparency. The farm is the brainchild of James Noble and Khun May of The Boutique Farmers Pak Nam Pran which now at an expanded scale, consumers can get involved at any level, learn the art of growing and save costs on healthier product suitable for both commercial tables and homes.
The ethos is rooted based on Sustainability, Traceability and Provenance of each harvested plant and produce on its supply chain journey to the table. ORI9IN is the only retained farming operation globally open to partnership of multi-operations and hotels. It has also innovated the world's very first White Menu dining experience, observing provenance and zero waste.
Related posts: