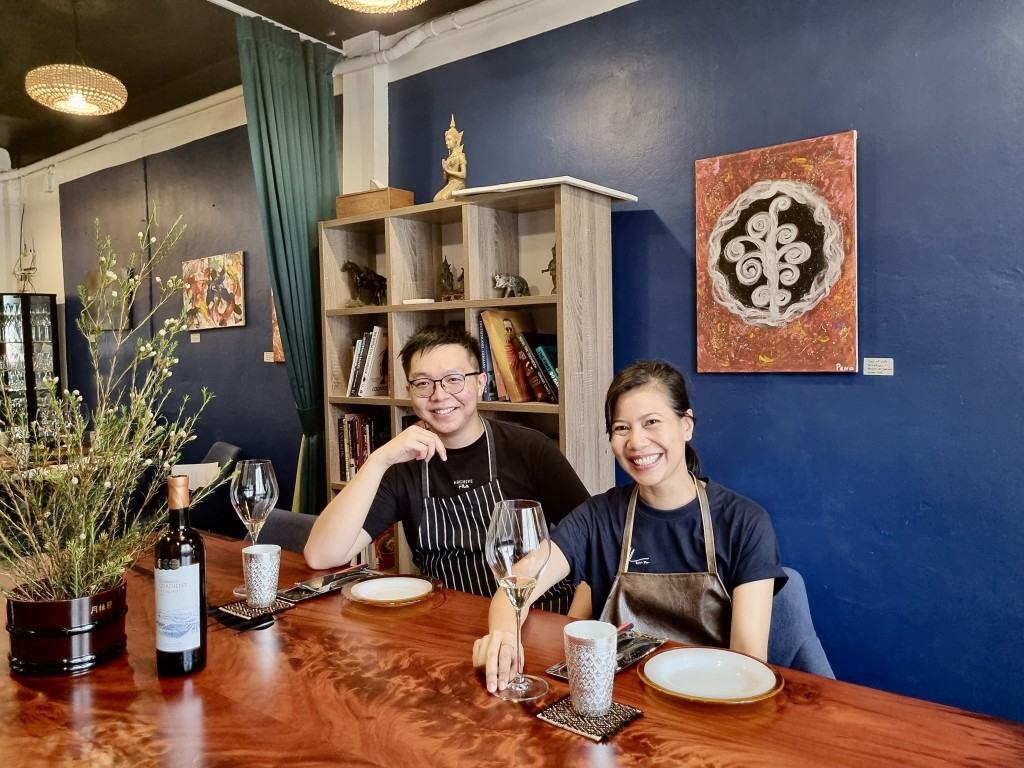 'Comfort Food Uprising' 
Kate's Place Supper Club (Bangkok) x Baanahchew (Singapore) 4 Hands Thai Dinner at Kate's Place Supper Club
This 6th and 7th May at Kate's Place  with Thai Wine Pairing by GranMonte Vineyard and Winery. 
"Max" Chew Min Xiong Wittawat of Baanahchew Singapore cooks at Kate's Place Supper Club Bangkok with "Kate" Pikun Wangsantia for 2 nights of elevated Thai comfort food.
The sudden uprising of homecooks or restaurant chefs turned private chefs taking it back to the roots with comfort food in private spaces has become somewhat of a phenomenon since COVID-19 disabled much of the commercial restaurant industry in the past 2 years. We may have sadly lost many of our favourite restaurants but from the ashes rose many of those cooks, chefs and other industry professionals who began their own entrepreneurial ventures and "Max" Chew Min Xiong Wittawat and "Kate" Pikun Wangsantia were no exception.
Both with backgrounds working in fine dining restaurants, "Max" Wittawat at the back of house cooking among the likes of Chef David Thompson and Chef "Ton" ThiTid Tassanakajohn and at the front of house, Kate who ran the floor and service team for Michelin Star restaurants, Suhring and Canvas in Bangkok. The two have now opened their own private dining style institutions, Max of Baanachew in Singapore and Kate of Kate's Place Supper Club in Bangkok. On the 6th and 7th of May 2022 guests may experience a set menu with elevated Thai dishes; snacks, starters, mains (sharing style), and desserts curated specifically for this special occasion. The dishes will be a culmination of both of the cook's own signatures with a twist and collaborative dishes between the two.
Max, Singaporean raised to Thai-Singaporean parents left Bangkok after a successful stint in fine dining kitchens in Bangkok, due to the COVID-19 situation. Max then set up a Chef's Table titled "Baanahchew". Baanchew which means "House of Ah Chew" operates from Max's apartment in Singapore. The style of cuisine reflects traditional Thai household meals but with strong technical flair and robust but finely balanced flavours. His 6-seater table "restaurant" has received much acclaim and is booked out until the end of 2022. His kitchen partner in crime and life, K.Alice (Thai born and raised) is also a large contributor to the success of Baanahchew and collaborates with Max on all the recipes, with Thai desserts dishes being particularly attributed to Alice.
Meanwhile over in Bangkok, Kate who left the fine dining service industry opened her own modest noodle shop specialising in Braised Chicken Feet was forced to shut down her commercial trading space in Sukhumvit 36 due to the COVID-19 restrictions, but if by serendipity, her personal room upstairs somehow became a place for friends and friends of friends to enjoy an excellent home cooked style Thai meal during the lockdown restrictions.
The secret meeting space, where attendance could only be guaranteed if invited by another, evolved into something more. Word got around about Kate's tasty Thai cooking until Kate decided to make it official. In November of 2021, Kate renovated the entire ground floor and second floor space, created a new set menu format and the 'no-name dining-room-above-the-noodle-shop', formally became Kate's Place Supper Club which opened to the public in January of 2022 and has been busy ever since!
Kate's Place offers a set menu based on homely uplifting Thai comfort food and the cosy and private, stylish room acts as a shared dining space (Supper Club) or can be booked out as a private dining room for celebrations or functions.
The partnership will also incorporate an optional pairing by GranMonte Vineyard and Winery in Khao Yai, Thailand's International award winning vineyard and winery. Since 1999 GranMonte, a family founded and run business, have pioneered the wine movement in Thailand and were also instrumental to Vitis vinifera development in the country. Each GranMonte wine from each vintage is a unique experience, and all of them are bound together by Nikki Lohitnavy, Thailand's first oenologist and the daughter of the GranMonte estate owner. Nikki is now considered a leading expert on tropical viticulture and winemaking Internationally. The GranMonte brand is fast becoming renowned in Asia, with fine restaurants in Singapore, Taiwan and Hong Kong supplying their labels and even in France you can find GranMonte on a wine list.  GranMonte has been named Best National Producer – Thailand in 2015, 2016, 2017 and 2019 by Europe's biggest international wine competition, AWC Vienna and all GranMonte wines are of Khao Yai Wine Geographical Indication.
Kate's Place – Supper Club (Thailand) x Baan Ahchew (Singapore) 4 Hands Thai Dinner with Thai Wine Pairing by GranMonte Vineyard and Winery.
Date: Friday 6th and Saturday 7th May 2022
Location: Kate's Place – Supper Club, Sukhumvit soi 36
9 Courses: 2 snacks / 1 starter / 5 mains / 1 dessert
Only 16 seats are available per night.
Highlight dishes:
Miang Hoi Chell | Wraps of chopped scallops, mango salsa and thai spicy lime dressing

Lon Moo Tao Jieow | Coconut cream relish of fermented soybeans, minced pork and lemongrass

Bua Loy Kai Waan | Homemade Thai glutinous rice balls with sweetened egg and coconut milk
Menu Price: 2,490 THB net / pp
Optional Wine Pairing: 3 glasses 890 THB net / pp
Rosé : 2020 GranMonte Sakuna Syrah Rosé

White : 2020 GranMonte Gradient Verdelho

Red : 2019 GranMonte Heritage Syrah Viognier
About The Chef/Cook 
"Max" Chew Min Xiong Wittawat Chef and Owner of Baanahchew
Born and raised in Singapore to Thai and Singaporean parents, Max has always curated an insatiable curiosity about Thai Cuisine which has led him to work for some of the most renowned and award winning Thai Cuisine chefs in recent times.
Being of Thai Chinese origin, Baanahchew which means "House of Ah Chew", incorporates the words for a traditional Thai household along with the uniqueness of Singapore's nicknames, and was founded during COVID-19 times as a platform for Max to learn and share the intricacies of Thai Cuisine to a wider audience.
Currently, Baanahchew operates out of a small home kitchen serving simple and rustic Thai food in Singapore.
Previous experiences; Long Chim in Singapore and Baagadin by Chef Ton.
 "Kate" Pikun Wangsantia, Cook and Owner of Kate's Place Supper Club.
At the start, there was no menu, I just used the ingredients that I would have in my kitchen from Boonlang, although over time I started to elaborate on the recipes as my passion and creativity grew for cooking dishes other than traditional and street style Thai food.
"I am certainly not a chef trained at any formal institution, but I have trained closely with one Thailand's Cooking Class Master in Chiang Mai, other than that I'm self-trained and have learned through life experience and plenty of experimentation. My background has been in fine dining service for many years. I've worked for Michelin restaurants such as Suhring and Canvas in a service management capacity, so I've always been around talented chefs and incredible food which also had some influence on me.
Once there was more demand from people to eat at the secret Supper Club, I began to visit different markets and developed my style of cuisine. I would say my food is not simply traditional or fancy but somewhere in between. It's more about how people feel when they eat my food. Someone once said that coming here and eating my food always made them feel "so happy" even when they were in a bad mood and there were a lot of people since the pandemic feeling sad and I felt it's an honour to be able to feed people and lift their spirits. To be in a place they feel they belong or a friend's place. Kate's Place."
More About GranMonte Vineyard and Winery 
GranMonte Vineyard is the story of a vision driven by Visooth Lohitnavy's passion for wine.
In 1999, a 12-hectare plot of land in the Northeast of Thailand, once a cornfield and cashew plantation, was about to realize its potential. It was here, nestled in the foothills of KhaoYai National Park, that Visooth settled with his wife, Sakuna and two young daughters, Nikki and Mimi. Soon, the land was cleared in preparation for his entrepreneurial pursuit. Little by little, Visooth studied vines and soil types, choosing the right varieties of vitis vinifera to discover those which would grow and yield fruit for the next generations.
GranMonte Estate is uniquely located in Asoke Valley, Khao Yai

The grandeur of Khao Yai mountain ranges has inspired the name "GranMonte", which translates to "big mountain".

At 350 meters above sea level and in a valley with a total area of 100 rai

GranMonte table grapes come in many varieties with or without seeds, such as Muscat of Alexandria and Hamburg, Thomson, Perlette and Maroo seedless grapes.

GranMonte has the ideal microclimate for growing high-quality grapes for winemaking in wet tropical region
Related posts: