French Alumni Association holds "333 Years from Versailles to Suan Luang Rama 9″ French Style Market in celebration of 333 years of Franco-Thai diplomatic relations
333 years ago when Ayudhaya succeeded in tying knots with France after King Narai sent his envoy to Louis XIV of France led by Orkpravisut Sunthorn, aka Chao Phraya Kosaparn, were not just 333 years of Franco-Thai diplomatic relations, but also 333 years of mutual learning and cooperation, since the first group of former Thai students had set foot in France.  King Narai had then selected 12 children from his entourage to be sent to Lycée Louis le Grand in France to study religion, fountain making, construction, silver and gold smith.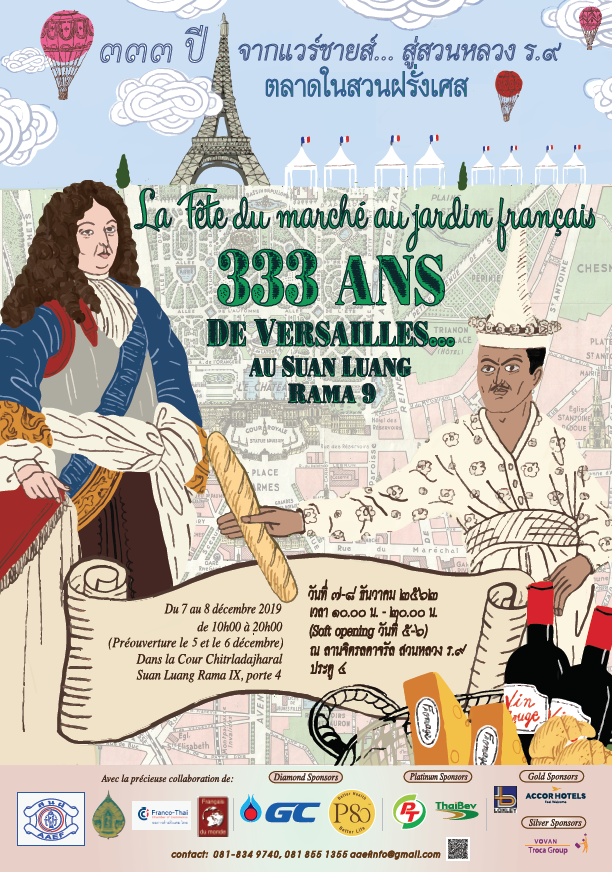 Since then tens of thousands of Thais went to pursue their education in France and returned to Thailand, bringing back knowledge, technologies, and culture, to make Thailand a greater Kingdom, most significant being King Bhumibhol  and  Queen Sirikit.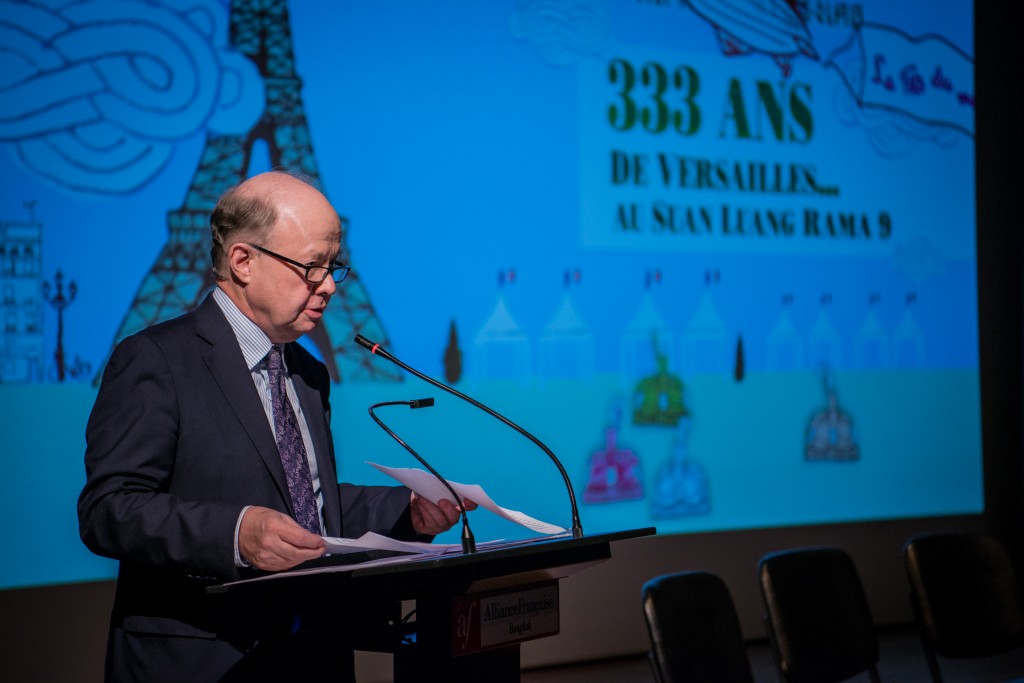 In commemoration of our beloved late King Rama 9 on the occasion of our National Father's Day and the 333rd anniversary of the Thai-French friendship, the French Alumni Association (AAEF), led by President Premika Sucharitkul, in collaboration with Suan Luang Rama IX Foundation,  the Franco-Thai Chamber of Commerce, Français du Monde Club, PTT Global Chemical PCL, and Natural Bev Co., Ltd., will organize an event in the French Garden within Suan Luang Rama 9 on December 7-8, 2019 at Chitraladajharal Courtyard.  Proceeds from this event will be used to renovate the French garden.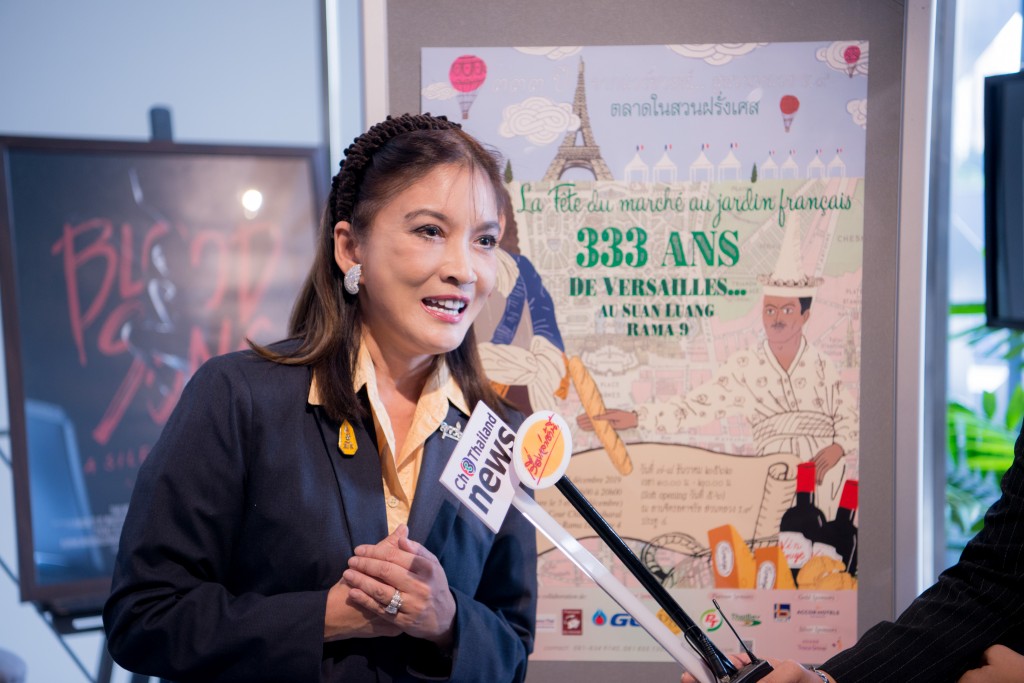 The Association will zap Versailles to Suan Luang so that Thais will be able to enjoy French taste and French products in the Marché de Noël – like ambience.  There will be several stalls selling products in Christmas Market style which is popular during the festive season around famous cities like Paris and Strasbourg. There will be a variety of arts and cultural performances including classical music and jazz performed by Thai and French artists such as Frank Herrgott, Catherine Barbier and the Cabaret des Invités, Natasha Patamapongse (Mellow Motive), Boss Ari, Cycle Brass Quintet and AJC Band.  On the artist corner there will be painting exhibitions from "Artists from the 2 Reigns" and painting lessons demonstrated by infamous Suchart Wongthong, Maitri Photharaj, Aphichai Karikan, Sanit Thiaworakul, Navee Ruengraniam, Tanit Duangdamrong, Jingjai Ooncharoenkit, Sippawat Pholsingh, and many more.  Makeup artist Montri Watlaead will turn your face into flowers to match the Suan Luang flower festivities.  There will be Montmartre style street artists creating your portrait in different styles as well as many corners for taking photos.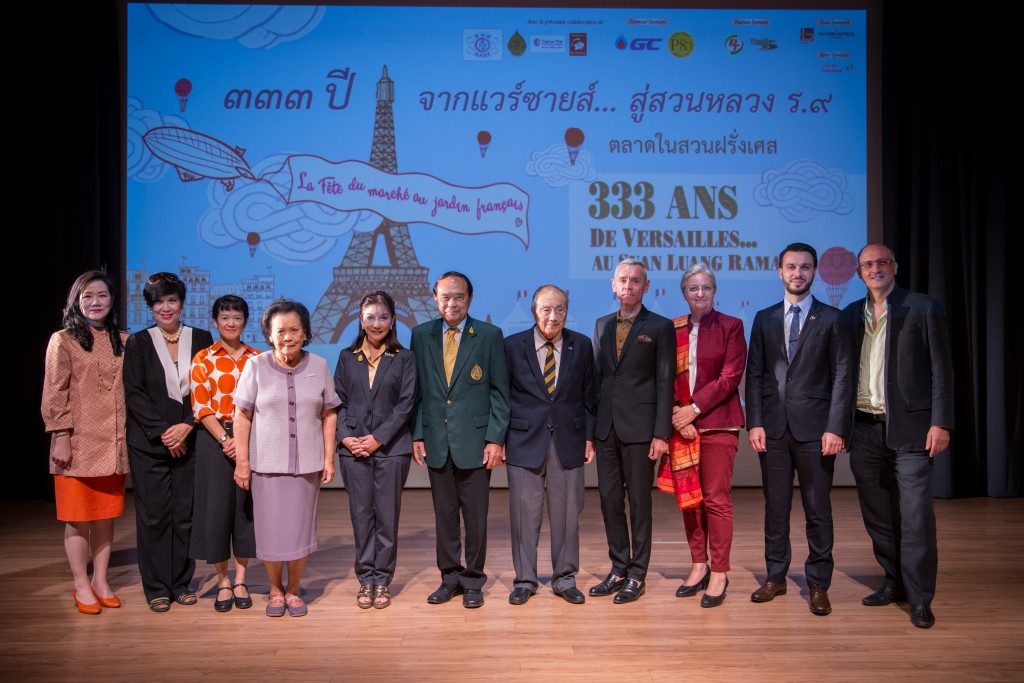 Highlight of the event is the light and sound presentation of Kosapan's journey "333 Years from Versailles… to Suan Luang Rama IX " in a way that has never been presented before, demonstrating the  journey of the Siamese Envoy from Ayudhaya to Brest with the marvels of Versailles through magical light and dance performances.
You are invited to experience the French style market at Chitraladajharal Courtyard, 
On 7-8 December 2019 between 10am and 8pm (soft opening on 5-6 December)
At Suan Luang Rama 9, parking at Gate 4, on Chalermprakiat Road
Save the date on December 7, at 17:00
Join the Reception and watch the 333rd year light and sound performance
Discover the unique Christmas tree lighting, created by PTTGC from plastic waste from the Oceans of Thailand
Tickets 1,000 baht / 500 baht for AAEF members / For reservation, contact 02 662 3023,  081 834 9740, 081 855 1355 aaefinfo@gmail.com Or register on-site from 3:00 pm onwards
Complementary limited edition stamps printed on the occasion of
"333rd year Thai-French relation"
Part of the proceeds to be donated to HRH Princess Maha Chakri Sirindhorn
"๓๓๓ ปี จากแวร์ซายส์สู่สวนหลวง ร.๙"
๓๓๓ ปีที่อยุธยาสามารถผูกมิตรกับดินแดนแห่งเมืองน้ำหอมสำเร็จ เมื่อสมเด็จพระนารายณ์ มหาราช ได้ทรงพระกรุณาโปรดเกล้าให้คณะราชทูตภายใต้การนำของออกพระวิสุทธสุนทร หรือเจ้าพระยา โกษาธิบดี (ปาน) ไปเจริญสัมพันธไมตรีกับพระเจ้าหลุยส์ที่ 14 แห่งฝรั่งเศสนั้น ไม่ไช่เป็นเพียง ๓๓๓ ปีแห่งสัมพันธภาพทางการทูตระหว่างไทยกับฝรั่งเศสเท่านั้น แต่เป็น 333 ปีที่นักเรียนไทยได้เดิน ทางไปเหยียบราชอาณาจักฝรั่งเศสเป็นครั้งแรก ในการนี้ สมเด็จพระนารายณ์มหาราชได้ทรงคัดเลือกลูก ของข้าราชการไทยจำนวน ๑๒ คนให้ติดตามคณะราชทูตไปยังประเทศฝรั่งเศสเพื่อศึกษาศาสตร์ต่างๆ ที่ "โรงเรียน หลุยส์เลอกรัง" (Lycée Louis le Grand) ได้แก่วิชาศาสนา, วิธีทำน้ำพุ, ก่อสร้าง ช่างเงินช่างทอง
นับแต่นั้นมา นักเรียนไทยหลายนับหมื่นได้ไปศึกษาต่อที่ประเทศฝรั่งเศส และกลับมาทำคุณประโยชน์ ให้แก่ประเทศชาติ โดยเฉพาะพระบาทสมเด็จพระบรมชนกาธิเบศร มหาภูมิพลอดุลยเดชมหาราช บรมนาถ บพิตร และสมเด็จพระนางเจ้าสิริกิติ์ พระบรมราชินีนาถ พระบรมราชชนนีพันปีหลวง  
เพื่อเป็นการน้อมรำลึกถึงพระมหากรุณาธิคุณของในหลวงรัชกาลที่ ๙ ในวันพ่อแห่งชาติและวาระ ครบรอบ ๓๓๓ ปีแห่งมิตรภาพไทยฝรั่งเศส สมาคมนักเรียนเก่าฝรั่งเศส นำโดย เปรมิกา สุจริตกุล - นายก สมาคมฯ ด้วยความร่วมมือของมูลนิธิสวนหลวง ร.๙ หอหารค้าไทยฝรั่งเศส ชมรม Français du Monde  บริษัทพีทีที จีซีจำกัด (มหาชน) และบริษัทเนเชอรัล เบฟ จำกัดจะจัดกิจกรรมในสวนฝรั่งเศส ณ สวนหลวง ร.๙ ในวันที่ ๗-๘ ธันวาคม ๒๕๖๒ ณ ลานจิตรลดาจรัล ประตู ๔, ถนนเฉลิมพระเกียรติ เพื่อนำรายได้ส่วนหนึ่ง มาบูรณะสวนฝรั่งเศส
ในงานนี้ สมาคมฯจะพาแวร์ซายล์ลัดฟ้ามาสวนหลวง… เพื่อให้ประชาชนได้มาชิม ชอบ ไช้ ใน สไตล์ฟรองเซส์โดยจะจำลองบรรยากาศของงาน "Marché de Noël" มีการออกร้านในรูปแบบของตลาด คริสต์มาสซึ่งชาวฝรั่งเศสนิยมจัดขึ้นช่วงเดือนธันวาคมตามเมืองสำคัญ อาทิ กรุงปารีสและสตราสบูร์ก   และ นำเสนอสินค้าฝรั่งเศส การแสดงศิลปวัฒนธรรมที่หลากหลาย เช่นเพลงพระราชนิพนธ์ภาษาฝรั่งเศส ดนตรี คลาสสิกและแจ็สโดยศิลปินทั้งไทยและฝรั่งเศส อาทิ Frank Herrgott Catherine Barbier และคณะ Cabaret des Invités ศิลปิน ณัฐชา ปัทมพงศ์ (Mellow Motive) Boss Ari วงดนตรี Cycle Brass Quintet AJC Band นิทรรศการ "ศิลปิน ๒ รัชสมัย" และมุมสอนวาดภาพโดยศิลปินชื่อดัง อาทิ อ.สุชาต วงศ์ทอง, อ.ไมตรี โพธิราช, อ.อภิชัย การิกาญจน์, อ.สานิต เธียรวรคุณ, อ.นาวี เรื่องระเนียม, อ.ธนิตย์ ด้วงดำรงศ์, อ.ชิงชัย อุ่นเจริญกิจ, อ.สิปปวิชญ์ พลสิงห์,  มุมแต่งหน้าดอกไม้ โดย อ.มนตรี วัดละเอียด ปรมาจารย์แต่งหน้าแห่งยุค  มุมถ่ายรูปที่ระลึกและมุมจิตรกรในสไตล์มองมารตร์ (Montmartre) จุดเด่นของ งานคือการแสดงแสงสีเสียงประกอบจินตลีลาจากบันทึกโกษาปานเรื่องการเดินทางของคณะราชทูตสยาม ใน รูปแบบที่ไม่เคยมีไครทำมาก่อน พบกับมหัสจรรย์แวร์ซายส์ใน "๓๓๓ ปีจากแวร์ซายส์สู่สวนหลวง ร.๙"
ขอเชิญชวนทุกท่านมาสัมผัสบรรยากาศฝรั่งเศสที่ลานจิตรลดาจรัล สวนหลวง ร.๙
วันที่ ๗-๘ ธันวาคม เวลา ๑๐.๐๐-๒๐.๐๐น. (soft opening เปิดอย่างไม่เป็นทางการ วันที่ ๕-๖)
จอดรถประตู ๔ ถนนเฉลิมพระเกียรติ 
งานเลี้ยงรับรองวันที่ ๗ ธันวาคม เวลา ๑๗.๐๐น.*
*ร่วมงานเลี้ยงรับรองและชมการแสดงแสงสีเสียง "๓๓๓ ปี จากแวร์ซายส์สู่สวนหลวง"
ชมพิธีเปิดไฟต้นคริสต์มาสประดิษฐ์จากขยะพลาสติกในท้องทะเลโดยบริษัท พีทีที จีซี จำกัด (มหาชน)
ราคา ๑,๐๐๐ บาท / ๕๐๐ บาท สำหรับสมาชิก ส.น.ฝ. / สำรองบัตรล่วงหน้าได้ที่ 06-662 3023, 081-834 9740,
081-855 1355, aaefinfo@gmail.com, หรือรับลงทะเบียนหน้างานเวลา ๑๕.๐๐ น.เป็นต้นไป
สมนาคุณด้วยสแตมป์ที่ระลึก ๓๓๓ ปี ไทย-ฝรั่งเศส
จัดทำจำนวนจำกัด เฉพาะงานนี้เท่านั้น
รายทูลเกล้าฯ สมเด็จพระกนิษฐาธิราชเจ้ากรมหลวงสมเด็จพระเทพรัตนราชสุดาฯสยามบรมราชกุมารี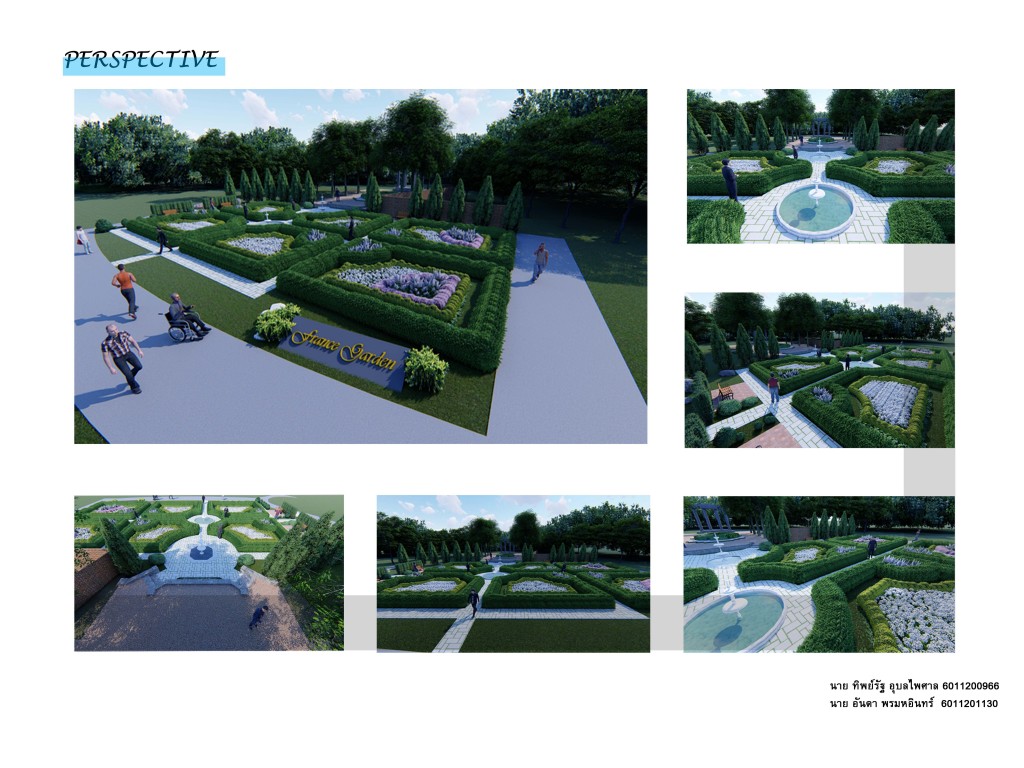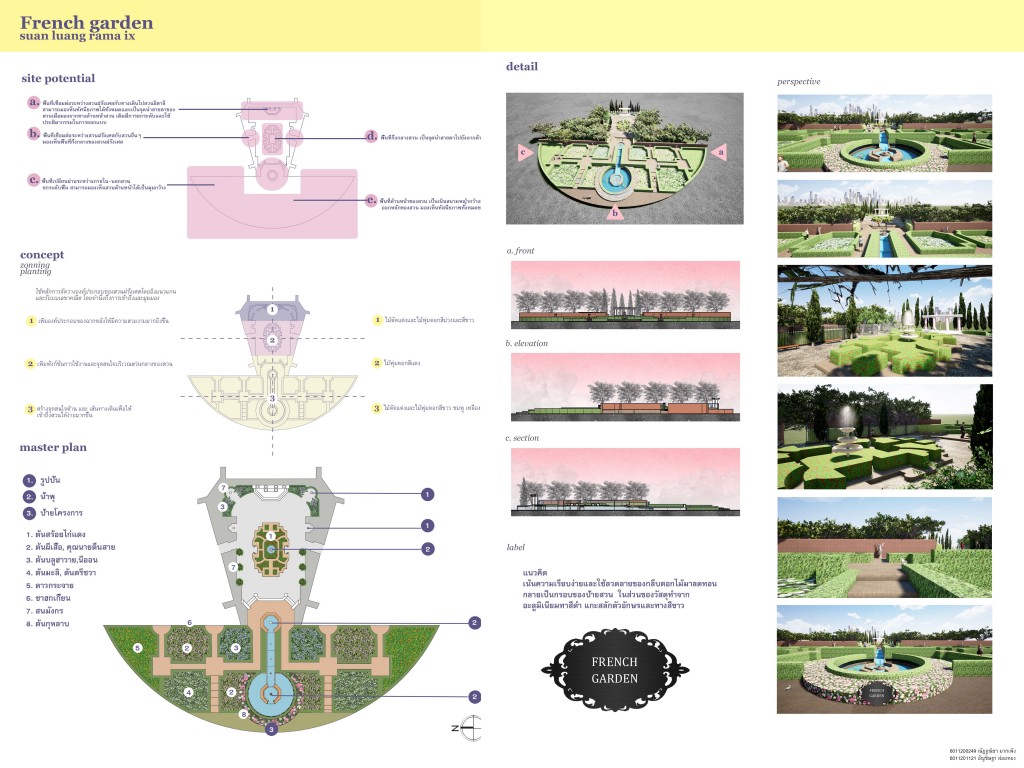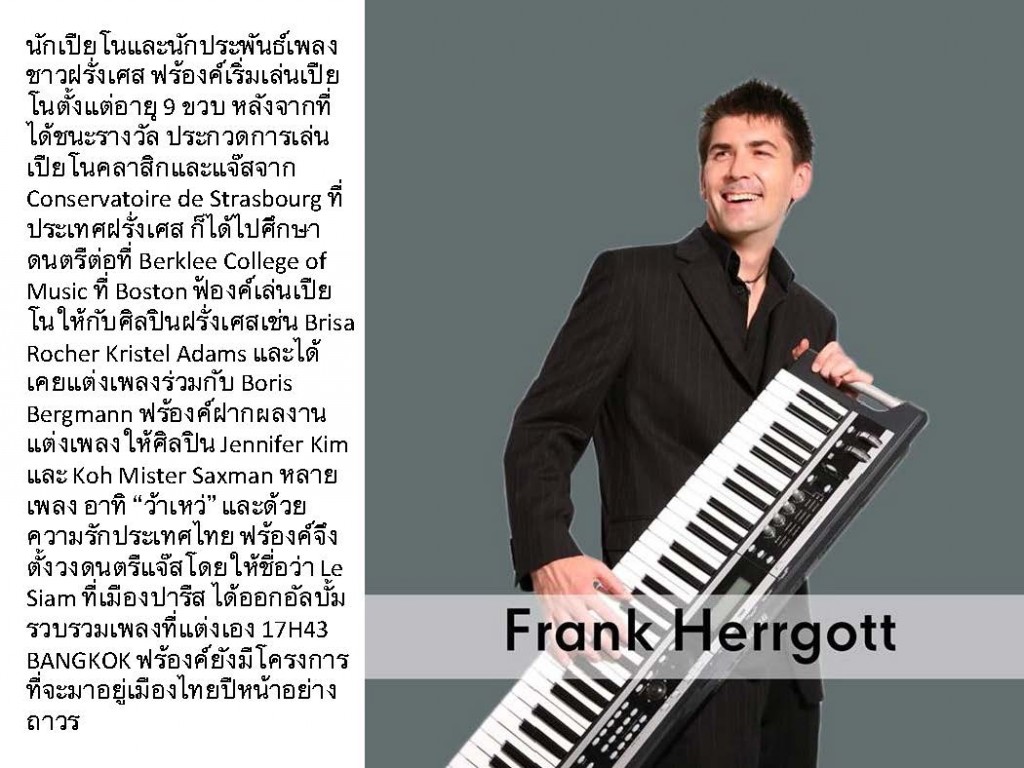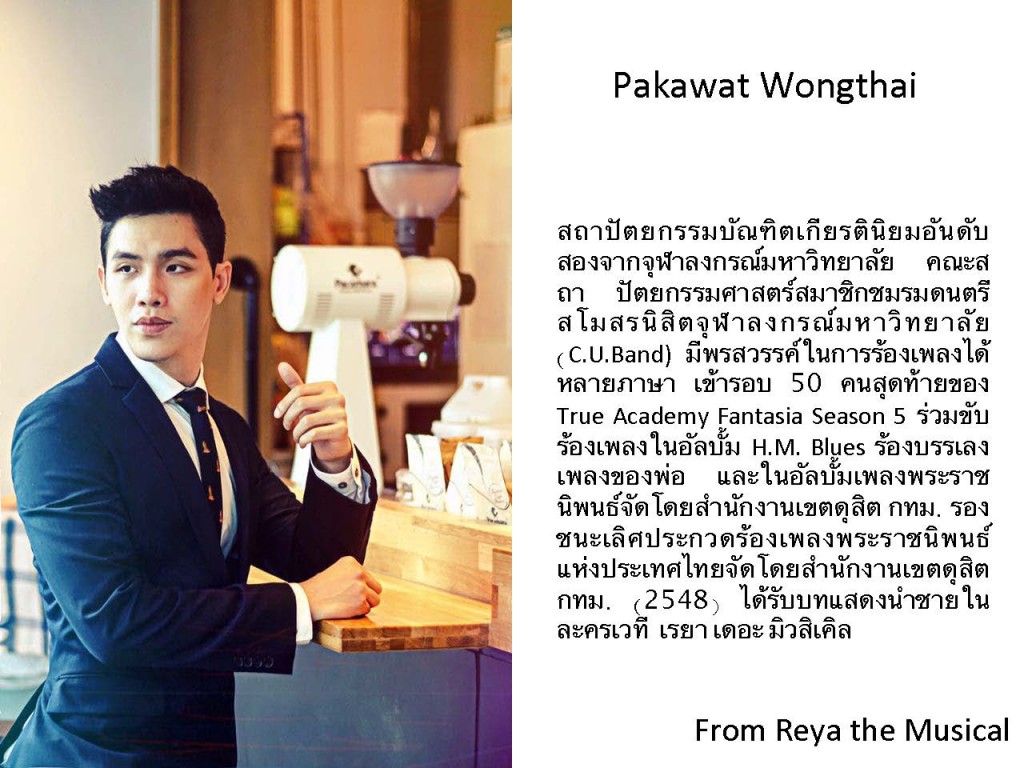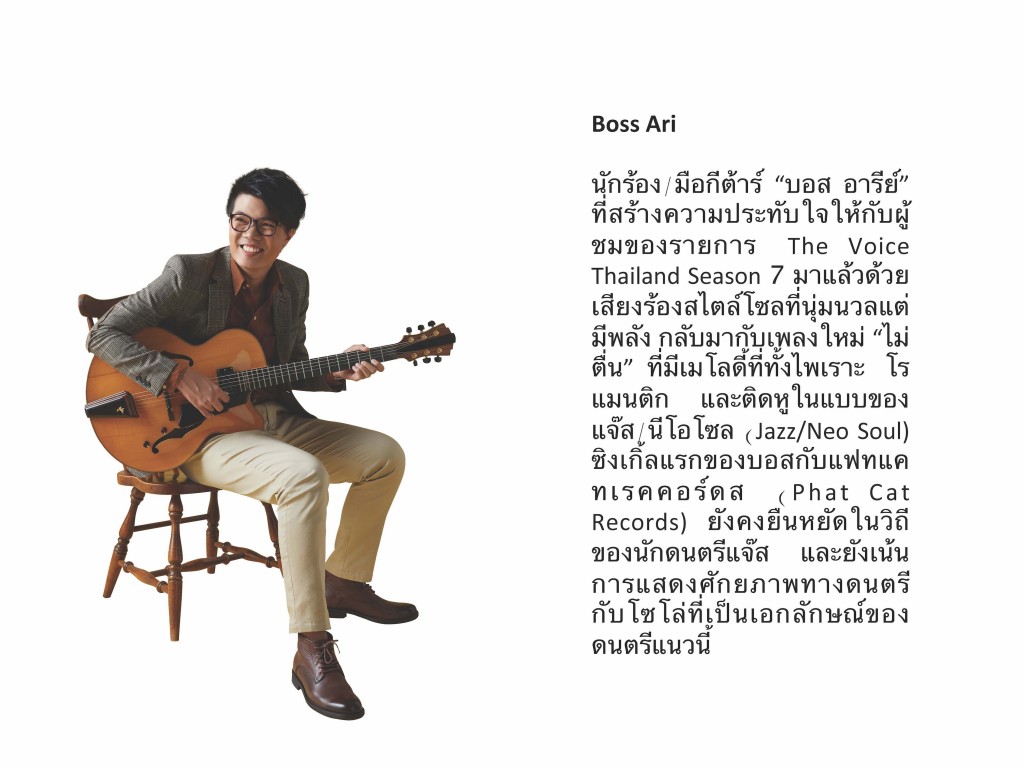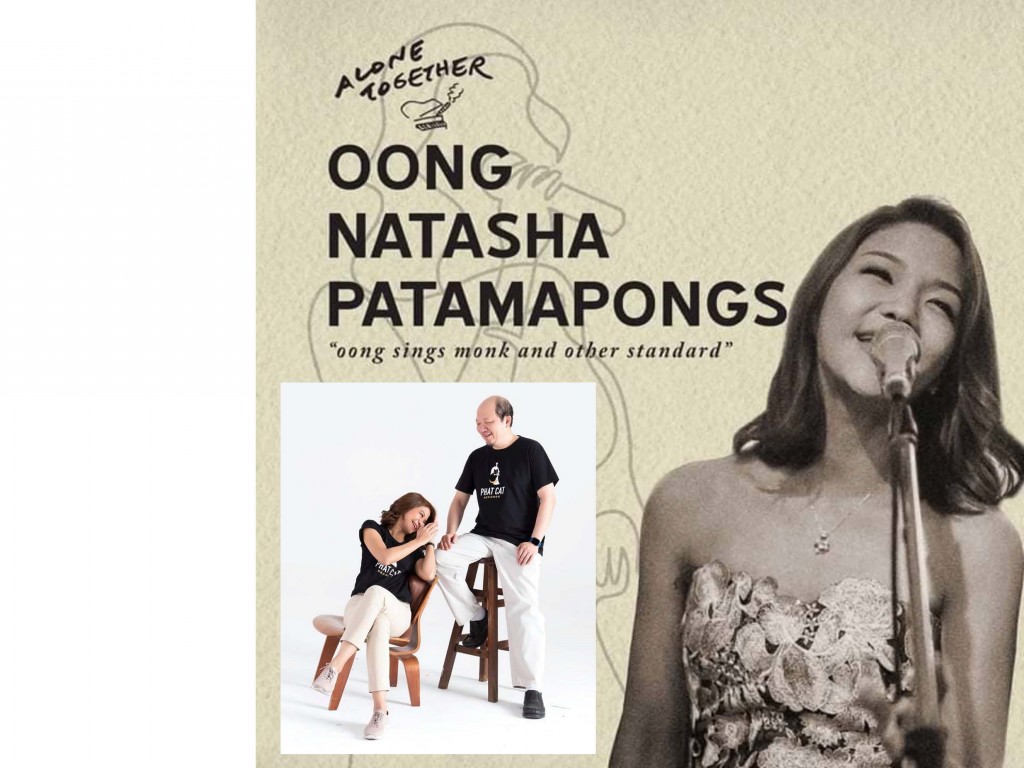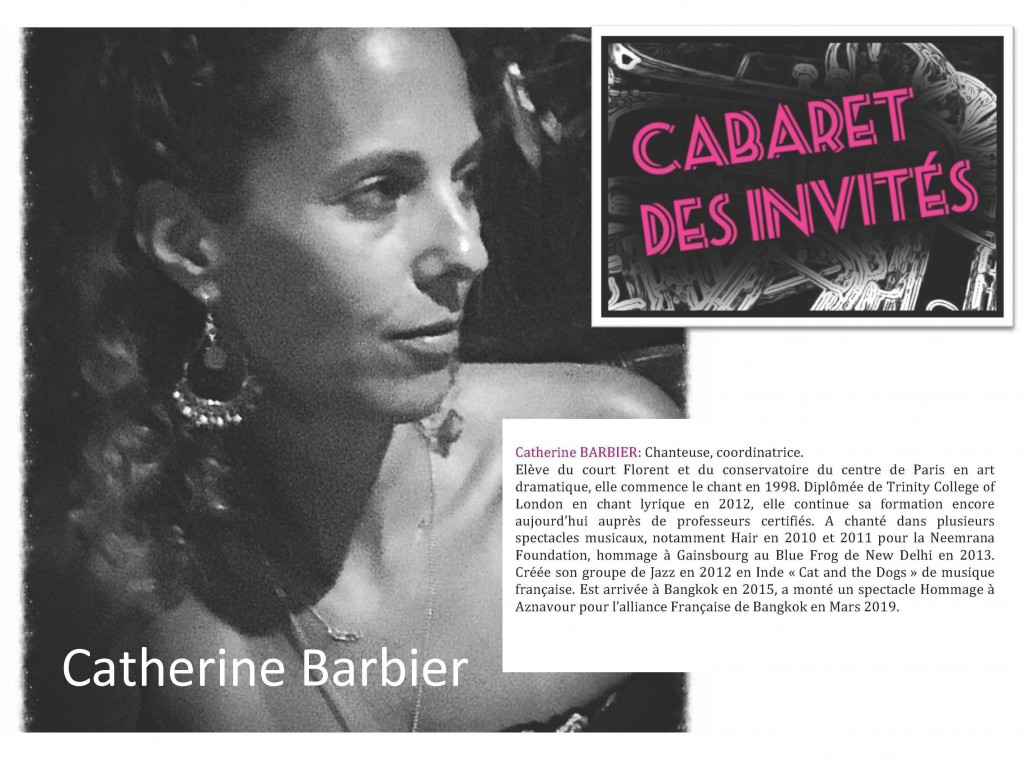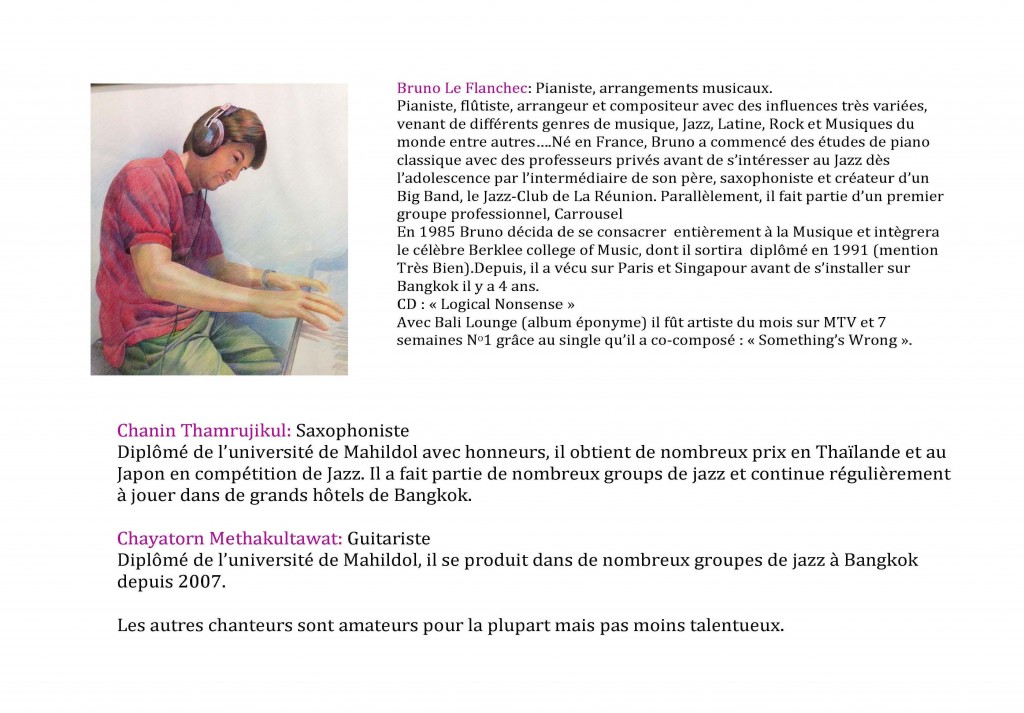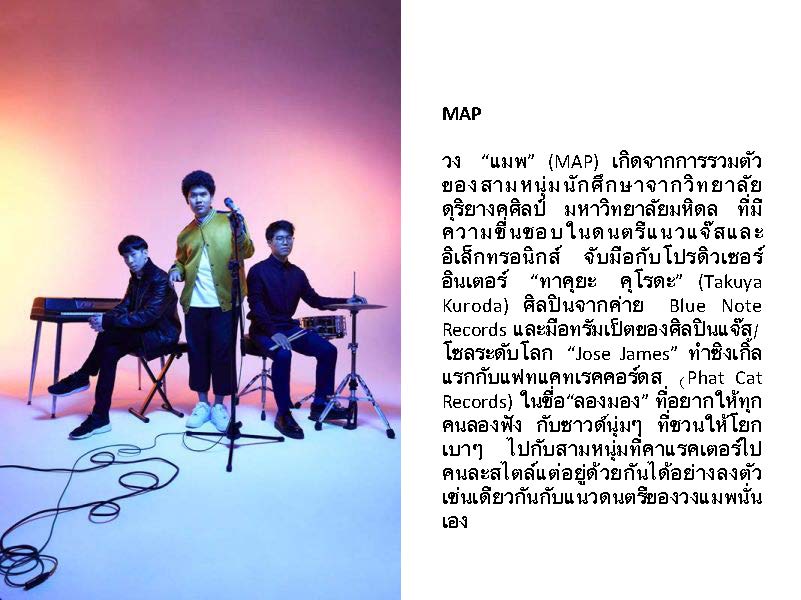 Related posts: