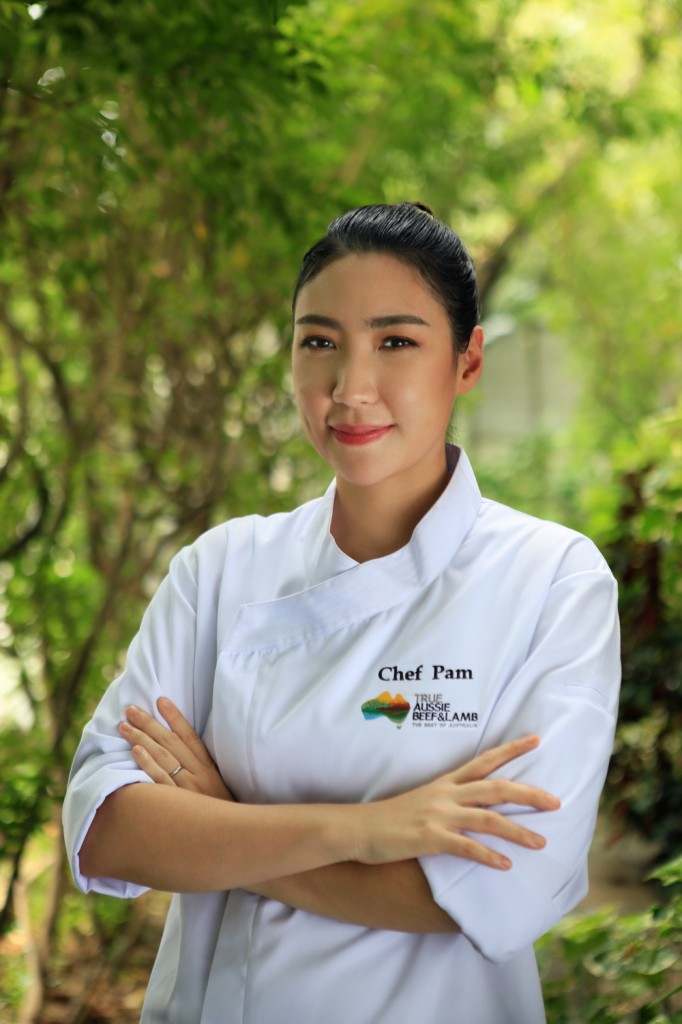 Celebration in every Bite: True Aussie Beef goes Thai to showcase its juicy brisket
No celebration meal is complete without an impressive main course. So, make this New Year festival dinner with friends and family unforgettable with an entrée that will shake things up. True Aussie Beef has singled out a popular Thai recipe to showcase its juicy brisket: Seua Rong Hai (Weeping Tiger) or Thai-Style Grilled Steak with dry chili dipping sauce.
This uncomplicated dish, legend has it, is so delicious it could make a tiger weep. The recipe calls for simple everyday ingredients available at the local supermarket. Plus, cooking is easy and stress-free – everyone can cook it at home with minimal effort and join in the holiday fun with the family.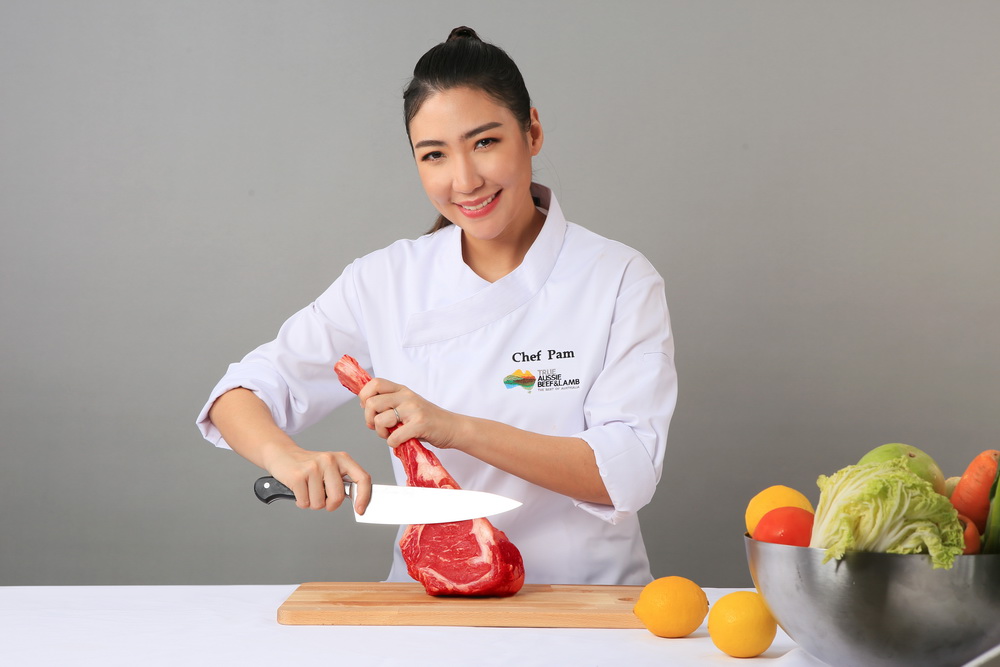 To create the best version of the 'Weeping Tiger', Chef Pam – Pichaya Utharntharm – Celebrity Chef and True Aussie Beef Brand Ambassador has selected the Australian Beef brisket. The simple dry rub and the grilling bring out the Australian beef's natural flavor. Additionally, the quality of the beef elevates the unforgettable flavors of this traditional Thai dish. Australia is renowned for its delicious beef as a result of its vast green pastures where the livestock grazes, sustainable farming practices, stringent quality control and strict measures for raising, treating and processing livestock. The resultant beef is of extremely high quality and taste. Perfect for this very recipe where the meat is centerstage.
Chef Pam chose the brisket as it is perfect for slow cooking – cooked low and slow makes the brisket tender and juicy. Besides, the brisket has a robust meaty flavor, meatier than other slow-cooking cuts like chuck, and is perfect for the spices used in this recipe. The key, she says, is to give this cut of beef plenty of time to cool at low temperatures. So slow-cook it smoked, slow roast it or slow grill it to break down the connective tissues for tender and sliceable beef.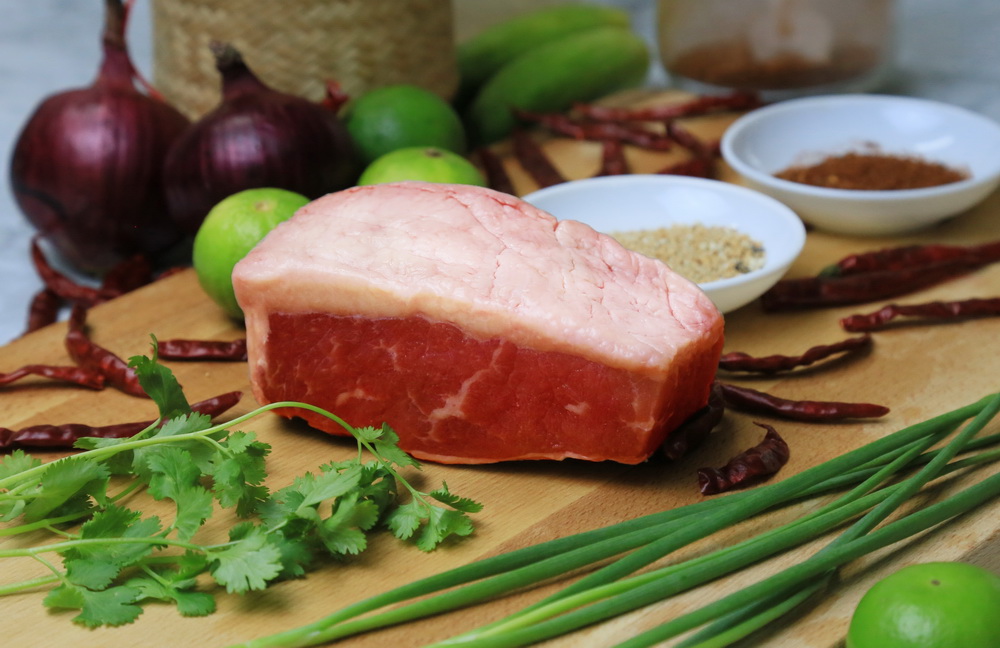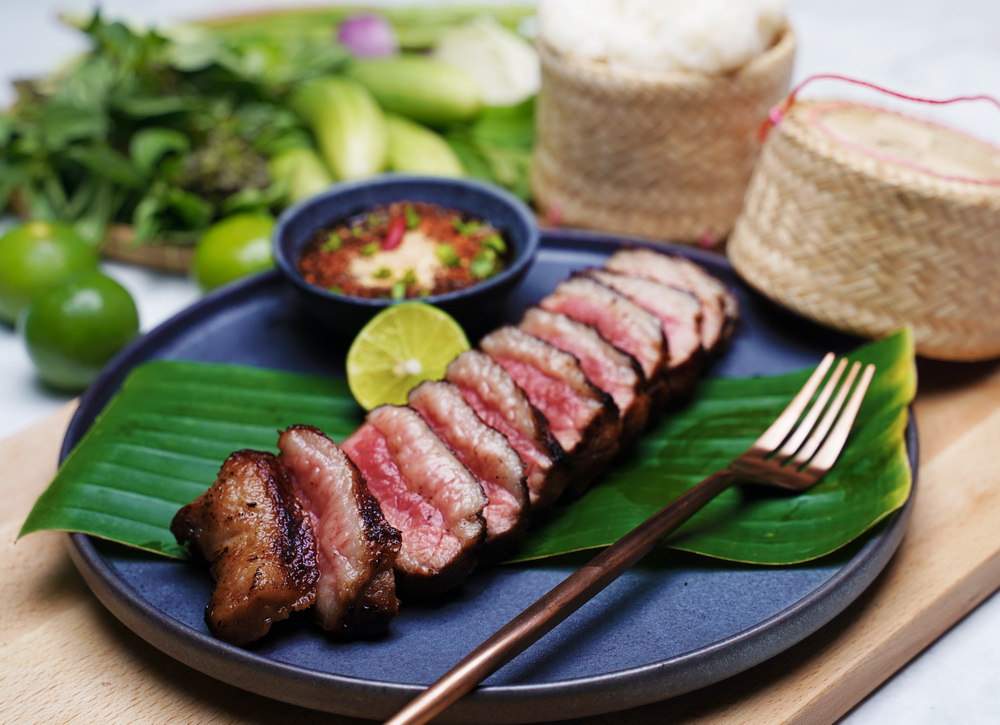 Chef Pam's Beef Brisket recipe 
All ingredients are readily available in any supermarket.
Steak
500 g Australian Beef Brisket
½ tsp Salt (or to taste)
Dry Chili Dipping Sauce
1 tsp Lime Juice
1 tsp Tamarind Paste
2 tbsp Fish Sauce
1 tsp Toasted Rice Powder
1 tsp Chili Powder
5 g Chopped Cilantro leaves
5 g Chopped Spring Onions/Chives
Method
Preheat the pan to medium.
Lightly rub salt on the brisket.
Pan grill the brisket for 3-4 minutes and remove from heat. (Adjust cooking time depending on the thickness of the cut and your preference)
Rest the brisket for 2 minutes before slicing into it.
To make the dip, mix fish sauce, lime juice, tamarind paste, toasted rice powder, chili powder, cilantro leaves, and spring onions/chives.
Serve with sticky rice and fresh crunchy vegetables.
For more information about True Aussie Beef please go to https://www.trueaussie.co.th/
About Meat & Livestock Australia (MLA)
Meat & Livestock Australia Limited (MLA) is the marketing, research and development body for Australia's red meat and livestock industry. It is a not-for-profit organisation owned by cattle, sheep and goat producers. MLA uses the True Aussie Beef and Lamb brand, to promote Australian red meat in export markets (Internationally), representing Australian beef, veal, lamb, and goat to showcase the value of these products while sharing the True Aussie Beef and Lamb story. For more information about True Aussie Beef please go to https://www.trueaussie.co.th/ and Facebook True Aussie Beef & Lamb Thailand
เปิดเมนู "เสือร้องไห้" พร้อมน้ำจิ้มแจ่วแซ่บๆ ต้นตำรับไทย  ทำเองง่าย ๆ ได้ที่บ้าน
เชฟแพม-พิชญา อุทารธรรม เปิดสูตรหมักเนื้อออสเตรเลียย่างแสนอร่อยเพื่อเติมเต็มความสุขให้กับช่วงเวลาพิเศษ กับเมนู "เสือร้องไห้" ต้นตำรับไทย พร้อมสูตรน้ำจิ่มแจ่วแบบแซ่บๆ ที่ไม่ว่าใครก็ทำเองง่ายๆ ได้ที่บ้าน เพราะวัตถุดิบทั้งหมดของเมนูนี้สามารถหาซื้อได้ที่ซุปเปอร์มาร์เก็ตชั้นนำทั่วไป   รับรองคอเนื้อทั้งหลายจะต้องเต็มอิ่มไปกับรสชาติเนื้อออสเตรเลียที่ทั้งความนุ่ม ชุ่มฉ่ำ และรสเข้มอร่อยทุกคำที่ลิ้มลอง ผสานเข้ากับวัตถุดิบเครื่องเทศตำรับไทยที่แซ่บถึงใจคนรักเนื้ออย่างแน่นอน
เชฟแพม-พิชญา อุทารธรรม เซเลบริตี้เชฟและ แบรนด์แอมบาสเดอร์ True Aussie Beef ประเทศไทย แนะนำว่า "สำหรับการทำเมนูเสือร้องไห้ให้อร่อยถูกใจคอเนื้อไม่ยากอย่างที่คิด ถ้ามีเนื้อดี มีคุณภาพก็ไม่ต้องปรุงอะไรมากให้เสียรสชาติ แค่โรยเกลือกับพริกไทย และนำไปย่าง ก็อร่อยแล้ว อย่างเมนูจานนี้แพมเลือกเนื้อออสเตรเลีย เพราะเป็นผลิตภัณฑ์เนื้อวัวที่เลี้ยงด้วยหญ้าในท้องทุ่งกว้างใหญ่ตามธรรมชาติบนแนวทางการทำปศุสัตว์แบบยั่งยืนและเป็นมิตรต่อสิ่งแวดล้อม บวกกับการควบคุมคุณภาพที่เข้มงวดทุกขั้นตอน ตั้งแต่กระบวนการเลี้ยง การขุนอาหาร และการแปรรูปผลิตภัณฑ์ที่มีมาตรฐานขั้นสูงจนเป็นที่ยอมรับของร้านอาหารเนื้อชั้นนำทั่วโลก
สำหรับเมนูนี้แพมเลือกใช้เนื้อส่วนอก หรือที่ทุกคนรู้จักกันดีคือ เนื้อเสือร้องไห้ เพราะเหมาะสำหรับการปรุงด้วยความร้อนต่ำอย่างช้า ๆ ซึ่งเราจะได้เนื้อที่นุ่มและชุ่มฉ่ำ อีกทั้งเนื้อส่วนนี้ยังให้รสเนื้อที่เข้มข้นมากกว่าเนื้อส่วนอื่นที่ต้องปรุงนาน ๆ อย่างสันคอ และยังเข้ากันได้ดีกับเครื่องเทศที่ใช้ในสูตรนี้อีกด้วย   กุญแจสำคัญคือการพักชิ้นเนื้อที่ย่างให้นานพอจนเนื้อคลายความร้อนและเย็นลงสู่อุณหภูมิต่ำ จากนั้นปรุงให้สุกช้า ๆ อย่างการรมควัน การอบ หรือการย่างแบบช้าๆ เพื่อทำให้ได้เนื้อที่นุ่มละมุนลิ้นเคี้ยวได้ไม่เหนียว จากนั้นหั่นเป็นชิ้นพอดีคำ พร้อมเสิร์ฟกับน้ำจิ้มแจ่วได้เลยค่ะ"
สูตรเมนูเสือร้องไห้ของเชฟแพม
เนื้อวัว
เนื้อเสือร้องไห้ True Aussie Beef 500 กรัม
เกลือ ½ ช้อนชา (เพิ่ม-ลดปริมาณได้ตามชอบ)
น้ำจิ้มแจ่ว
น้ำมะนาว 1 ช้อนชา
น้ำมะขามเปียก 1 ช้อนชา
น้ำปลา 2 ช้อนโต๊ะ
ผงข้าวคั่ว 1 ช้อนชา
พริกป่น 1 ช้อนชา
ผักชีซอย 5 กรัม
ต้นหอมซอย 5 กรัม
ขั้นตอนการปรุง
ตั้งกระทะด้วยไฟกลาง
ค่อย ๆ นวดเกลือกับเนื้อที่เตรียมไว้
นำมาย่างบนกระทะ 3-4 นาที ให้สุกทั่วทุกด้านแล้วยกเนื้อขึ้นจากกระทะ (สามารถปรับเวลาการย่างได้ตามความหนาของชิ้นเนื้อและตามความชอบของแต่ละคน)
พักเนื้อ 2 นาที ก่อนหั่นเป็นชิ้นพอดีคำ
ทำน้ำจิ้มแจ่ว ผสมน้ำปลา น้ำมะนาว น้ำมะขามเปียก ผงข้าวคั่ว พริกป่น ผักชีและต้นหอมซอยเข้าด้วยกัน
เสิร์ฟเนื้อย่างพร้อมข้าวเหนียวและผักสด
เกี่ยวกับ Meat & Livestock Australia (MLA)
Meat & Livestock Australia (MLA) คือองค์กรที่ดำเนินงานด้านการตลาด การวิจัยและพัฒนาของอุตสาหกรรมเนื้อแดงและปศุสัตว์ประเทศออสเตรเลีย ในรูปแบบองค์กรที่ไม่แสวงหาผลกำไรและเป็นเจ้าของโดยกลุ่มผู้ผลิตเนื้อวัว เนื้อแกะ และเนื้อแพะในประเทศ โดย MLA ใช้ตราสินค้า True Aussie Beef and Lamb ในการประชาสัมพันธ์เนื้อแดงของออสเตรเลียในการส่งออกสู่ตลาดสากล เพื่อนำเสนอผลิตภัณฑ์เนื้อวัว เนื้อลูกวัว เนื้อแกะ และเนื้อแพะของออสเตรเลีย และบอกเล่าถึงคุณค่าและเรื่องราวที่มาของความเป็นเลิศของผลิตภัณฑ์จากแบรนด์ True Aussie Beef and Lamb
ดูรายละเอียดเพิ่มเติมเกี่ยวกับ True Aussie Beef ได้ที่ https://www.trueaussie.co.th/
Related posts: