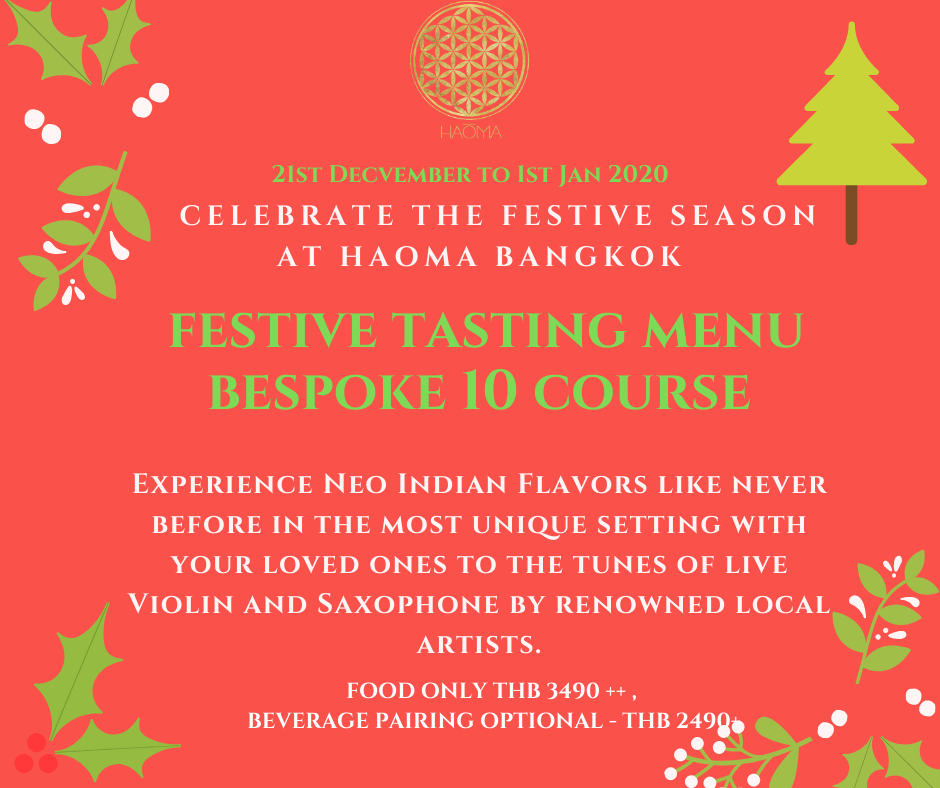 Haoma Festive Menu 2019
Tis the time of the year to be merry and thankful, and Bangkok's very own zero-waste farm-to-table restaurant Haoma, is bringing joy to the world with a delectable 10-course Neo-Indian tasting menu in this holiday season.
2019 has been a very special year for Haoma and Chef-Owner Deepanker Khosla, who returns to Bangkok after months of touring extensively – from Istanbul to Perth – spreading awareness around sustainable fine-dining and pioneering the revival of the quintessential flavors of pre-Colonial India. Elite Magazine's Young Chef of the Year invites you to experience a goosebumps-inducing gastronomic extravaganza of flavors and to immerse your senses in his latest signature creations – all constructed from fresh, organic produce grown on his urban-farm located in Bangkok's bustling heart.
Among the highlights of Haoma's own brand of edible magic featured in the Festive Menu are the Mutsutake Kebabs, a delightful entreé starring wild mushrooms and a tangy citrus gel. The Pulimunchi Soup, worth savoring patiently, is rich with succulent scallops and mussels from the Gulf of Thailand elevated with a truly unique emulsion of juicy heirloom tomatoes. The star of the show has to be Haoma in a Bowl - an intriguing zero-kilometer meal that brings together the urban farm's riches in a delicate-yet-powerful harmony. Chef DK has a well-known penchant for reinventing the classics. His modern take on the Madras Curry and Chicken Tikka Masala are an absolute treat for the tastebuds, eyes and, trust us, the soul. The first mains option, cheekily named Bone Age is a reimagined age-old delicacy from North India bringing together juicy beef tenderloin and nutrient-dense marrow in a spectacular confluence. The second option, Coastal Fish, is packed with dense flavors that will trigger happy nostalgia. For its vegetarian patrons, the team at Haoma has meticulously put together a plant-based version of the Festive menu which is just as tempting.
Named for the mythical elixir of life held sacred in many cultures, Haoma is based on a simple idea: making fine-dining sustainable. "Sustainability isn't a trend, it's our responsibility," explains Chef DK passionately. "Our forefathers didn't demand that salmon from the Pacific to be flown across the globe to their plates in India. They ate chemical-free local produce, following traditions that never threatened to destroy their world as our modern eating habits do to ours."
At a time when the danger of climate change is looming large, like an uncompromising idealist, Haoma stands stoically by its ideals of sustainability and zero-waste. The restaurant has set for itself the ambitious goal of becoming the first restaurant to be certifiably carbon-neutral by 2020. Within its green walls is a self-sustaining ecosystem, the first of its kind in Asia. All organic kitchen waste is transformed into food for fish that swim in tanks filled with collected rainwater. The fish's excrement is also harvested and the nitrates are used for growing over 40 varieties of seasonal herbs and other edible plants in the farm's aquaponic system. These remain always on display from Haoma's windows, and are picked fresh for diners to ensure the best possible flavors. Whatever the chefs cannot grow on-site is sourced from ethical, responsible and fair-trade farmers, breeders, and fishermen in the vicinity of Bangkok.
Come for a family or romantic meal in our charming green-house and indulge yourself in a delicious menu of beautiful, modern, local produce-driven cuisine, along with organic and biodynamic wines.
The Festive Menu featuring the lowest carbon-footprint meals is available from December 21st to January 1st for THB 3490. Beverage pairing can be request for THB 2990.
For More Details Contact
Vishvas Sidana
Director F&B
Vishvas@haoma.dk | +66 806155229
Haoma Bangkok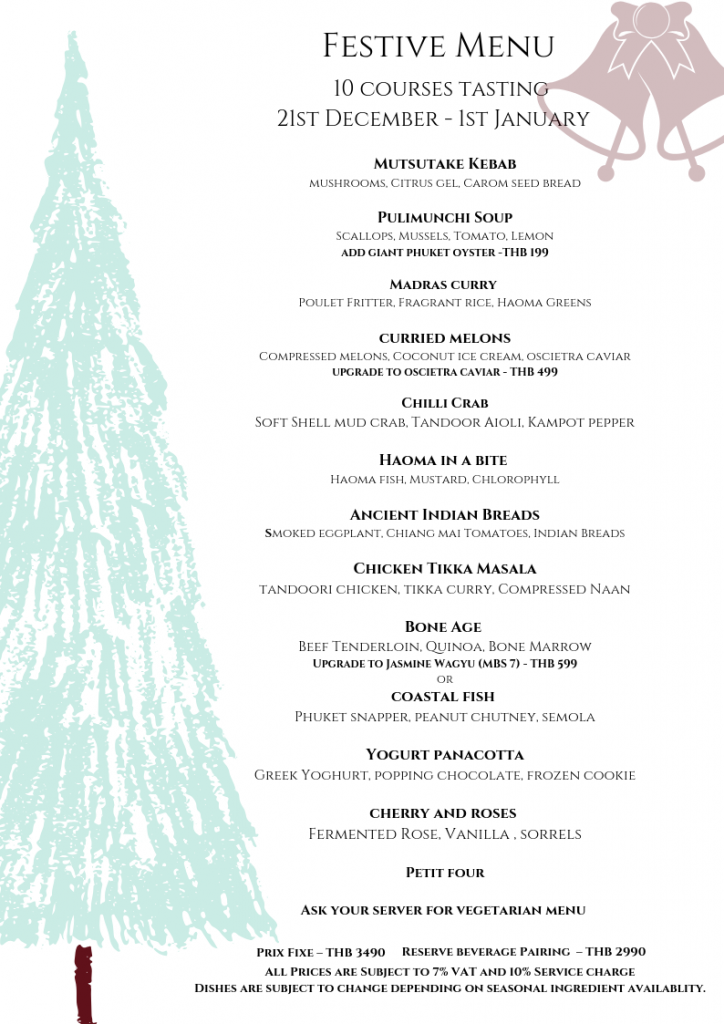 Related posts: