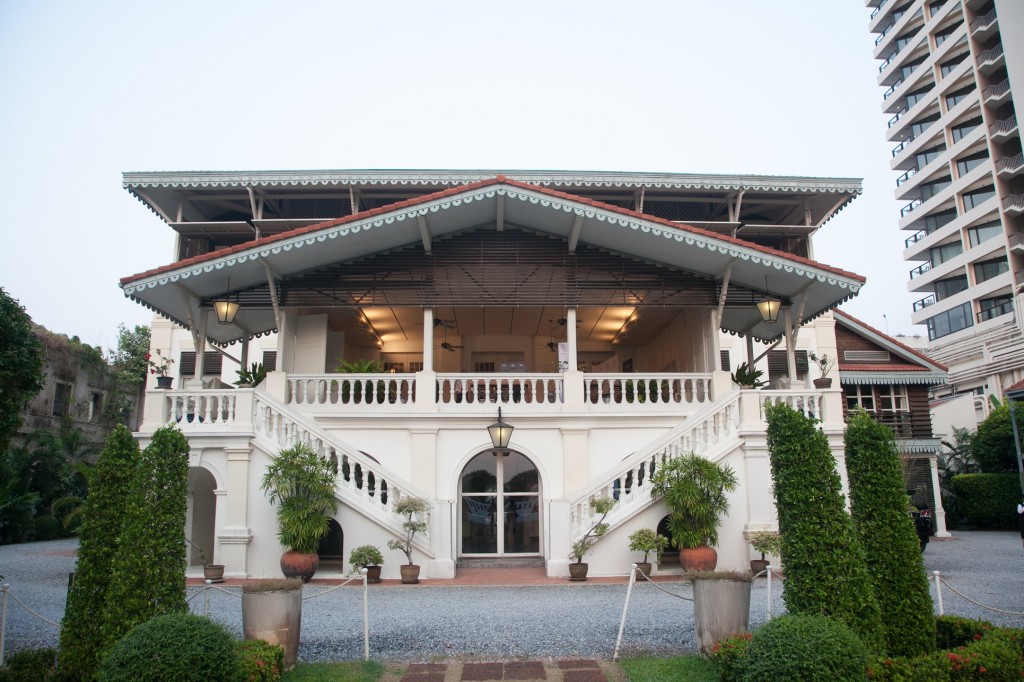 Open House Day at the Residence of  French Ambassador
Spend the day at the French Embassy to celebrate the launch of Sawasdee France, our new cultural program, 14 January 2023
The Embassy of France in Thailand is proud to announce the launch of Sawasdee France, an ambitious cultural label celebrating our Franco-Thai friendship through Arts, Food, Culture, Science, Education and Language – in other words, everywhere France and Thailand meet!
On January 14, come and celebrate the new year with a special program of events! We have designed an immersive visit for you to experience all facets of French-Thai friendship. Join us for:
A free guided tour of the Residence of French Ambassador Open air cinema!
Cooking shows and free French food & drinks!
Art installations by contemporary creators!
Learn & Teach French games to enhance your life and kickstart your career!
A special Science & Innovation Corner, with AR & VR experiences!
Meet & Greet with Alumni from our scholarship programs!
Meet the Diplomats session!
French Language Café!
You've never attended one of our events before? Now is your chance to meet us and discover everything we can do together. Helping you study in France, supporting new creation perspectives between our artists, moving forward together on crucial stakes like the environment or social causes, our purpose is to create a space where we can exchange and bring the best out of each other.
Interested now? Register for the event at sawasdeefrancelaunch.eventbrite.com!
Tickets are free but limited, grab yours while you still can!
More info at facebook.com/sawasdeefrance | instagram.com/sawasdeefrance | french-highlights.com
วันเปิดบ้านทําเนียบเอกอัครราชทูตฝรั่งเศส กรุงเทพฯ
มาใช้เวลาช่วงสุดสัปดาห์ที่สถานเอกอัครราชทูตฝรั่งเศสเพื่อร่วมเฉลิมฉลองงานเปิดตัวรีแบรนด์ใหม่ Sawasdee France (สวัสดีฟรานซ์)โปรแกรมกิจกรรมวัฒนธรรมโฉมใหม! 14 มกราคม 2566 เวลา 14.00-20.00 น.
สถานเอกอัครราชทูตฝรั่งเศสประจำประเทศไทยมีความภูมิใจที่จะประกาศเปิดตัว Sawasdee France (สวัสดีฟรานซ์) แบรนด์วัฒนธรรมน้องใหม่  เพื่อ เฉลิมฉลองมิตรภาพระหว่างประเทศฝรั่งเศสและประเทศไทยผ่านศิลปะ อาหาร วัฒนธรรม วิทยาศาสตร์ การศึกษา และภาษา กล่าวคือ ทุกสิ่งอย่างที่ฝรั่งเศสและไทยจะมาบรรจบกัน !
วันที่ 14 มกราคม มาร่วมฉลองปีใหม่กับกิจกรรมสุดพิเศษ ! เราได้ออกแบบการเยี่ยมชมที่ดื่มด่ำเพื่อให้คุณได้สัมผัสทุกแง่มุมของมิตรภาพ ฝรั่งเศส-ไทย พบกับกิจกรรม :
เยี่ยมชมทําเนียบเอกอัครราชทูตพร้อมวิทยากรบรรยาย ฟรี!
ฉายภาพยนตร์กลางแจ้ง
โชว์ทำอาหารและชิมอาหารฝรั่งเศส+เครื่องดื่ม ฟรี!
ศิลปะจัดวางโดยศิลปินร่วมสมัย
เกมส์พัฒนาทักษะทางภาษาฝรั่งเศส
มุมวิทยาศาสตร์และนวัตกรรมพิเศษ! พร้อมประสบการณ์ชมนิทรรศการแบบ AR & VR
พูดคุยกับศิษยเ์ก่าอดีตนักเรียนทุนรัฐบาลฝรั่งเศส
พบปะนักการทูตฝรั่งเศส
คาเฟภาษาฝรั่งเศส
หากคุณไม่เคยเข้าร่วมกิจกรรมของเรามาก่อน ตอนนี้เป็นโอกาสที่จะได้พบปะและคันพบทุกสิ่งที่สามารถตอบโจทย์ได้ เช่น ช่วยในการไปศึกษาต่อที่ประเทศฝรั่งเศส สนับสนุนมุมมองการสร้างสรรค์ใหม่ ๆ ระหว่างศิลปิน ไทย-ฝรั่งเศส หรือ ก้าวไปข้างหน้าด้วยกัน ในประเด็นสำคัญ เช่น สิ่งแวดล้อมหรือสังคม จุดมุ่งหมายคือการสร้างพื้นที่ที่ทั้งสองประเทศสามารถแลกเปลี่ยนความรู้และวัฒนธรรมเพื่อนำสิ่งที่ดีที่สุดของกันและกันออกมา
หากสนใจเข้าร่วม กรุณาลงทะเบียนเข้างานที่ : sawasdeefrancelaunch.eventbrite.com ! งานเข้าชมฟรี ! แต่จำกัดจำ นวนผู้เข้าชม รีบลงทะเบียนก่อนเต็ม !
ข้อมูลเพิ่มเติม โปรดติดตามที่หน้าเพจ facebook.com/sawasdeefrance | instagram.com/sawasdeefrance | french- highlights.com

Related posts: