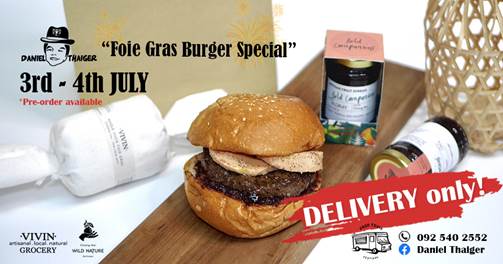 Daniel Thaiger x VIVIN Grocery Annual Foie Gras Burger Special with Jam by Wild Nature Artisan Available for delivery this 3rd and 4th of July!  
Time to bring a little spark and joy back into our lives by titaliting our taste buds with the annual VIVIN x Daniel Thaiger foie gras collaboration, but this time, they've brought a friend!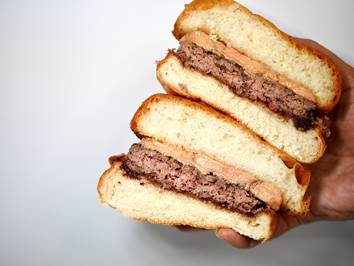 Apart from integrating VIVIN Grocery's signature whole duck foie gras terrine into an already tasty Daniel Thaiger burger, Wild Nature Artisan, producers of artisanal jams, organic infusions and organic herb salts are contributing to the 2021 version of the foie gras burger with their rich, luscious and healthy "Bold Companions" Artisanal Fruit Spread, filled with Thai mulberry and a hint of dark chocolate.
And what better time to enjoy a burger than on the 4th of July celebration, as Daniel Thaiger, being half Thai, half American, contributing something special for Independence Day has always been a Daniel Thaiger tradition.
On the 3rd & 4th of July 2021 Daniel Thaiger Burger will be offering the Foie Gras Burger special by direct delivery by calling 092-5402552 or Daniel Thaiger Facebook Messenger.
This would be the 6th collaboration between the two food brands Daniel Thaiger and VIVIN Grocery and yet hopefully more to come.
#DanielThaigerxVIVINGroceryxWNA
Pre orders are available through:
Facebook: https://www.facebook.com/DanielThaiger  or Call: 092-5402552
Related posts: