Dusit Thani Bangkok introduces three Michelin star Japanese chef Tetsuya Fujiwara at 22 Kitchen & Bar  Bangkok, 3- 5 May 2016
Well known for its culinary achievements, the Dusit Thani Bangkok has outdone itself this time as it gears up to welcome guest chef Tetsuya Fujiwara from the much acclaimed three Michelin star restaurant Fujiya1935, at its 22 Kitchen & Bar restaurant  from the 3rd-5th May, 2016. This gastronomic event is being conducted in partnership with Italasia, Jagota and San Pellegrino.
A significant milestone in Bangkok's culinary history, as it marks the first time  that a three Michelin star restaurant in Japan will be closing its doors for a few days in order to conduct a food promotion in Thailand. Chef Tetsuya will be bringing his entire trusted kitchen team with him to ensure the three day extravaganza goes off smoothly.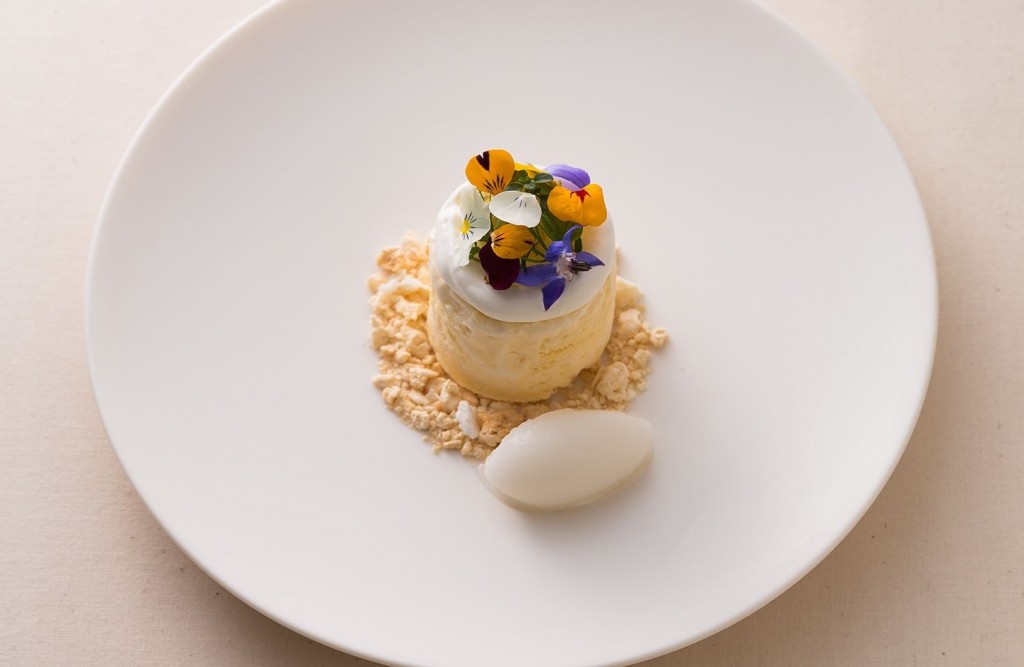 The Western-inspired menu will include tempting delicacies such as Udo, which are mountain vegetables, Bubble Green Pea Bread, Hair Crab with Soramame (spring nuts) and Kinto Nanohana (spring vegetables), Amadai fish with snow peas and shitake mushrooms, Tajima Wagyu, Hotaru squid Bizcocho and more, while desserts will include the scrumptious Ichiban Tsumami Sencha (green tea) jelly, Honey cake and Spring flowers and herbs mascarpone chamomile gelato. What's more, these dishes will be paired with premium wines making their presence felt among aficionados and selected especially by Chef Tetsuya, such as the Laurent Perrier Alexandra Rose' 2004, Alois Lageder Porer Pinot Grigio Tenutae Lageder 'Biodinamic' 2014, Paul Jaboulet, 'Hermitage' White Chevallier Sterimberg 2008, Louis Max Chassagne' Montrachet 1er Cru Morgeot 2011, Antinori, Guado al Tasso 2012, and Moscato Bosc del Rei, Batasiolo.
22 Kitchen & Bar will cease its regular operations for these three days to accommodate this exclusive Fujiya1935 event. This full tasting menu will be available for lunch as well as dinner, with 18-seats per round.
Lunch Tasting Menu with Wine Pairing at THB 8,000++ per person
Dinner Tasting Menu with Wine Pairing at 12,000++ per person
About Chef Tetsuya Fujiwara
Chef Tetsuya Fujiwara was born in Osaka, Japan, in 1974 into a family of chefs going back four generations. He studied French cuisine at a local college before embarking on his culinary journey to Spain, where modern Spanish cuisine fascinated him. He then worked at the world renowned L' Esguard restaurant where he further honed his skills. Chef Tetsuya returned to Osaka to help his family run Fujiya1093. His innovations and passion for and with food has led the restaurant to supreme levels of gastronomic success, to eventually culminate in the much coveted three Michelin star award.
For more information or reservation, please call Dusit Thani Bangkok at: +66 (0) 2200 9000 ext. 2345 E-mail dtbkdining@dusit.com Website: www.dusit.com/dtbk, www.facebook.com/dusitthani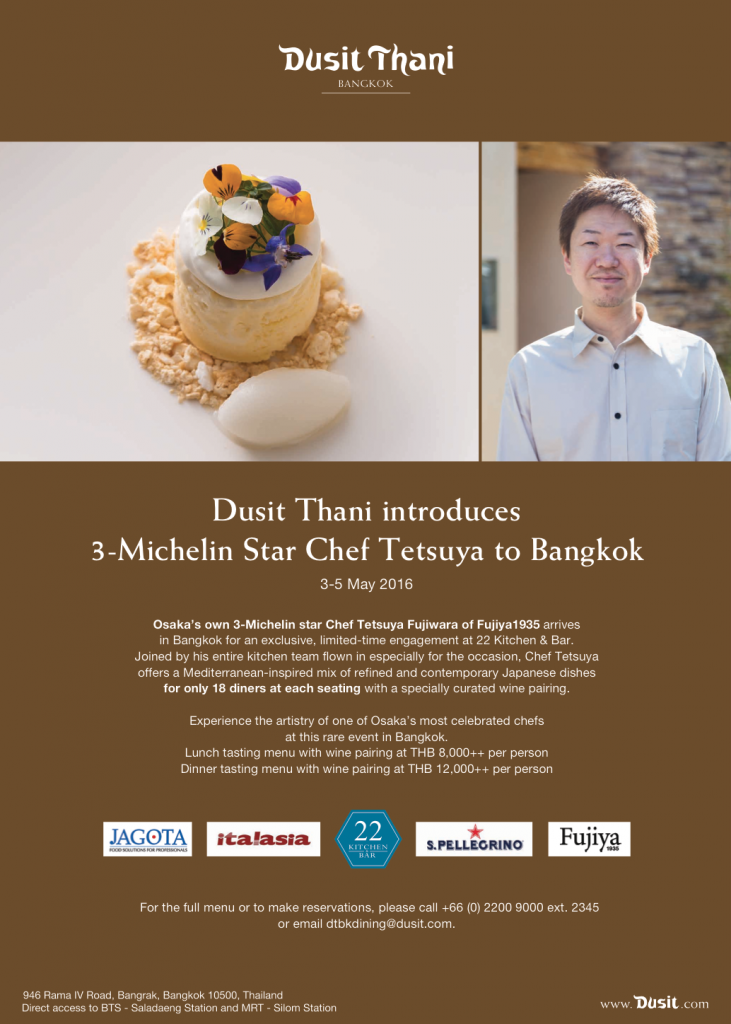 ดุสิตธานี เชิญเชฟญี่ปุ่น เท็ตสึยะ มาปรุงอาหารระดับมิชลิน 3 ดาว 
โรงแรมดุสิตธานี กรุงเทพฯ เตรียมต้อนรับ เท็ตสึยะ ฟูจิวาระ  เชฟญี่ปุ่นมือวางระดับรางวัลมิชลิน 3 ดาว จากร้านอาหาร "ฟูจิยะ1935"  ที่จะมาสร้างสีสันให้วงการอาหาร ณ ห้องอาหาร 22 คิทเช่น แอนด์ บาร์ ในวันที่ 3 – 5 พฤษภาคม 2559 โดยได้รับการสนับสนุนจาก Italasia, Jagota และ San Pellegrino
นับเป็นครั้งแรกที่ร้านอาหารระดับมิชลิน 3 ดาวในประเทศญี่ปุ่น จะปิดร้าน โดยเชฟเท็ตสึยะ และทีมการครัวทั้งหมด 7 คน จะบินมากรุงเทพฯ พร้อมนำวัตถุดิบจากญี่ปุ่น  มารังสรรค์เมนูอาหารญี่ปุ่นแนวร่วมสมัยที่สอดแทรกกลิ่นอายสไตล์เมดิเตอร์เรเนียน  ให้ได้ลิ้มรสกันตลอด 3 วันเต็ม
อาหารญี่ปุ่นเซ็ตพิเศษที่น่าลิ้มลอง อาทิ Udo หรือผักนานาชนิดตามฤดูกาลที่ขึ้นอยู่บนภูเขา, ขนมปังเนียนนุ่มจากแป้งถั่วลันเตา, ปูขนจากฮาโกดาเตะเสิร์ฟพร้อมถั่วปากอ้า (ถั่วในฤดูใบไม้ผลิ) และ ผักกาดก้านขาว (ผักในฤดูใบไม้ผลิ), ปลาอะมาได เสิร์ฟพร้อมถั่วลันเตาและเห็ดชิตาเกะ, เนื้อวากิวทาจิมะหวานละมุนลิ้น, ปลาหมึกโฮตารุสด ๆ และอื่น ๆ อีกมาก รวมทั้งขนมหวานที่ไม่ควรพลาดอย่างยิ่ง ไม่ว่าจะเป็น เยลลี่ชาเขียวต้นตำรับหวานหอม, เค้กรสน้ำผึ้งตกแต่งด้วยดอกไม้ในฤดูใบไม้ผลิ และไอศกรีม (เจลาโต้) ชีสมาสคาโปเน หอมกลิ่นคาโมไมล์ ซึ่งเมนูเหล่านี้จะถูกนำมาจับคู่กับไวน์ชั้นเยี่ยมที่คัดสรรมาอย่างพิถีพิถันจากเชฟเท็ตสึยะ
ห้องอาหาร 22 คิทเช่น แอนด์ บาร์ จะงดให้บริการเมนูปกติเป็นเวลาสามวัน คือตั้งแต่วันที่ 3-5 พฤษภาคมนี้เพื่อต้อนรับการปรากฏตัวของเชฟเท็ตสึยะ ระดับมิชลิน 3 ดาว พร้อมนำเสนออาหารเซ็ตชุดพิเศษเสิร์ฟพร้อมไวน์รสเลิศ ทั้งมื้อกลางวันและมื้อค่ำ  โต๊ะมีจำนวนจำกัดเพียง 18 ที่นั่งต่อรอบเท่านั้น
เซ็ตเมนูมื้อกลางวันพร้อมไวน์ ท่านละ 8,000 บาท++ 
เซ็ตเมนูมื้อค่ำพร้อมไวน์ ท่านละ 12,000 บาท++ 
เกี่ยวกับเชฟเท็ตสึยะ ฟูจิวาระ
เชฟเท็ตสึยะ ฟูจิวาระ เกิดในปี ค.ศ. 1974 ที่เมืองโอซาก้า ประเทศญี่ปุ่น และได้รับมรดกตกทอดด้านการเป็นพ่อครัวมือเยี่ยมจากครอบครัวซึ่งมีประวัติยาวนานมาถึงสี่รุ่น เชฟเท็ตสึยะจบการศึกษาด้านอาหารครัวฝรั่งเศสจากวิทยาลัยท้องถิ่นก่อนที่จะเดินทางไปยังประเทศสเปน ที่ซึ่งอาหารสเปนร่วมสมัยจุดประกายความหลงใหลในการทำอาหาร จากนั้นเขาได้เข้าทำงานในร้านอาหารที่มีชื่อเสียงระดับโลกอย่างร้านอาหาร L'Esguard (เลอ กวาด) ที่เขาได้เพิ่มพูนทักษะด้านการทำอาหารให้ชัดเจนยิ่งขึ้น ในเวลาต่อมา เชฟเท็ตสึยะตัดสินใจกลับไปโอซาก้าเพื่อที่จะดูแลธุรกิจครอบครัวซึ่งก็คือร้านอาหาร Fujiya1093 ความคิดสร้างสรรค์และความหลงใหลในอาหารนำพาร้านอาหารของเขาก้าวขึ้นสู่ระดับสูงสุดของความสำเร็จและเป็นเจ้าของร้านอาหารระดับมิชลิน 3 ดาว ในที่สุด
สอบถามข้อมูลเพิ่มเติมหรือสำรองโต๊ะได้ที่ โรงแรมดุสิตธานี กรุงเทพฯ โทร 02 200 9000 ต่อ 2345  อีเมลล์: dtbkdining@dusit.com เว็บไซต์: www.dusit.com/dtbk, www.facebook.com/dusitthani
Related posts: