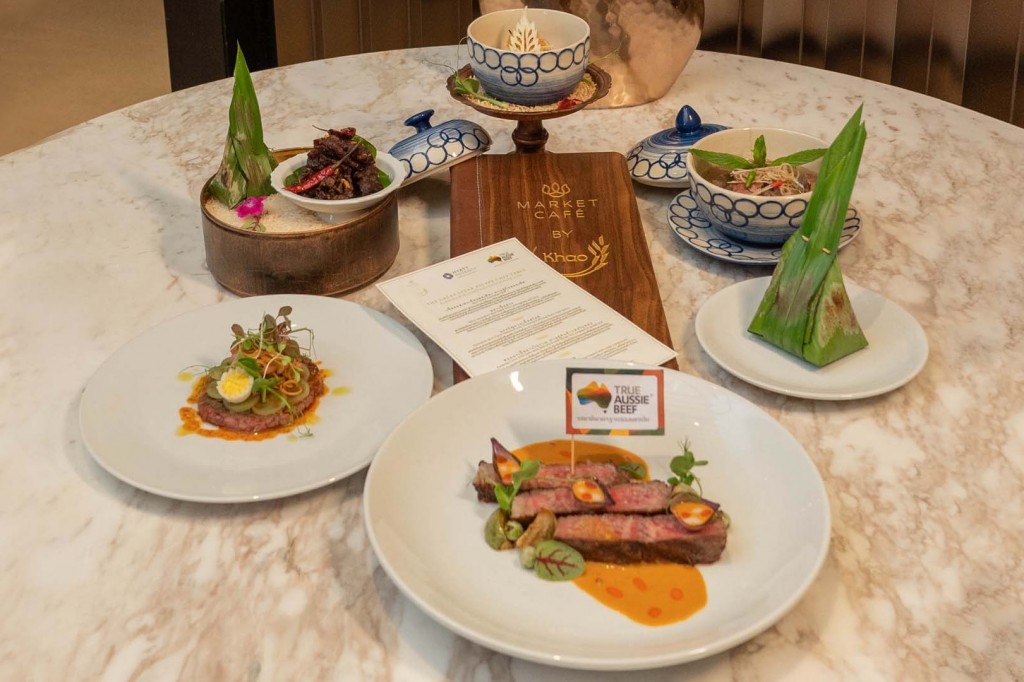 Last chance to indulge in a beef lovers getaway "Steakation"
with a special Hyatt Regency Bangkok Sukhumvit promotion package  Offer ends January 31, 2022, enjoy a memorable culinary experience and a luxury staycation 
To enjoy a special getaway during the festive season you don't have to go far, you can do it right in the heart of Bangkok in absolute luxury. Hyatt Regency Bangkok Sukhumvit invites beef lovers to celebrate the New Year Festival through its "Steakation" package, a popular and mouth-watering promotion in collaboration with Meat & Livestock Australia. Featuring a premium Australian beef menu at "Market Café by Khao", an authentic Thai restaurant in partnership with the Michelin-starred 'Khao restaurant', located at the Hyatt Regency Bangkok Sukhumvit, the cost is  5,199 Baht net per night and this special offer ends on January 31, 2022. (Remark: Blackout dates are 24, 25 and 31 January 2022)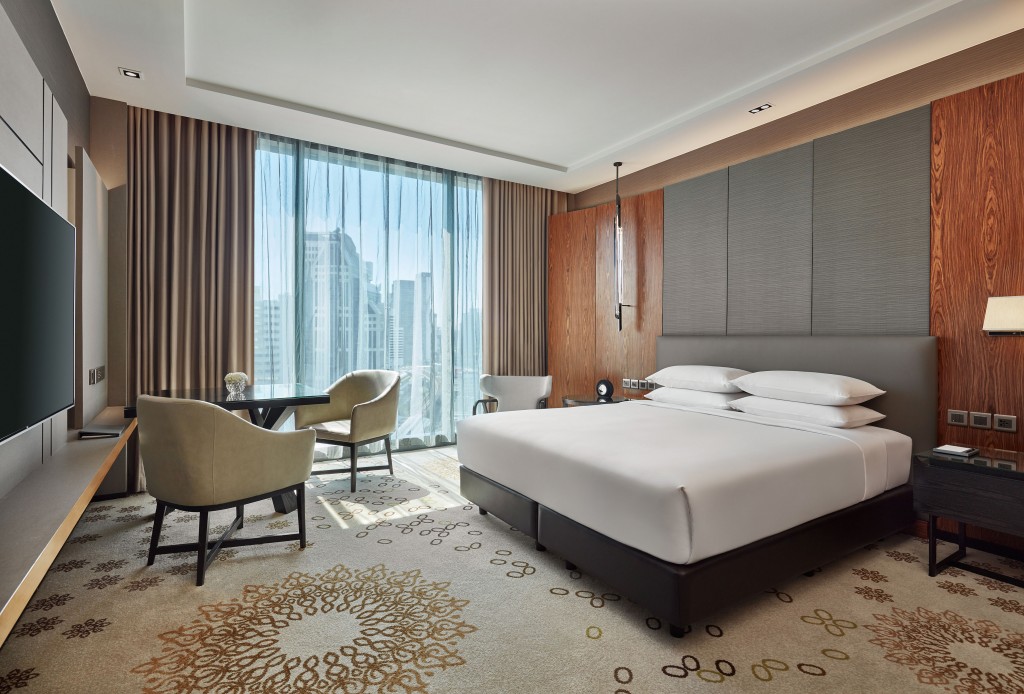 The "Steakation" Package offers an exclusive one-night staycation for 2 people with Club benefits in the heart of Bangkok amidst the luxury of the Hyatt Regency Bangkok Sukhumvit, guests who make a reservation for this package get to indulge in two meals during their stay, including an All-You-Can-Eat Breakfast at Market Café and the special set dinner featuring Australian Beef as the star of the menu at Market Café by Khao. Guests will experience the harmonious combination of authentic Thai flavours, quality ingredients and advanced culinary techniques which only the 'Khao' restaurants are renowned for and what makes them a popular destination for those seeking true Thai cuisine. Guests can also enjoy access to the Club Lounge for all-day coffee/tea service and evening happy hour from 5:30 PM to 7:30 PM.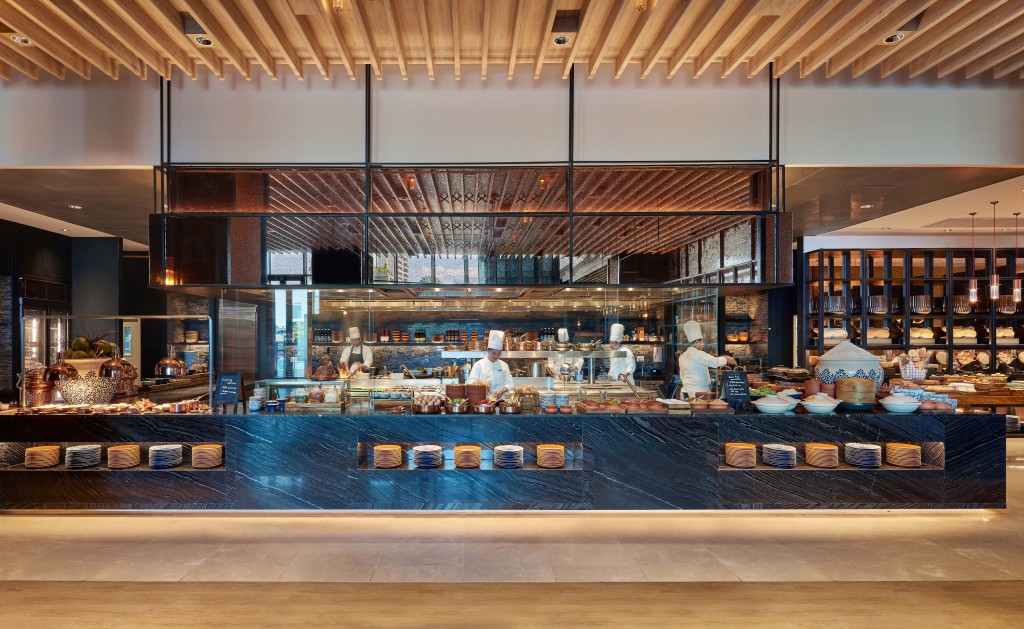 For more details and reservations, please contact +662 098 1234 or bkkhr-rsvn@hyatt.com
To find out more about The Great Steak Escape and what the 7 participating Chefs and restaurants are offering, visit www.thegreatsteakescape.com/th
About Hyatt Regency
The Hyatt Regency brand prides itself on making travel free from stress and filled with success. More than 200 conveniently located Hyatt Regency urban and resort locations in more than 30 countries around the world serve as the go-to gathering space for every occasion – from efficient personalized, high-touch business meetings to energizing family vacations. The brand offers stress-free environments for seamless gatherings and empathetic service that anticipates guests' needs. Designed for productivity and peace of mind, Hyatt Regency hotels and resorts offer a full range of services and amenities, including the space to work, engage or relax; notable culinary experiences; technology-enabled ways to collaborate; and expert meeting and event planners who can take care of every detail.
For more information, please visit hyattregencybangkoksukhumvit.com.
About Meat & Livestock Australia (MLA)
Meat & Livestock Australia Limited (MLA) is the marketing, research and development body for Australia's red meat and livestock industry. It is a not-for-profit organisation owned by cattle, sheep and goat producers. MLA uses the True Aussie Beef and Lamb brand, to promote Australian red meat in export markets (Internationally), representing Australian beef, veal, lamb, and goat to showcase the value of these products while sharing the True Aussie Beef and Lamb story. For more information about True Aussie Beef please go to https://www.trueaussie.co.th/
คนรักเนื้อห้ามพลาด! โอกาสสุดท้ายที่จะได้ลิ้มรสชาติเนื้อออสซี่ขนานแท้พร้อมบริการห้องพักสุดหรูระดับ 5 ดาวใจกลางกรุงเทพฯ กับแพ็กเกจ "Steakation" ที่ ไฮแอท รีเจนซี กรุงเทพ สุขุมวิท
 ไฮแอท รีเจนซี กรุงเทพ สุขุมวิท ร่วมกับองค์กรดำเนินงานด้านการตลาด การวิจัยและพัฒนาของอุตสาหกรรมเนื้อแดงและปศุสัตว์ประเทศออสเตรเลีย (Meat & Livestock Australia) ชวนคุณมาเติมเต็มช่วงเวลาอันน่าประทับใจในเทศกาลแห่งความสุข ด้วยการผ่อนคลายในห้องพักหรู และลิ้มรสอาหารเมนูสุดพิเศษจากเนื้อออสเตรเลีย กับแพ็กเกจ "Steakation" นำเสนอการบริการห้องพักระดับ 5 ดาว ที่เพียบพร้อมด้วยสิ่งอำนวยสะดวกใจกลางมหานครกรุงเทพฯ พร้อมบริการมื้ออาหารชั้นเลิศด้วยเนื้อวัวคุณภาพจากออสเตรเลียและรังสรรค์อย่างพิถีพิถันโดยเชฟชื่อดังจาก Market Café by Khao ในเครือ "ข้าว" แบรนด์ร้านอาหารระดับมิชลินสตาร์ นำเสนอในราคาเพียง 5,199 บาทต่อคืน อย่าพลาดโอกาสสัมผัสประสบการณ์แห่งรสชาติตำรับออสซี่และการพักผ่อนสุดหรูอันยากจะลืมเลือนกับราคาที่คุ้มค่าที่สุดแห่งปีก่อนวันที่ 31 มกราคม 2565 (หมายเหตุ:แพ็คเกจนี้ไม่สามารถใช้ได้ในวันที่ 24, 25 และ  31 ธันวาคม 2564 และ 1 มกราคม 2565)
แพ็คเกจ "Steakation" ประกอบด้วยบริการห้องพักแบบ Club Room 1 คืน สำหรับ 2 ท่าน พร้อมห้องอาบน้ำ Walk-in และอ่างแช่ตัวแยกเป็นสัดส่วน รวมถึงส่วนนั่งทำงานภายใต้บรรยากาศที่สวยงามทันสมัยสไตล์ไทยโมเดิร์น ที่เปิดรับทัศนียภาพของกรุงเทพฯ ได้อย่างเต็มตา รวมถึงบริการอาหารชั้นเลิศ 2 มื้อ ได้แก่ อาหารเช้าสไตล์ All-You-Can-Eat Breakfast ที่ Market Café และบริการอาหารค่ำเมนูพิเศษที่ใช้วัตถุดิบเนื้อวัวออสเตรเลีย ที่ Market Café by Khao ซึ่งเป็นที่ยอมรับถึงคุณภาพที่สม่ำเสมอทั้งในด้านเนื้อสัมผัส ความชุ่มฉ่ำ และรสเนื้อที่เข้มข้นในทุกคำที่ลิ้มลอง นำมาผ่านกรรมวิธีการปรุงที่พิถีพิถันอันเป็นเอกลักษณ์ของแบรนด์ "ข้าว" เพื่อผสานรสชาติและกลิ่นอายของอาหารไทยต้นตำรับเข้ากับวัตถุดิบคุณภาพเยี่ยมอย่างลงตัว นอกจากนี้ ลูกค้ายังสามารถใช้บริการเครื่องดื่มชากาแฟที่ Club Lounge ได้ฟรีตลอดวัน รวมถึงบริการ Happy Hours ในช่วงเย็นตั้งแต่เวลา 17.30 – 19.30 น.
คนรักเนื้อตัวจริงอย่าพลาดโอกาสสัมผัสกลิ่นอายเนื้อวัวออสเตรเลียขนานแท้และประสบการณ์การพักผ่อนชั้นเลิศ ติดต่อ โทร. +662 098 1234 หรืออีเมล bkkhr-rsvn@hyatt.com
Related posts: