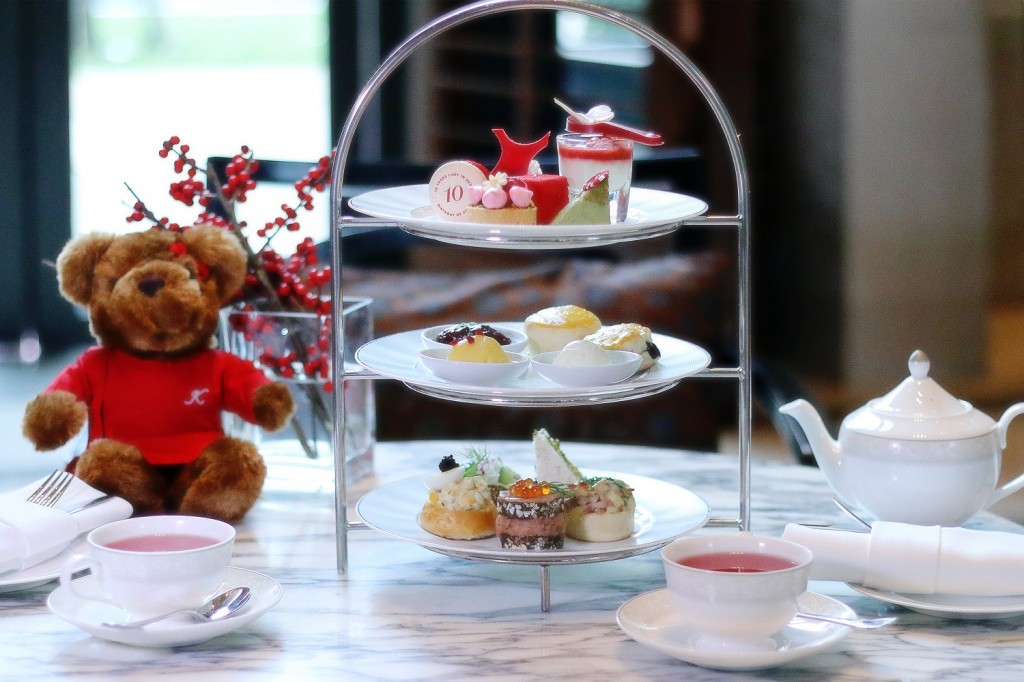 Birthday of Kempinski's iconic Lady in Red
Celebrate 10 Years of Lady in Red with a special Afternoon Tea edition at Hanuman Bar 
The iconic Kempinski Lady in Red global ambassador programme is celebrating its tenth anniversary. The Lady in Red is a well-recognised symbol of the care, service excellence and attention to detail to be found at every Kempinski property worldwide.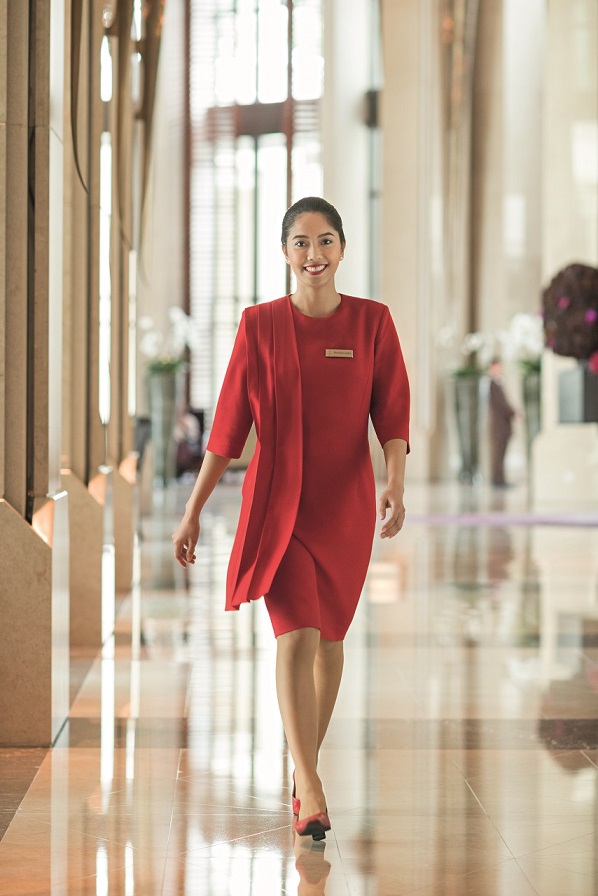 "At Siam Kempinski Hotel Bangkok, our brand ambassadors are easily spotted in their striking uniforms and ever-present smiles," said hotel Managing Director Richard Schestak. "Dedicated to please and educated to  entertain, these brand ambassadors are alert to any opportunity to go one step beyond to craft unforgettable experiences for our well-travelled guests, acting as both the perfect host and a trusted companion during their stay with Kempinski."
'10 years Lady in Red edition' Afternoon Tea at Hanuman Bar
Talented Pastry Chef Franck Istel presents a special edition of the '10 years Lady in Red edition' Afternoon Tea'. The tea ceremony begins with a sandwich filled with smoked chicken, pistachio, cream cheese and is followed by a fine selection of canapés including egg salad with quail egg and chervil on soft brioche bread, salmon tartar on pumpernickel bread with sour cream and top with salmon roes, herbed cream cheese and cucumber on crispy oats bread. This is followed by delightful sweet concoctions such as the limited edition Lady in Red macaron, raspberry and marshmallow tartlet, a mini pot of white chocolate with strawberry salad, matcha green tea cherry mini club, opera slice cake with coffee cream and 70% chocolate ganache, and passion fruit mousse with wild strawberries mini cube. Not forgetting the traditional English scones of course. Plain and raisin scones are freshly baked and served with raspberry jam, passion fruit curd and clotted cream.
This exclusive set is priced at THB 1,010 ++ per set for one person Includes a choice of Ronnenfeldt tea or Lavazza coffee and a limited edition Lady in Red teddy bear.
Hanuman Bar is located on the lobby floor of Siam Kempinski Hotel Bangkok. The '10 years Lady in Red edition' Afternoon Tea is presented daily from 14:00 to 17:00 hrs between 17 and 31 January 2020.
For more information or to make a reservation, please contact Hanuman Bar at 02 162 9000 or email hanuman.siambangkok@kempinski.com
About Lady in Red: The Lady in Red is a local expert who knows everything there is to know about our hotels and destination cities. Whether it's a special anniversary celebration, a surprise proposal or a once-in-a-lifetime family holiday, Ladies in Red draw upon their passion for craftsmanship, gastronomy and local culture to ensure visitors are well-equipped to create unforgettable memories every time they visit. Around the world, the Lady in Red family is instantly recognisable. Dressed in a striking and elegant red outfit that reflects the sartorial traditions in each destination, the Ladies in Red evoke an authentic sense of place and occasion, showcasing the cultural nuance and classic European elegance for which Kempinski is known worldwide.
About Siam Kempinski Hotel Bangkok: On 27 September 2010, Kempinski Hotels, Europe's oldest luxury hotel group, opened its first property in Thailand's capital city of Bangkok, Siam Kempinski Hotel Bangkok, the city-resort adjacent to Sra Pathum Palace, and located in the heart of Bangkok's premier shopping and entertainment district. The luxury five-star hotel combines Kempinski's trademark European flair with traditional Thai hospitality. Every one of the hotel's 397 guestrooms and suites overlooks the property's surrounding gardens and pools, and 21 rooms have direct access to the pool. Thailand's artistic heritage is a key theme of Siam Kempinski Hotel Bangkok. The property displays 4,000 pieces of art, including over 200 original paintings and sculptures by Thai artists commissioned to create art for the property.
About Kempinski: Created in 1897, Kempinski Hotels is Europe's oldest luxury hotel group. Kempinski's rich heritage of impeccable personal service and superb hospitality is complemented by the exclusivity and individuality of its properties. Kempinski now comprises a portfolio of 78 five-star hotels and residences in 34 countries and continues to add new properties in Europe, the Middle East, Africa, Asia and the Americas. Each one reflects the strength and success of the Kempinski brand without losing sight of its heritage. The portfolio comprises historic landmark properties, award-winning urban lifestyle hotels, outstanding resorts, and prestigious residences. Each one imbues the quality guests have come to expect from Kempinski while embracing the cultural traditions of its location. Kempinski is a founding member of the Global Hotel Alliance (GHA), the world's largest alliance of independent hotel brands.
kempinski.com/bangkok · discoveryloyalty.com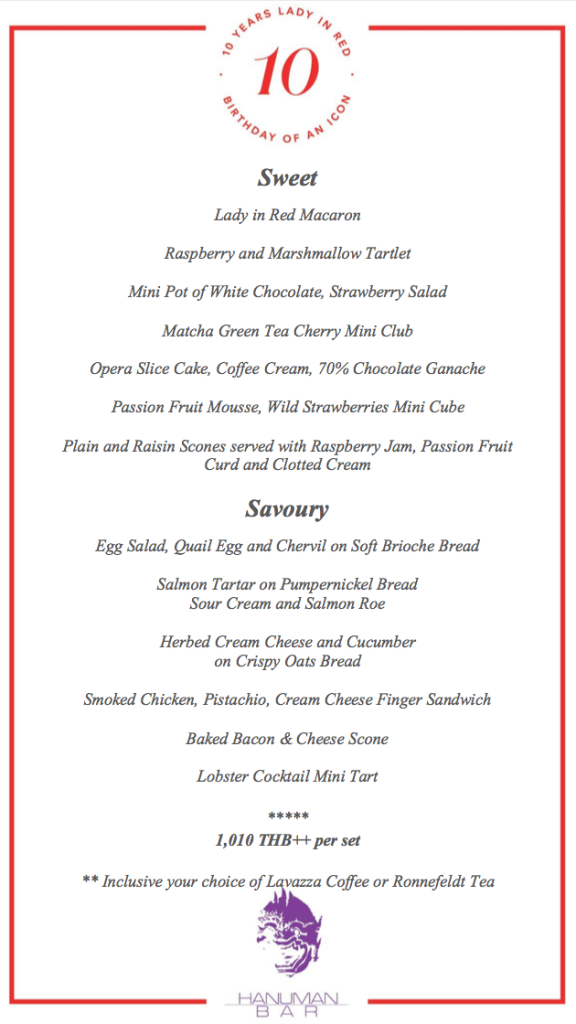 Related posts: