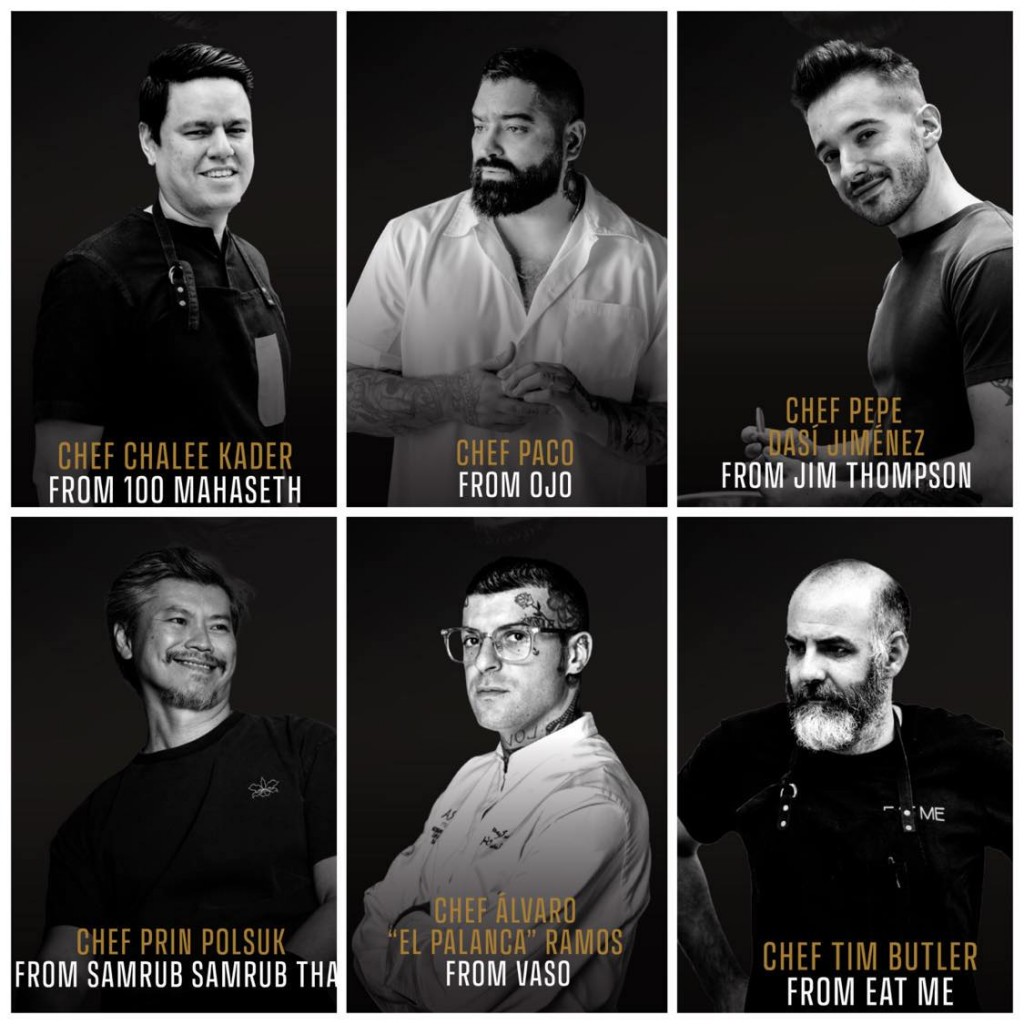 The Dream Team: Six Top-Flight Chefs Take Over Ojo for 12-Hand Dinner at The Standard, Bangkok Mahanakhon 
Bangkok – This 22 July, Ojo – a slick Mexican cuisine on the 76th floor of The Standard, Bangkok Mahanakhon – is turning into a creative playground for the restaurant's head chef and Mexican culinary sensation Francisco "Paco" Ruano, who will be hosting five chef friends for an eclectic 12-hand dinner.
Brought together by the Thai capital's vibrant culinary scene and their friendship with Chef Paco, the five Bangkok-based chefs are renowned for their boundless creativity and fearless experimentation in the kitchen. They are chef Chalee Kader of Michelin Bib Gourmand-listed 100 Mahaseth, chef Tim Butler from Asia's 50 Best Eat Me, chef Prin Polsuk of the legendary Samrub Samrub Thai, chef Álvaro "El Palanca" Ramos of Michelin-listed Vaso tapas bar, and chef Pepe Dasí Jiménez from Jim Thomson.
On 22 July, the five guest chefs will be presenting delectable riffs on their signature dishes, while Chef Paco, whose Alcalde restaurant in Guadalajara is on Latin America's 50 Best Restaurants list, and Ojo's chef de cuisine Alonso Luna Zarate will be unveiling new dishes developed during Chef Paco's recent stay in Bangkok. Guests can expect an eclectic menu marrying modern Thai food, Spanish classics with a twist, regional cuisines with a progressive approach, and uncommon Mexican dishes from one of Latin America's most influential young chefs.
At Ojo Bangkok, chef Paco's first restaurant outside Mexico, guests can sample Mexican dishes that are impossible to find elsewhere in Thailand. Under Chef Paco's visionary leadership, Ojo moves on from the stereotypes about Mexican cuisine to focus instead on a seasonal, produce-driven menu that embraces modernity while being rooted in tradition. The décor of Ojo, Thailand's highest-located restaurant, is as ambitious as the menu, drawing guests in with reflective surfaces, stunning pink and gold sunset hues, and a terrace that looks out to Bangkok's skyline.
The 12-hand dinner will take place at Ojo located on the 76th floor of The Standard, Bangkok Mahanakhon on Saturday, 22 July 2023 from 6:00 pm onwards. Price is THB 3,400 ++ per person for a 12-course set menu, with a deposit of THB 1,000 required at the time of reservation. Diners will also be able to try four exclusive cocktails inspired by Chef Paco's recent travels.
For reservations or more information, please visit https://www.standardhotels.com/bangkok/happenings/Celebrity-Chefs-at-Ojo, email stbkk@standardhotels.com, call 02 085 888 or simply drop us a DM via LINE OA @OjoBangkok.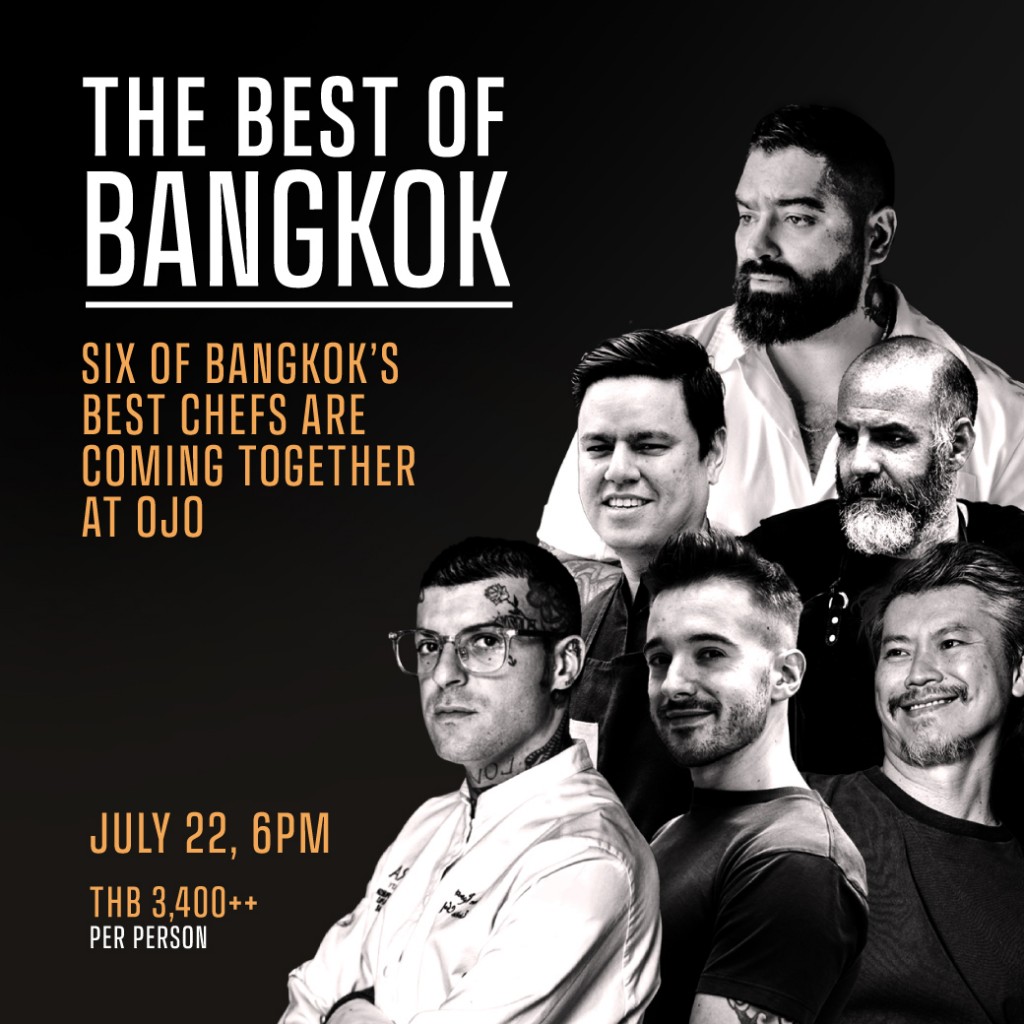 รวมที่สุดจาก 6 เชฟดังแท็กทีมจัดมื้อค่ำสุดพิเศษที่ร้านอาหาร Ojo ที่ The Standard, Bangkok Mahanakhon
กรุงเทพฯ – วันที่ 22 กรกฎาคม นี้ เชฟฟรานซิสโก ปาโก้ รูอาโน่ แห่งร้าน Ojo (โอโฮ) บนชั้น 76 ของ The Standard, Bangkok Mahanakhon สุดยอดโรงแรมไลฟ์สไตล์ ได้จัดมื้อค่ำสุดพิเศษรวมเหล่าสุดยอด 5 เชฟดังประจำกรุงเทพฯ พร้อมเสิร์ฟความอร่อยกับมื้อค่ำแบบ 12 Hands Dinner
เป็นการรังสรรค์มื้ออาหารสุดว้าวนำทีมโดยเชฟปาโก้ กับ 5 เชฟดังที่จะมาแท็กทีมเสิร์ฟความอร่อยที่รอให้สายฟู้ดดี้เตรียมเปิดต่อมรับรสแบบไม่ซ้ำใครรวมไปถึงความครีเอทีฟที่เหล่าเชฟพร้อมนำเสนอ โดยมีเชฟชาลี กาเดอร์ แห่งร้าน 100 Mahaseth ที่ติดใน Michelin Bib Gourmand โดยคอนเซ็ปต์อาหารของเชฟชาลีนั้นได้มีการหยิบยกอาหารพื้นบ้านของไทยอย่างอาหารอีสาน มานำเสนอใหม่ผ่านกระบวนการพิถีพิถันเริ่มตั้งแต่การใช้วัตถุดิบจากประเทศไทยทั้งหมด ตามด้วยเชฟทิม บัตเลอร์ จากร้านอาหาร Eat Me ที่ได้รับรางวัลการันตีคุณภาพมากมายโดยเฉพาะ Asia's 50 Best Restaurants นำเสนออาหารนานาชาติซึ่งปรุงด้วยวัตถุดิบชั้นเลิศ แต่คงความเรียบง่ายเอาไว้ ต่อที่เชฟ ปริญญ์ ผลสุข จากร้านสำรับสำหรับไทย (Samrub Samrub Thai) เชฟฝีมือระดับมิชลินสตาร์ พร้อมเชฟเปเป้ Pepe Dasí Jiménez จากร้านจิม ทอมป์สัน (Jim Thomson) เชฟหนุ่มชาวสเปนมากความสามารถ และเชฟ Álvaro "El Palanca" Ramos แห่งร้านสุดฮอตอย่าง Vaso ทาปาสบาร์ ที่ซึ่งติดอยู่ใน Michelin-listed อีกด้วย
สำหรับมื้อ 12 Hands Dinner ในครั้งนี้ เชฟทั้ง 6 ได้รังสรรค์มื้อค่ำที่เน้นชูรสชาติของวัตถุดิบหลักออกมาให้ได้มากที่สุดประกอบกับดึงเมนูซิกเนเจอร์ของแต่ละคนออกมาเป็นเมนูจานโปรดให้กับเหล่าแฟนๆ ของเชฟได้ลิ้มลอง ตามคอนเซ็ปต์อาหารไทยสไตล์โมเดิร์นผสมผสานอาหารสเปนแบบคลาสสิกจับคู่กับวัฒนธรรมอาหารแบบเอเชีย บวกกับอาหารแนวเม็กซิกันครีเอทโดยเชฟอเมริกันลาตินมากฝีมือนั่นเอง
ในส่วนของ Ojo นั้น พร้อมมอบสุดยอดประสบการณ์ในการดื่มด่ำและอิ่มเอมอาหารเม็กซิกันให้กับแขกผู้มาเยือนอย่างที่ไม่เคยได้ลองที่ไหนมาก่อนในประเทศไทย หรือในภูมิภาคนี้แน่นอน ซึ่งเชฟปาโก้ได้เคยร่วมทำงานกับหลายห้องอาหารที่กวาดรางวัลมานับไม่ถ้วน ก่อนที่เชฟปาโก้จะตัดสินใจเปิดร้านอาหารเป็นของตัวเองที่มีชื่อว่า Alcalde ในปี 2013 ที่ได้รับรางวัลมากมายรวมไปถึง รางวัล Latin America's 50 Best Restaurants ซึ่งร้านเขานั้นทำให้บ้านเกิดที่เมือง Guadalajara เป็นจุดกำเนิดของวงการอาหารสไตล์โมเดิร์นขึ้นมาทันที ด้วยความใส่ใจพิถีพิถันทุกขั้นตอนตั้งแต่การคิดเมนู ตลอดจนการเลือกใช้วัตถุดิบที่ดีที่สุดออกมาเป็นอาหารเม็กซิกันสุดพรีเมียมแต่ยังคงความต้นตำรับเอาไว้ นอกจากนี้การตกแต่งของร้านถูกเนรมิตรออกมาสะท้อนความหรูหราในสไตล์ร่วมสมัย การเลือกใช้สีทองเพื่อสร้างความโอ่อ่าและวัสดุสิ่งทอเข้ามาสอดประสานเพื่อสะท้อนถึงวัฒนธรรมของอเมริกันลาติน พร้อมวิวเมืองอันงดงาม Ojo จึงเป็นห้องอาหารที่มีความประณีต หรูหรางดงาม ประดุจขุมเพชรที่เหมาะกับการมาเปิดประสบการณ์ในการมาเพลิดเพลินรับประทานอาหารรสเลิศร่วมกัน
มื้อค่ำสุดพิเศษแบบ 12 Hands Dinner นี้จะจัดขึ้นในวันที่ 22 กรกฎาคม 2566 ที่ร้านอาหาร Ojo ชั้น 76 ของ The Standard, Bangkok Mahanakhon ตั้งแต่เวลา 18.00 น. เป็นต้นไป พร้อมเสิร์ฟเซตเมนู 12 คอร์ส ในราคา 3,400++ บาทต่อเซตต่อท่าน (มัดจำ 1,000 บาทต่อเซตต่อคน เพื่อทำการยืนยันสำรองที่นั่ง) นอกจากนี้ยังมีเมนูเครื่องดื่มค็อกเทลที่ได้รับแรงบันดาลใจมาจากการเดินทางของเชฟปาโก้ที่ผ่านมาเพื่อให้คุณดื่มด่ำเอนจอยเข้าคู่กับมื้ออร่อยนี้อีกด้วย
สำรองที่นั่งหรือสอบถามข้อมูลเพิ่มเติมได้ที่ https://www.standardhotels.com/bangkok/happenings/Celebrity-Chefs-at-Ojo หรือโทร 02 085 8888 อีเมล stbkk@standardhotels.com หรือแอดไลน์ที่ @OjoBangkok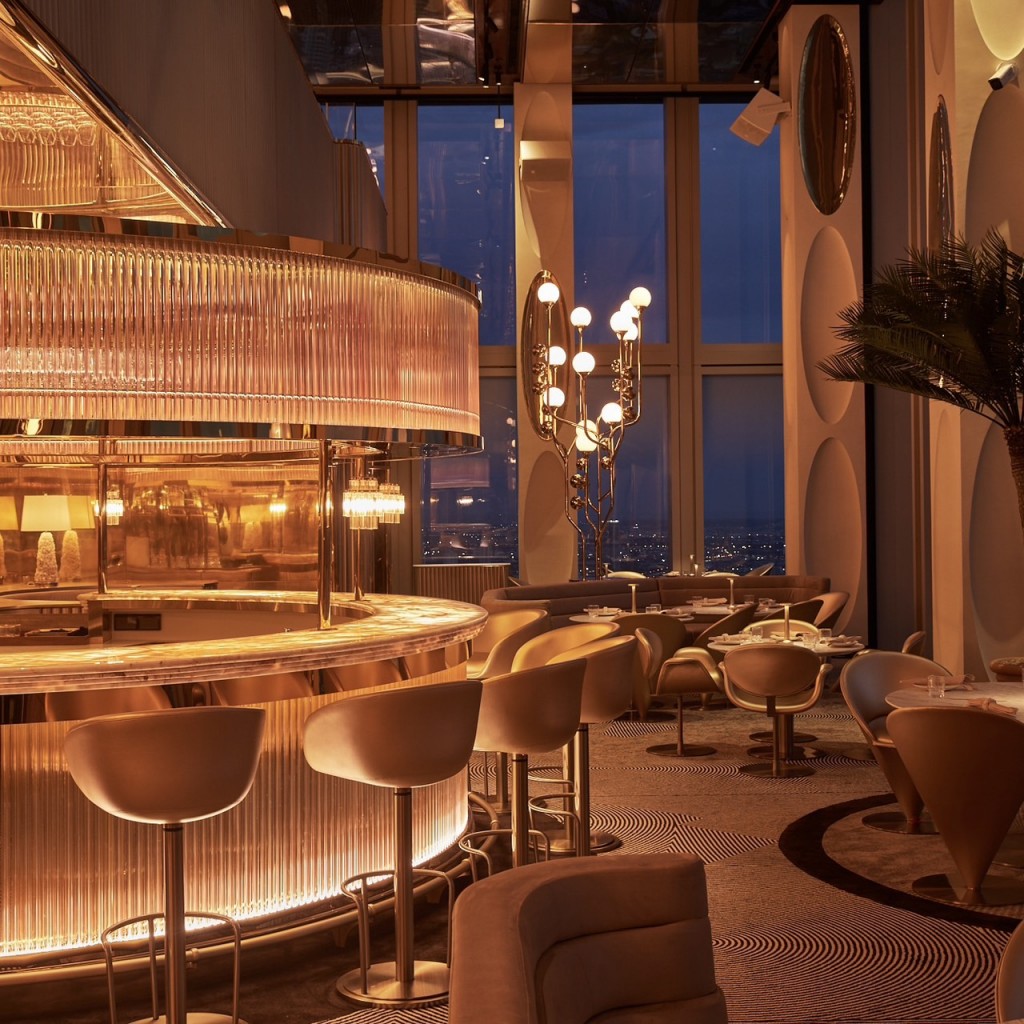 Related posts: