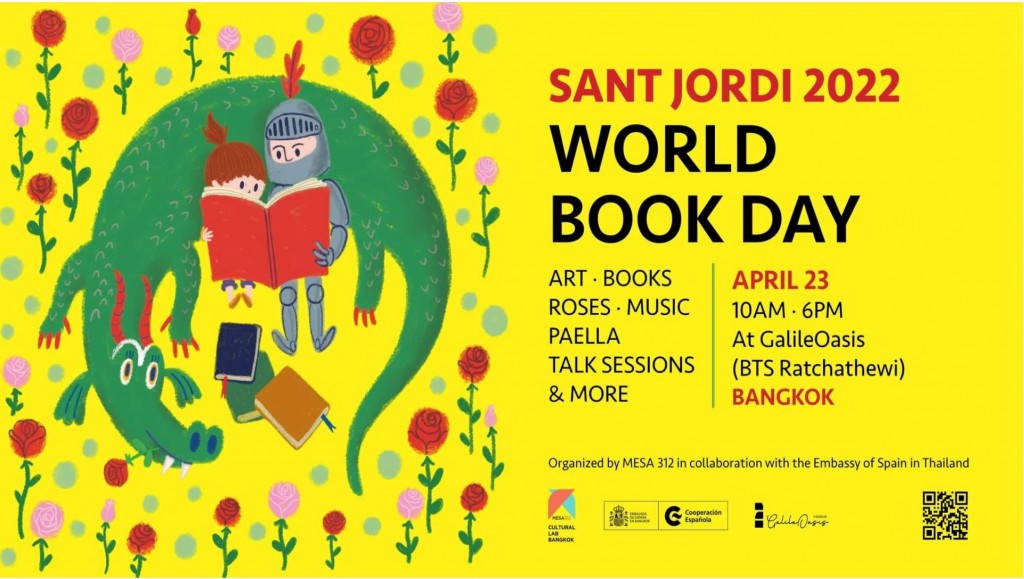 Sant Jordi/ World Book Day
The Embassy of Spain in Thailand in collaboration with Mesa 312  is holding  Sant Jordi/ World Book Day on 23rd April at Galileoasis (BTS Ratchathewee), from 10.30 to 18.00.
About Sant Jordi
This day is dedicated to literature and love, books and roses. In the past, there was a tradition that men give roses to all the important women in their life (mother, sisters, wife, friends or lovers) but nowadays everyone, no matter what gender or orientation, exchanges books and red roses to show love and friendship to each other.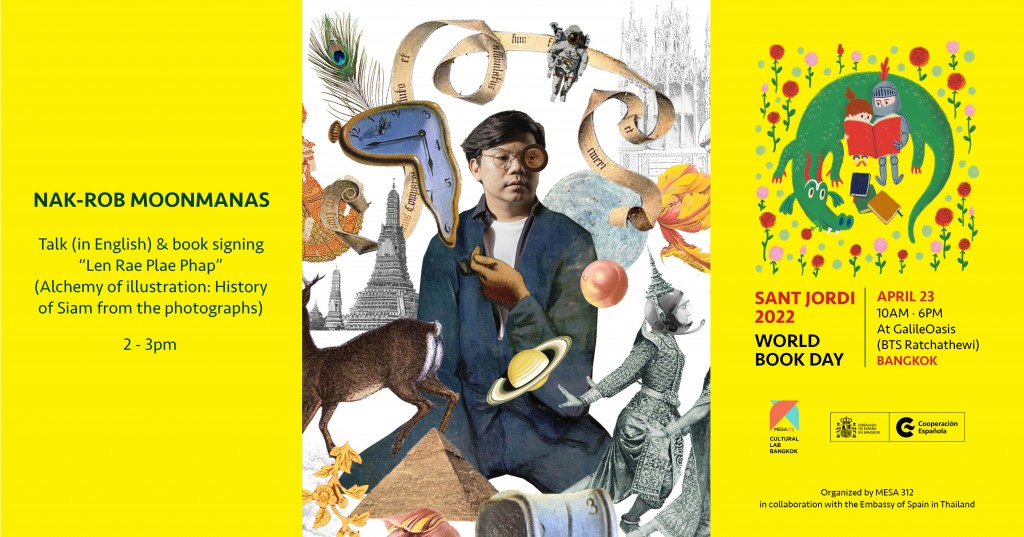 Sant Jordi/World Book Day is probably one of the most magic and romantic days of the year in Spain, especially in Catalonia, where the city or town streets are full with books, roses and happiness.
This event aims to promote not only Spanish Culture to Thais but also the good habit of reading.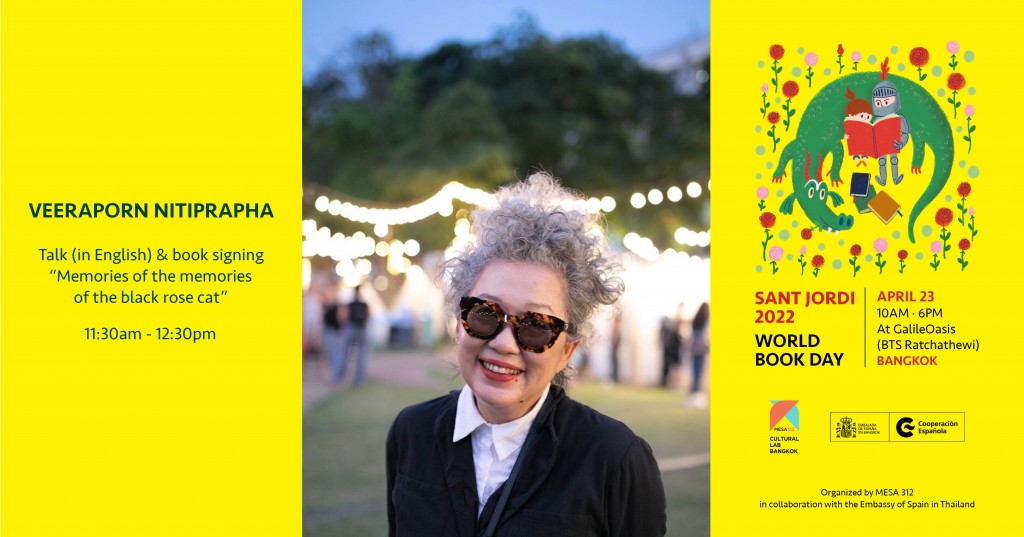 สถานเอกอัครราชทูตสเปนประจำประเทศไทยและ Mesa 312 ขอเชิญท่านเข้าร่วมงานกิจกรรมวันหนังสือโลก Sant Jordi/World Book Day ในวันที่ 23 เมษายน 2565 ที่ Galileoasis (BTS ราชเทวี) งานเริ่มตั้งแต่เวลา 10.30 – 18.00 น. ในงานจะมีการจัดกิจกรรมหลากหลายตั้งแต่การแสดงงานศิลป์ เวิร์กชอป การเสวนากับนักเขียนและศิลปิน เช่น คุณวีรพร นิติประภา คุณนักรบ มูลมานัส และผู้ช่วยศาสตราจารย์รัศมี กฤษณมิษ ในช่วงเที่ยงเชิญผู้เข้าร่วมงานชิมข้าวผัดสเปน Paella จากร้าน Barcelona Gaudí สามารถดูรายละเอียดได้จากลิงก์นี้ https://m.facebook.com/events/394476892214121
เกี่ยวกับวันซานท์ จอร์ดี 
ทุกวันที่ 23 เมษายนของทุกปีในแคว้นกาตาลูนญ่าของสเปนจะเป็นวันนักบุญเซนต์จอร์จ หรือที่รู้จักกันในภาษากาตาลันว่าซานท์ จอร์ดี ในวันดังกล่าวจะมีธรรมเนียมการให้ดอกกุหลาบแดงและหนังสือ ตามท้องถนนจะมีการจัดร้านขายหนังสือ และมีนักเขียนมานั่งแจกลายเซ็นให้กับแฟนๆ นักอ่าน
จุดประสงค์ในการจัดงาน
การจัดกิจกรรม Sant Jordi/World Book Day ในประเทศไทยมีจุดประสงค์นอกจากจะเป็นการทำให้ชาวไทยรู้จักเกี่ยวกับวัฒนธรรมและประเพณีของชาวสเปนแล้วนั้น ทางผู้จัดหวังเป็นอย่างยิ่งว่าจะส่งเสริมนิสัยรักการอ่านในหมู่เยาวชน  การอ่านจะช่วยให้เราเข้าใจความเป็นมนุษย์และเข้าใจซึ่งกันและกันได้มากยิ่งขึ้น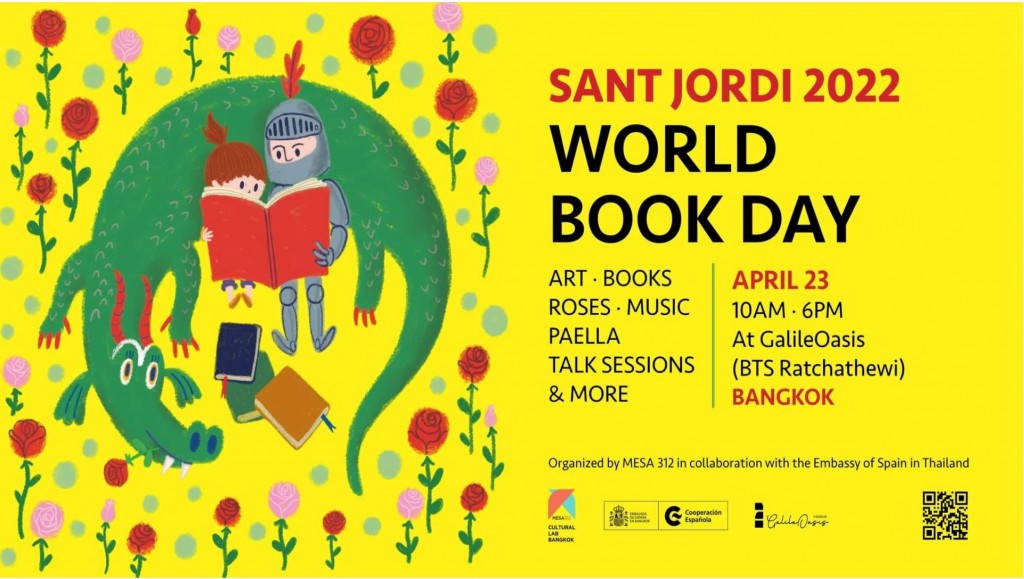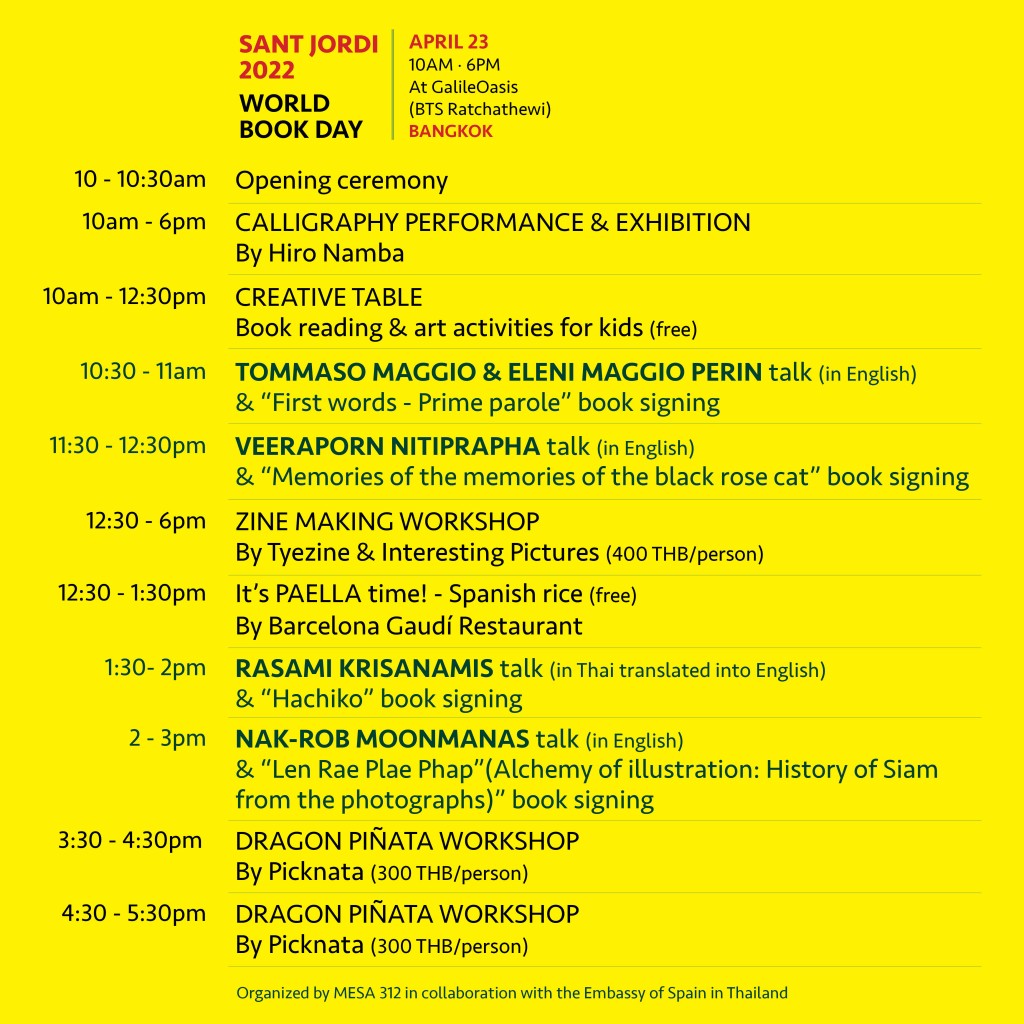 Related posts: