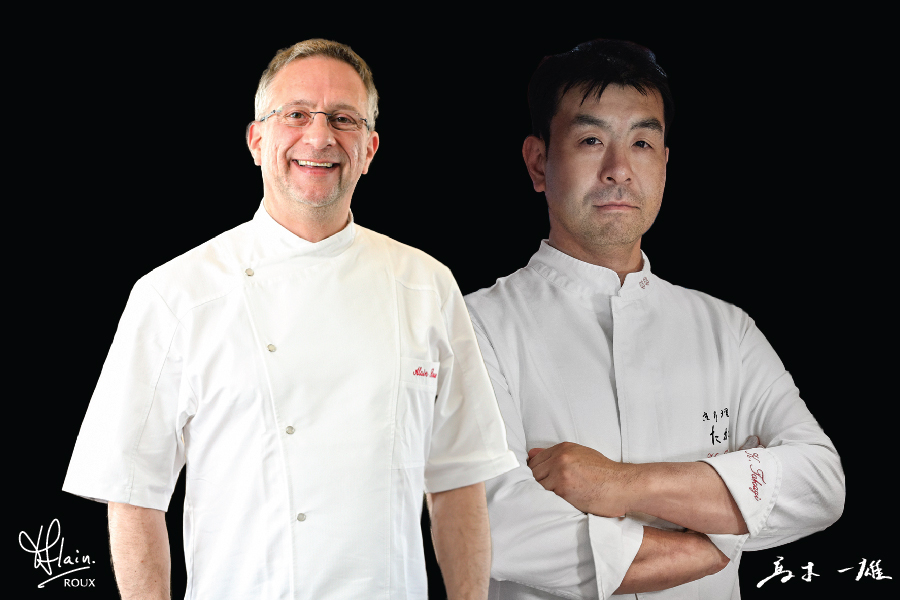 Discover the Magic Delivered  with  Five Stars at  Le  Normandie by Alain Roux
Only on Monday 30 May 2022
For the first time ever Le Normandie by Alain Roux will bridge west and east presenting to diners a special six-course lunch crafted by two culinary maestros, three Michelin-starred Chef Alain Roux and two Michelin-starred Chef Takagi Kazuo. Tantalise your gastronomy with a sophisticated and rare lunch experience elevating the art of cooking with enriched culture and passion with these French and Japanese culinary masters. Discover the balance of a seamless dining journey that artisanal and authentic French and Japanese delicacies can offer.
Limited seats are available for this one-time lunch event. To ensure you will be one of the very few to enjoy this four-hand lunch experience, advanced reservations are required. Allow Chef Alain Roux and Chef Takagi Kazuo to take you on a culinary journey discovering the best of both worlds.
THB 8,500++ per person for a six-course lunch curated by Chef Alain Roux and Chef Takagi Kazuo
For reservations, please contact Le Normandie by Alain Roux at +66 (0) 2659 9000 or www.mandarinoriental.com/bangkok
 About Chef Alain Roux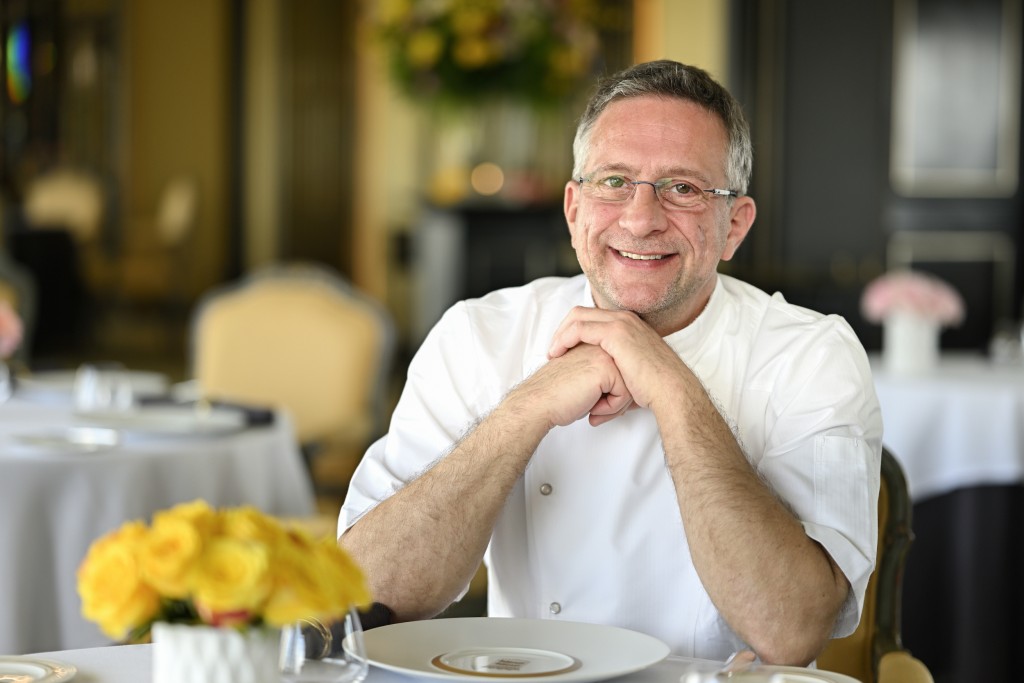 Chef Alain Roux, son of the late Michel Roux O.B.E., continues and elevates The Roux cooking dynasty. After an apprenticeship in pastry, Alain spent many years working in some of France's most notable Michelin-starred restaurants. Joining his father's legendary Thameside restaurant in Bray – The Waterside Inn in 1992, Alain worked through the ranks before becoming joint Chef Patron with his father in 2000. A couple of years later, Alain took over and has led the team until present. Since 2000, Alain has been a Master Pâtisseier in the International Association Relais Desserts, ranking him one of only 100 listed best pastry chefs in the world.
About The Waterside Inn
The Waterside Inn is an elegant, contemporary restaurant and small hotel on the banks of the River Thames offering the finest three Michelin-starred food, wines and hospitality in beautiful surroundings
The late Michel Roux O.B.E. opened The Waterside Inn in 1972 with his brother, Albert following the success of Le Gavroche in Mayfair.  In the inaugural UK Michelin Guide, published in 1974, The Waterside won its first Michelin star, then received its second in 1977 and third in 1984.  The three stars have been retained to this day, the longest spell of any restaurant in the world outside France (38 years).
About Chef Takagi Kazuo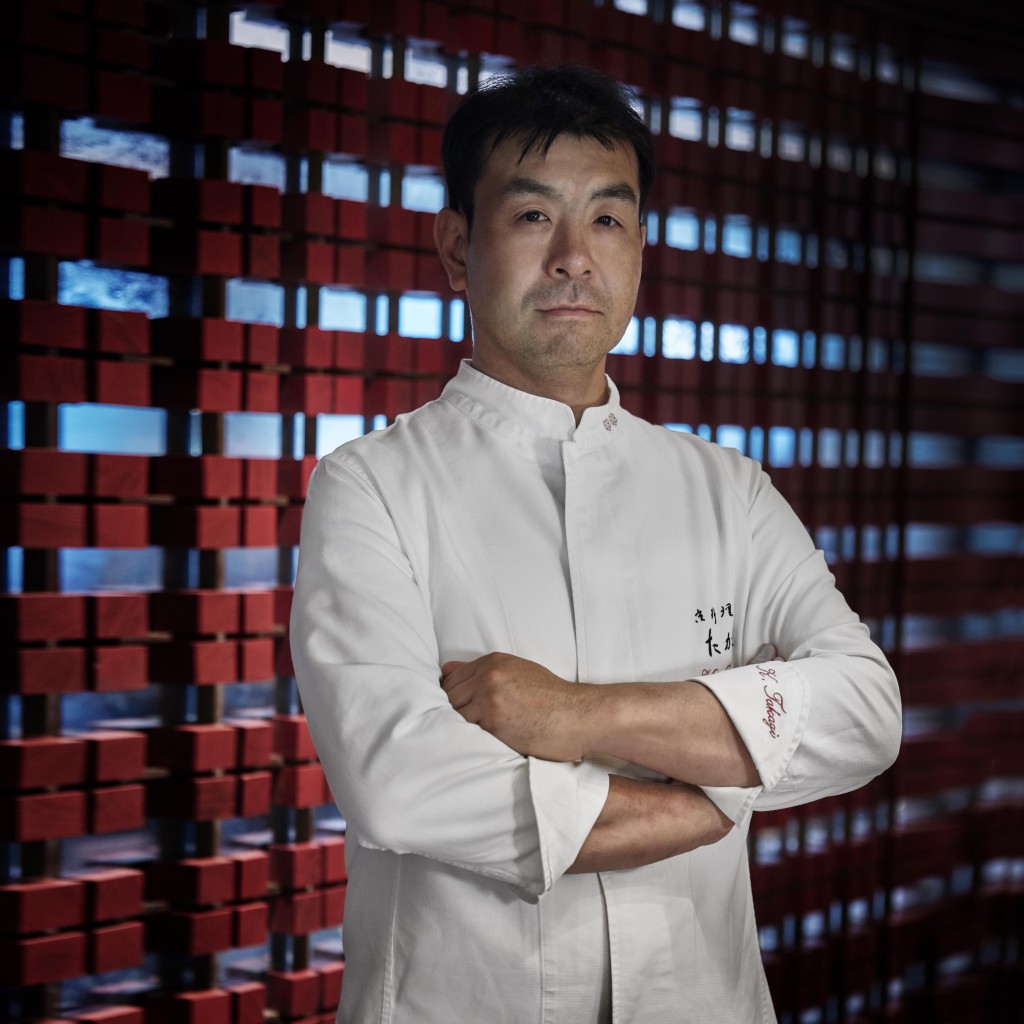 Chef Takagi Kazuo dreamed of becoming a chef even before he went to school. When he was just three years old, he spent time in the kitchen observing his parents and grandparents cooking. He was greatly influenced by his grandfather, a successful chef in Tokyo. During his childhood school holidays, Chef Takagi frequently spent time with his grandfather and learned about his life philosophy, which is rooted in respect and appreciation. This philosophy continues to reflect Chef Takagi's cooking philosophy today, as he respects every ingredient and aims to waste as little as possible. Chef Takagi Kazuo, chef and owner of the two-Michelin-starred Kyoto Cuisine Takagi, is committed to offering true Kyoto cuisine, which is rare even in Japan nowadays because of the complicated nature of preparing and serving it.
Kyoto Cuisine Takagi, his 15-year-old restaurant, is located in Ashiya, Japan (a city between Osaka and Kobe), and it has held two Michelin stars since 2010. It is best known for 'kyo-ryori', or Kyoto cuisine, a style of cooking that elevates Japanese ingredients into exquisitely plated dishes imbued with cultural references and a sense of the seasons.
Related posts: