Masterclasses & Chef's Table with Culinary Legend Alain Passard
Best Chef in the World 2017
3-Michelin-Stars Restaurant Arpège in Paris
Issaya Cooking Studio
Wednesday – Saturday 14th – 17th June 2017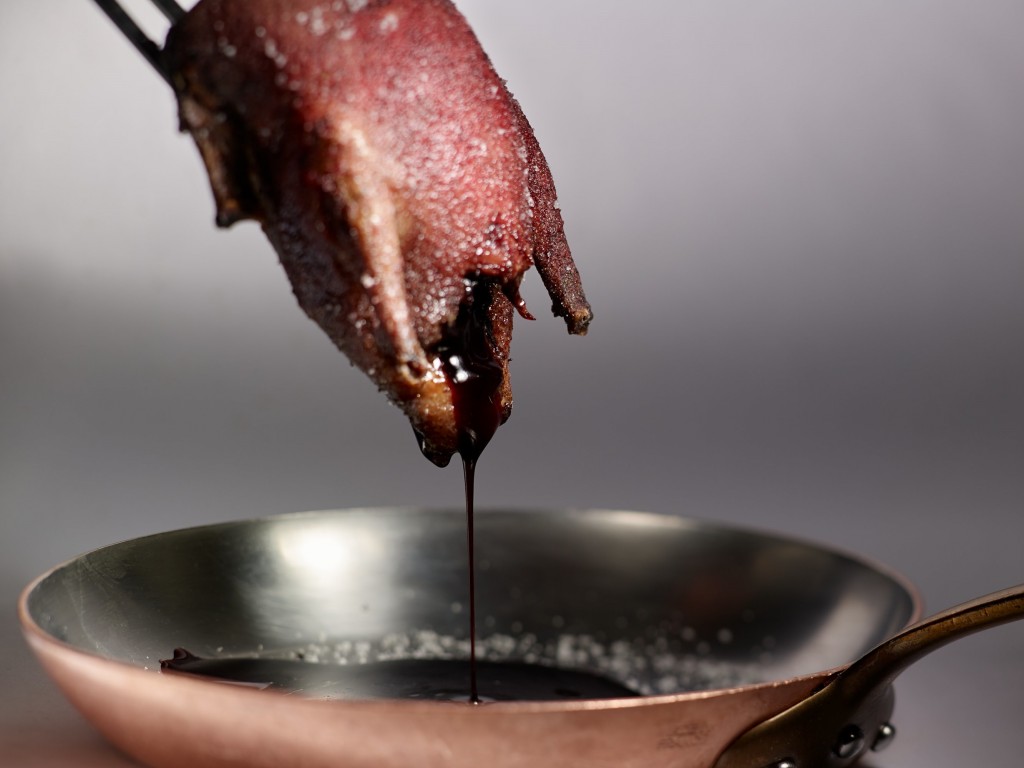 Pigeon de Pornic laqué à l'hibiscus. ©Photo credit: DosSantos_Lemone
Masterclass
Time: 11 AM – 2 PM Per date
Price: THB 5,900++ Per Class
Exclusive experience to learn with Chef Alain Passard side by side;
See how is the world master chef's organization, working and thinking.
Alain Passard will teach 4 dishes at the class with the best ingredients and Chef Passard's gardens from France. He will surprise us with his secret recipes and technique.
Chef's Table Dinner (Limited Seats)
Time: 7 PM Onwards
Price: THB 12,500++ Per Dinner and Wines
9 Courses Pairing with wines and champagne
*all the dishes can be change due to the seasonal main ingredients from Chef Passard's gardens in France, and chef's inspiration*
For booking, please contact Issaya Cooking Studio
Email: booking@issayastudio.com    Tel: 02 160 5636
Masterclasses  & Chef's Tables  with Alain Passard
วันที่ 14-17 มิถุนายนนี้ ความมหัศจรรย์จะเกิดขึ้นที่ Issaya Cooking Studio เชฟระดับ  3 ดาวมิชลิน อแล็ง ปาสาร์ด จะเดินทางมามอบประสบการณ์เอ็กคลูซีพ ในการสอนทำอาหารแบบ Master Class และยกร้าน Arpège  ในกรุงปารีส มาเสริฟอาหาร พร้อมพูดคุยอย่างใกล้ชิด
ประวัติเชฟ Alain Passard 
อแล็ง ปาสาร์ดเป็นเชฟและเจ้าของร้านอาหาร L'Arpège โด่งดังระดับ 3 ดาวมิชลินในกรุง Paris ประเทศฝรั่งเศส
L'Arpège เป็นร้านอาหารระดับ 3 ดาวมิชลิน ที่ได้รับคัดเลือกมาตั้งแต่ปี 1996  และได้รับต่อเนื่องมาถึงปัจจุบันเป็นเวลา 21 ปี
อแล็ง ปาสาร์ดในฐานะเชฟของ L'Arpège ได้รับคัดเลือกระดับ 1  ดาวมิชลิน ตั้งแต่ปีแรกที่เปิดร้าน และได้รับ 2 ดาวมิชลินในปีถัดมา
จุดเด่น คือ ความพิถีพิถันและใส่ใจในรายละเอียด เชฟเลือกที่จะมีสวนผักที่ปลูกไว้เพื่อใช้เป็นวัตถุดิบภายในร้านเอง เพื่อจะสามารถเล่าเรื่องราวผ่านพืชผักต่างๆไปสู่จานอาหาร  เชฟเชื่อว่าธรรมชาติกับความคิดสร้างสรรค์นั้น จะสามารถก่อให้เกิดสิ่งมหัศจรรย์ได้
Master Class คุณจะได้เห็นถึงวิธีการทำงาน ความคิด การวางแผนในการทำอาหารของความเป็นเชฟระดับโลก โดยเชฟจะแสดงวิธีทำอาหารทั้งหมด 4 เมนู
เปิดการสอนทั้งหมด 4 รอบ
ตั้งแต่วันที่ 14-17 มิถุนายน
รอบละ 3 ชั่วโมงตั้งแต่เวลา 11.00-14.00 น.
รับรอบละ 16 คน
ราคา 5900++ บาท
Chef's Table Dinner  เชฟ Alain Passard จะมาปรุงอาหารให้รับประทาน พร้อมพูดคุย  เปิดโอกาสให้ผู้เข้าร่วมงานซักถามได้อย่างใกล้ชิดในบรรยากาศเป็นกันเอง
เปิดรับจอง Dinner ทั้งหมด 4 รอบ
ตั้งแต่วันที่ 14-17 มิถุนายน
ตั้งแต่เวลา 19.00
รับรอบละ 16-18 คน
ราคา 12500++ บาท
Related posts: