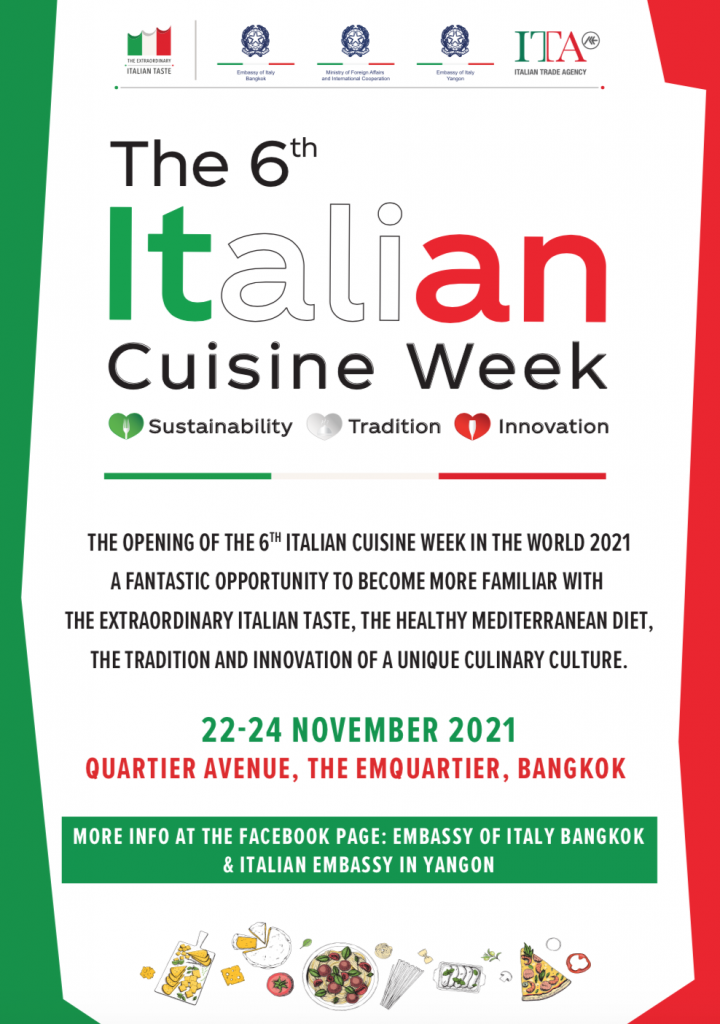 The 6th Italian Cuisine Week
Savour the Flavours of Italy in the Heart of Bangkok
Ciao! The 6th Italian Cuisine Week is back again with the biggest Italian food fair of the year for locals to taste the charms of Italy. Hosted by the Embassy of Italy in conjunction with the Italian Trade Agency (ITA), the cuisine week will happen simultaneously in 110 countries worldwide under the concept of " Sustainability – Traditional – Innovation".
The theme aims to promote more sustainable and environmentally mindful consumption and combine innovations to bring new gastronomical charms to traditional dishes. Enjoy live music while indulging in delectable, authentic Italian cuisine from Bangkok' s most renowned Italian restaurants. Complete your festive season shopping in one go with the fine selection of premium Italian products from over 30 brands between November 22 – 24, 2021, between 10:00 – 22:00 at Quarter Avenue, The EmQuartier department store.
"Italian cuisine symbolises tradition, the finest ingredients and creativity. It also encompasses innovation, well-being and sustainability. In fact, 'Mediterranean cuisine is a long-standing culinary tradition and a diet considered by doctors and researchers that can help with weight loss and heart disease. Additionally, the pizzaiuolo napoletano (the art of the Neapolitan pizza-making) is a world-renowned dish that has been given a place Representative List of the Intangible Cultural Heritage of Humanity by UNESCO. The 6th Italian Cuisine Week is thus an important annual event for the people of Italy which is hosted worldwide to promote Italy' s unique culture and tradition, as well as support the products and produce from Italy," shares H.E. Mr. Lorenzo Galanti, Ambassador of Italy to Thailand.
This year, the event sees a transformation of The EmQuartier into a marketplace of savoury joy featuring leading Italian restaurants and the finest Italian ingredients for Italian cuisine lovers to check out while enjoying authentic flavours. The event is separated into four different zones:
Plaza Zone – indulge in tasty Italian dishes made with traditional recipes.
Market Zone – shop premium quality ingredients imported from Italy.
Live Music Zone – enjoy live music performed by the musicians from the College of Music, Mahidol University that serenades visitors as they enjoy the event.
Exhibition Zone – see the exhibition under the concept of "Sustainability – Traditional – Innovation".
Throughout the three days, guests will enjoy various fun activities and fill themselves with flavourful delights while learning more about the culture from real experts.
November 22, 2021 – Learn more about Italian gastronomy through a presentation by ALMA School ((La Scuola Internazionale di Cucina Italiana) and Food School under the topic of " Italian Street Food" through a live stream given by Culture of Italian Gastronomy expert Fabio AmadeifromALMA. The online event will also feature a special online Italian cooking class by ALMA brand ambassador Carlo Maria Ricci.
November 23, 2021 – Discover the world of Italian gastronomy through " Italian Wine Pairing" via a lifestream with sommelier Ciro Fontanesi from ALMA, along with a virtual cooking class hosted by the sommelier and chef Carlo Maria Ricci. Another highlight not to miss is the live Italian Wine & Food Pairing onstage presentation by certified sommelier Prof. Falan Srisuriyachai, which will walk wine enthusiasts through the world of Italian red wine.
• November 24, 2021 – Enjoy the divine taste of Italian food while
listening to live music during the event. For those interested in
Italian sparkling wine, certified sommelier Prof. Falan
Srisuriyachai' s onstage presentation on Italian Sparkling Wine &
Food Pairing is also not to be missed.
If you are someone with a penchant for all things Italian, "The 6th Italian Cuisine Week" will be a perfect place to shop, dine and taste the flavours of this charming country without having to fly to Italy yourself.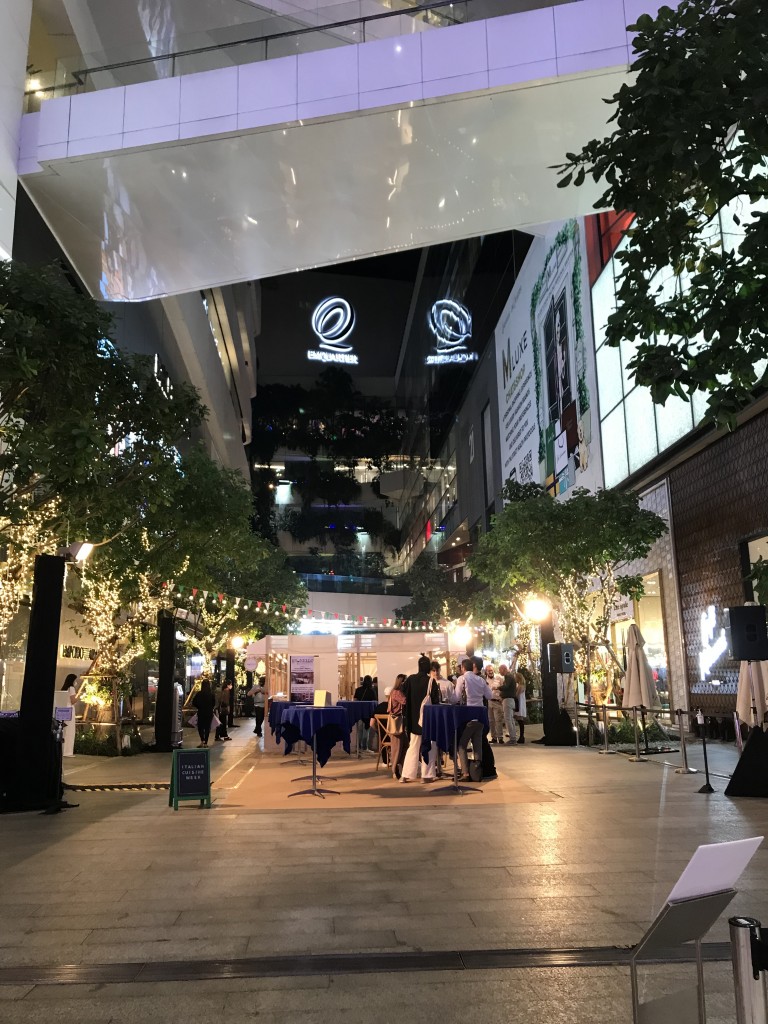 Related posts: