THE ST. REGIS BANGKOK WELCOMES
UK CELEBRITY CHEF MARTIN BLUNOS
One of the UK's most popular TV food maestros presenting European Cuisine with influence from his Baltic Heritage
12th and 13th May – SOLD OUT
11th, 14th and 15th May – FILLING FAST
Chef Martin Blunos, one of the United Kingdom's greatest chefs, and popular TV celebrity chef will be at VIU from 11-15 May to showcase a five and seven-course menu for dinner. Chef Martin has cooked in top restaurants around the world and has carved out a successful TV career as a celebrity chef. Born and brought up near Bath, Chef Martin's parents came to England from Latvia and he is greatly influenced by his mother's wholesome cooking from her homeland and their Russian relatives. At VIU, Chef Martin will be presenting European cuisine with influence from his Baltic heritage.
Menu available for dinner only
THB 4,200++ for 5 course menu
THB 6,000++ for 5 course menu with wine pairing
THB 5,100++ for 7 course menu
THB 7,500++ for 7 course menu with wine pairing
Distinguished by his blonde hair and walrus-like moustache, TV Celebrity Chef Martin is also known for his wicked sense of humor and colorful character. He previously ran the Lettonie and Blinis restaurants in Bath– both of which boasted an unrivaled two Michelin stars. He was also chosen to cook for Her Majesty Queen Elizabeth II during her Diamond Jubilee year.  Food writers, critics and contemporaries were regular customers at Lettonie and Blinis, and Chef Martin's eclectic cooking attracted journalists of leading food publications from all around the globe. He held the two stars longer than any other Chef in the UK, before then wanting to spread his wings and skills all over the globe.
Now, he continues to be a television and radio regular and travels the globe as a food expert appearing at exhibitions and shows. He has been a guest chef on BBC1's Saturday Kitchen with James Martin, ITV's Daily Cooks and BBC Great Food Live!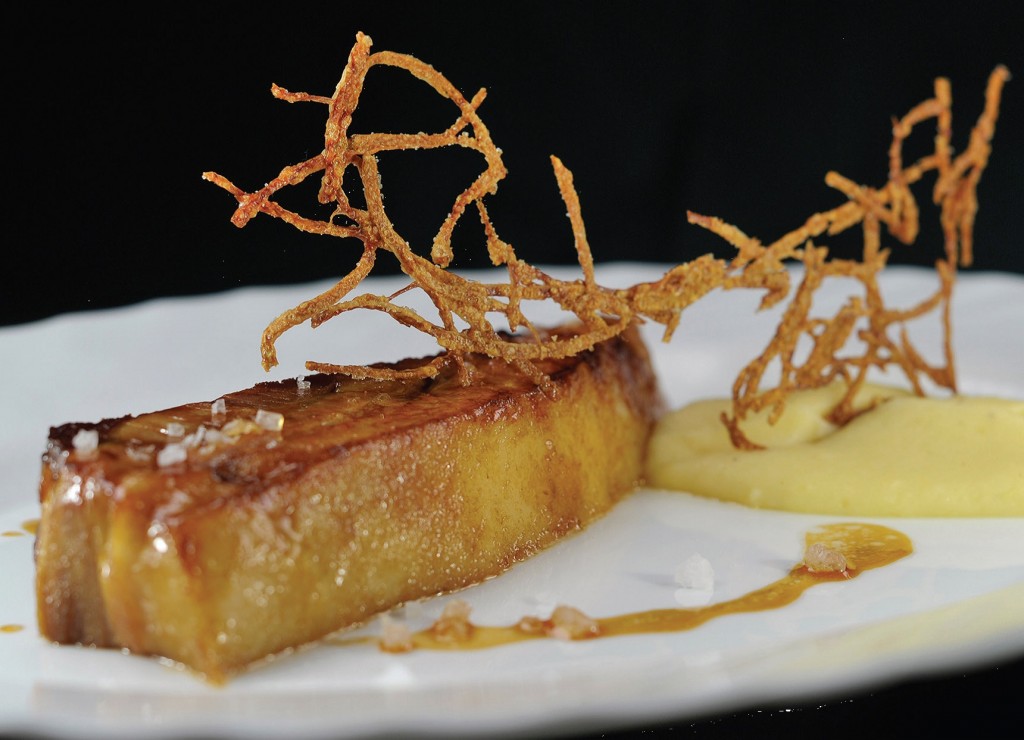 Martin Blunos' TV/ Event Appearances 
Much in demand for his entertaining demonstrations, Chef Martin can be found at events all over the UK and beyond, including the Ideal Home Show in London, Edinburgh & Glasgow, Vitality Show, Grand Designs Show in London & Birmingham, Taste of London & Edinburgh, Foodies Festivals, BBC Good Food Shows and many more.  He has been a columnist for several publications including Air Baltic In-Flight Magazine & Flavour Magazine and a Brand Ambassador for many major brands including Buckfast Tonic Wine, made by the monks at Buckfast Abbey in Devon and POM Juice where he created a range of delicious and inspiring recipes using the world-famous products.
Chef Martin appeared in the Channel 4 series 'IRON CHEF UK' and Channel 4's Cookery School, ITV series Daily Cooks and Australia's most popular show "Master Chef Australia."  Other TV appearances also include regular slots on BBC1's Saturday Kitchen with James Martin, ITV Daily Cooks, BBC Great Food Live! and Food Uncut, ITV's Saturday Cooks, BBC 2 Food Poker, ITV 1 Britain's Best Dish, BBC Market Kitchen. Channel 5 Cooking the Books, BBC James Martin's Feasts, BBC Supersizers, ITV Taste The Nation. 
Chef Martin made 'Tasting Times with Martin Blunos' a ten part historical series for ITV and was chosen to cook for Her Majesty The Queen during her Jubilee year which was documented in a 30 minute television program and appeared on BBC1 in 'All The Queen's Cooks'.
Unlike many of his peers, Chef Martin hasn't learnt his craft from other master chefs.  He went to college in Cheltenham, did a spell at the Strand Palace Hotel in London, a season in Switzerland and many cruises on a Greek tycoon's yacht before finding a job at Lampwick's in London's Battersea Road, where the main competition came from Nico Ladenis in his early nouvelle cuisine phase. Chef Martin was invited to meet The Prime Minister Tony Blair at the Foreign & Commonwealth Institute to celebrate Latvia joining the EU.
He appeared on SKY TV's World's Greatest Dishes and has also appeared on BBC 1 Holiday Programme, BBC 2 Master Chef Goes Large and presented his own Christmas program for HTV. Chef Martin has cooked and demonstrated at many prestigious events throughout the world from the Gourmet Food Festivals in South Africa to the British High Commission in Mexico and several master classes in Russia.
For reservations, please call +66 2207 7777, e-mail fb.bangkok@stregis.com or visit www.stregisbangkok.com. Connect with St. Regis Bangkok on Facebook, Instagram, and Twitter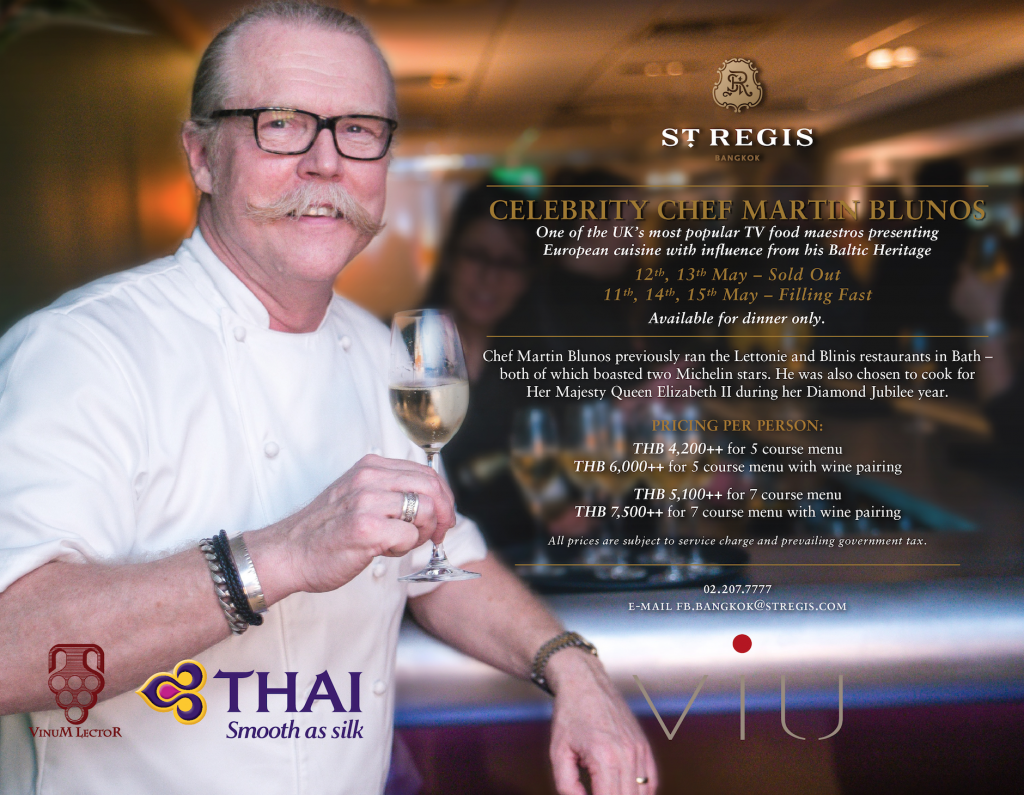 เดอะ เซนต์ รีจิส กรุงเทพฯ ขอต้อนรับ เซเลบริตี้เชฟมาร์ติน บลูโนส จากประเทศอังกฤษ
หนึ่งในเชฟที่มีชื่อเสียงโด่งดังในรายการทีวีที่สุดคนหนึ่งในอังกฤษ 
ผู้เชี่ยวชาญด้านศิลปะการปรุงอาหาร นำเสนอเมนูได้รับอิทธิพลจากวัฒนธรรมแห่งลัตเวียสู่ห้องอาหารวูว์ 
ในวันที่  11-15 พฤษภาคม 2559
เชฟมาร์ติน บลูโนส  หนึ่งในเชฟที่มีชื่อเสียงโด่งดังที่สุดคนหนึ่งในอังกฤษ และเป็นรู้จักอย่างกว้างขวางในวงการทีวีรายการอาหาร  จะมารังสรรค์เมนู ยูโรเปียนที่ได้รับอิทธิพลและแรงบันดาลใจจากวัฒนธรรมแห่งลัตเวีย ในแบบ 5 คอร์ส และ 7 คอร์ส  สำหรับมื้อกลางวันและมื้อค่ำ ณ ห้องอาหารวูว์ ในวันที่  12-16 พฤษภาคม 2559 
เชฟมาร์ติน ได้แสดงฝีมือการทำอาหารให้เป็นที่ประจักษ์ในร้านอาหารดังทั่วโลก ประสบความสำเร็จเป็นอย่างมากในเส้นทางอาชีพเชฟผู้สร้างชื่อเสียงโด่งดังอันยาวนานผ่านรายการทีวี
เชฟมาร์ติน เกิดและอาศัยอยู่ใกล้กับเมืองบาธ (Bath) พ่อแม่ของเชฟมาร์ตินได้ย้ายถิ่นฐานจากประเทศลัตเวีย (Latvia) มาพำนักในประเทศอังกฤษ และเขาได้รับอิทธิพลอย่างมากในเรื่องศิลปะการปรุงอาหารทั้งหมดจากแม่ของเขาซึ่งได้ถ่ายทอดเคล็ดลับและการสูตรอาหารของชาวอังกฤษถิ่นบ้านเกิดของแม่และญาติผู้เชื้อสายรัสเซีย
ก่อนหน้านี้เขาได้เปิดร้านอาหารของตัวเองที่ชื่อว่า Lettonie และ Blinis ณ เมืองบาธ (Bath) ในอังกฤษ ร้านอาหารทั้งสองแห่งนี้ได้รับขนานนามว่าเป็นสุดยอดร้านอาหารมิชลินระดับสองดาวที่ไม่มีใครเทียบได้ นอกจากนี้เขาได้รับเกียรติอันสูงสุดให้ปรุงอาหารสำหรับสมเด็จพระราชินีอลิซาเบธ  การเฉลิมฉลองเพื่อแสดงการครบรอบ 60 ปี
บรรดานักเขียนอาหาร นักวิจารณ์และลูกค้าประจำต่างแวะเวียนมากันมาที่ร้านอาหาร Lettonie และ  Blinis อย่างไม่ขาดสาย ด้วยมาร์ตินผู้คัดสรรสิ่งที่ดีที่สุดมาปรุงอาหาร จึงสร้างเสน่ห์ดึงดูดให้กับนักข่าวของสำนักพิมพ์อาหารชั้นนำจากทั่วทุกมุมโลก เขาได้ครองตำแหน่งมิชลินเชฟระดับสองดาวยาวนานกว่าเชฟอื่นๆอีกหลายคนในอังกฤษ ซึ่งก่อนหน้านั้นเขาต้องการเพียงแสดงฝีมือและสร้างชื่อเสียงให้เป็นที่รู้จักไปทั่วโลก ถือว่าเขาได้รับผลตอบรับเกินคาด
นอกจากชื่อเสียงโด่งดังอันยาวนานผ่านรายการทีวีในฐานะเซเลบริตี้เชฟมาร์ตินแล้ว เขายังเป็นที่กล่าวขานว่าเป็นสุดยอดเชฟผู้มีอารมณ์ขัน เป็นคนขี่เล่นและสนุกสนาน และสร้างสีสันอย่างไม่น่าเชื่อ ด้วยคาแรคเตอร์อันเป็นเอกลักษณ์โดยสังเกตได้จากหนวดของเชฟอันโดดเด่นที่มีลักษณะคลายกันกับวอลรัส  มีความน่ารัก จึงทำให้ผู้คนจดจำมาร์ตินได้อย่างแม่นย้ำ
ปัจจุบันนี้ มาร์ตินเป็นผู้ดำเนินรายการโทรทัศน์และวิทยุเป็นประจำและได้เดินทางไปทั่วโลกในฐานะผู้เชี่ยวชาญด้านแวะเยี่ยมเยียนชมงานนิทรรศการและการแสดงอาหารต่างๆ โดยเขาได้รับเกียรติให้เป็นเชฟรับเชิญในรายการ BBC1's Saturday Kitchen กับเจมส์มาร์ติน James Martin ช่อง ITV's Daily Cooks  และ BBC Great Food Live
• 4,200 บาท ++ ต่อท่านสำหรับ 5 คอร์ทเมนู
• 6,000 บาท ++ ต่อท่านสำหรับ 5 คอร์ทเมนู เสิร์ฟควบคู่กับไวน์
• 5,100 บาท ++ ต่อท่านสำหรับ 7 คอร์ทเมนู
• 7,500 บาท ++ ต่อท่านสำหรับ 7 คอร์ทเมนู เสิร์ฟควบคู่กับไวน์
Related posts: