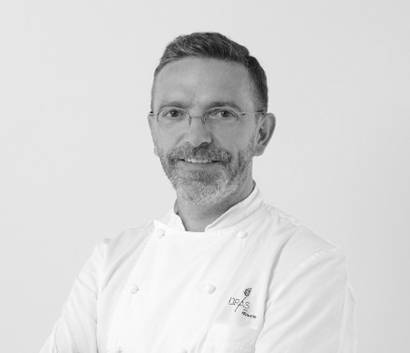 Chef Sébastien Bras at Le Normandie
12 to 17 December 2016
Straight from the French culinary gem "Le Suquet", 3-star Michelin restaurant since 1999 and named as one of the top 100 best restaurants in the world, Sébastien Bras will present his tempting winter creations.
Celebrated for his spontaneous cuisine of the moment, instant, alive and sensual, his gastronomy appeals to the heart rather than to the mind. With the rhythms of the seasons, his cooking reflects and transcribes his emotions, inspired by his symbiosis with the rustic Aubrac nature. 
You are invited to join this culinary highlight both for Lunch and Dinner and  for the spectacular Wine Dinner on 17 December 2016.
For reservation, please call The Mandarin Oriental at 02  659 9000

MENU AUBRAC
Today a 'classic'
Le 'Gargouillou' of young vegetables,
herbs & sprouting grains, toasted sesame seeds oil
Sancerre Blanc, Domaine Vacheron 2015, Loire
—
It is the season
Scallops 'rolled' à la plancha
All the vegetables roots of the moment, green meat, red meat, blue meat, Barbe scallop jus, Chicory emulsion
Chablis 1er Cru, Montée de tonnerre, Maison Louis Michel & Fils 2013, Burgundy
—
From the ground
Fat stuffed endives
Melted cream scented with poppyseed
& Comprégnac truffle jus
—
From the South of Aveyron
Charcoal roasted lamb rack
Napa cabbage & lacto-fermented leaves
Pan-fried girolle mushrooms & a touch of confit citrus
L'Esprit de Font Caude, Alain Chabanon 2010, Languedoc
—
The Unavoidable from our party
Potato aligot 'Beauvais Institut'
—
Provocative but so tasty
Like a snack, crispy potato wafer
Hazelnut butter cream & salted butter caramel
—
Milk liquor & to crunch
—
Menu Dégustation 4,500
Wine Pairing 3 glasses 1,500
Prices are in Thai Baht and subject to 10% service charge and applicable government tax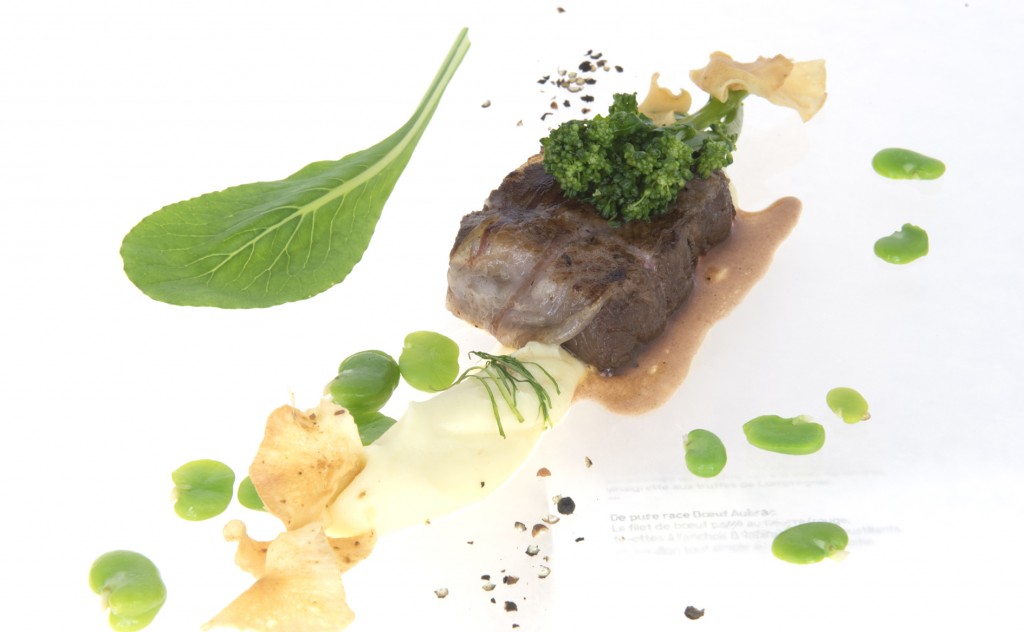 MENU BALADE
Today 'classic'
Le Gargouillou of fresh vegetables,
herbs & sprouting grains, toasted sesame seeds oil
Sancerre Blanc, Domaine Vacheron 2015, Loire
—
From Beganto
Pan-fried Turbot fillet with whey butter
Tomato rob and black olives, whole cauliflower Anisseed leaflets
Condrieu, La Bonnette, Domaine Rene Rostaing 2014, Rhône
—
Roasted/Poached
Duck foie gras & julienne of celtuce
Duck consommé, plum vinegar acidulous
Minced young fennel & 'tonic' shoots
Gewürztraminer, Domaine Zind-Humbrecht 2014, Alsace
—
Called running squash
Vegetable spaghetti, black truffle from our home
Sail of Tomme cheese & 'niac' scented, reduction of meat juice
—
Prime Aubrac beef
The piece pan-fried with hazelnut butter
Butternut purée & poached chayote in Marcillac wine
Château Canon, 1er Grand Cru Classé 2007, Saint-Émilion, Bordeaux
—
The Unavoidable from our party
Potato aligot 'Beauvais Institut'
Saint Mont, Le Faite, Rouge 2009, Southwest
—
From here and close by
Cheeses from Aveyron
—
From the original idea coulant in 81
Warm biscuit and chesnut coulant
Salted butter caramel ice cream
Riesling, Vendange Tardive, Brand, Domaine Zind-Humbrecht 2004, Alsace
—
Milk liquor & to Crunch
—
Menu Dégustation 8,400
Wine Pairing 4 glasses 2,800
Wine Pairing 6 glasses 3,900
Prices are in Thai Baht and subject to 10% service charge and applicable government tax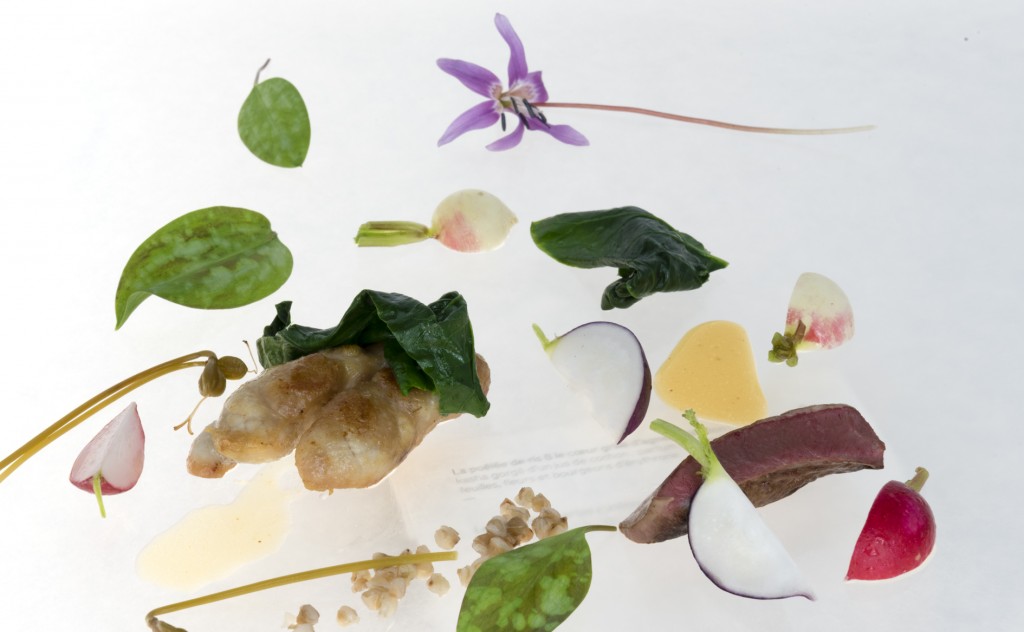 MENU BALADE
Meursault-Perrières 1er Cru, Domaine Jacques Prieur 2011, Côte de Beaune
Today a 'classic'
Le Gargouillou of fresh vegetables,
herbs & sprouting grains, toasted sesame seeds oil
—
Puligny-Montrachet 1er Cru, Clavoillon 2011, Domaine Leflaive, Côte de Beaune
A wink from Hokkaido island
Pan-fried king crab with whey butter Artichokes & aniseed of the moment Sichuan button pistil
—
Puligny-Montrachet 1er Cru, Les Pucelles 2008, Domaine Leflaive, Côte de Beaune
With the first fall frosts
Pan-fried duck foie gras, peppery (Madagascar black peppercorn) Vegetable roots, fermented milk & apples, horseradish leaves
—
A Sweet savor & perfume
Lézignan onion slowly cookedCrusted with black winter truffles, meat jus vinaigrette
—
Chambertin Grand Cru, Domaine Henri Rebourseau 2002, Côte de Nuits
Prime Aubrac beef
Beef filet unilaterally cooked
Bread and anchovy jus
—
The unavoidable at our party
Potato aligot 'Beauvais Institut'
—
Echezeaux Grand Cru, Domaine Daniel Rion & Fils 2011, Côte de Nuits
From here and close by
Cheeses from Aveyron
—
From the original idea of a coulant in 81
Warm biscuit and red kuri squash coulant Black winter truffle ice cream
—
Milk liquor & to crunch
—
Menu degustation 12,900
Prices are in Thai Baht and subject to 10% service charge and applicable government tax

Related posts: