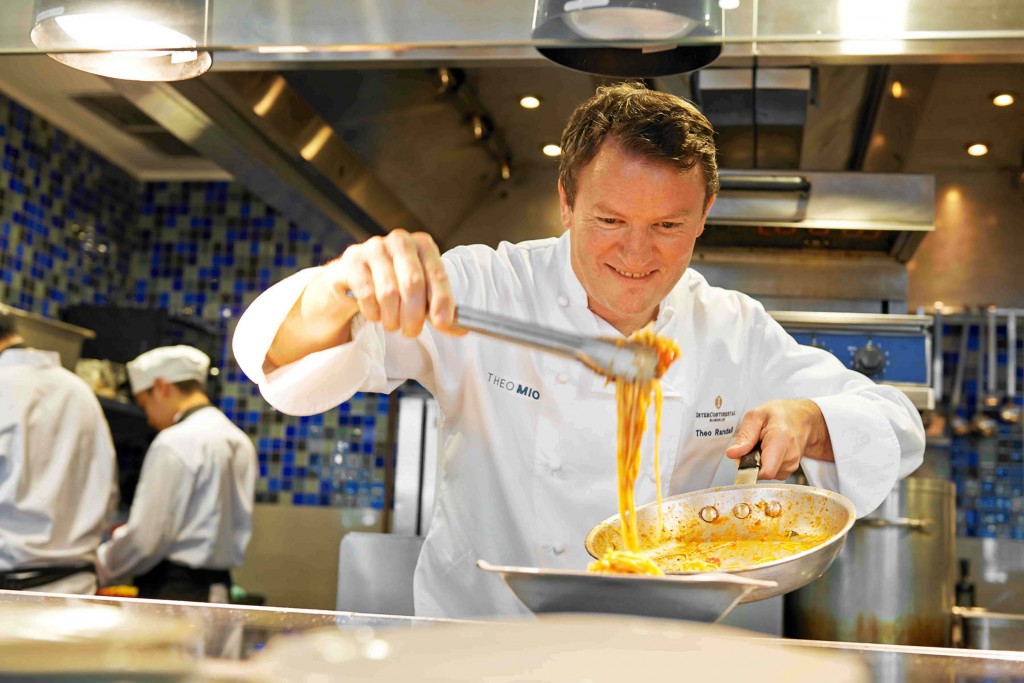 HOME FOR DINNER: CHEF THEO RANDALL AT THEO MIO,
INTERCONTINENTAL BANGKOK
British chef Theo Randall returns to his Bangkok culinary home for two very special wine pairing dinners in September.
Since its opening a year ago, Theo Mio has brought to Bangkok the same creative flair that earned London restaurant Theo Randall at InterContinental London Park Lane such tremendous acclaim, including being the only U.K. restaurant selected for the coveted Cucina d'Italia gourmet guide.
Now, the author, television presenter and renowned Italian cookery expert returns to his first-ever venture outside the U.K., Theo Mio at InterContinental Bangkok, with a five-course dinner menu created by Theo Randall specially for the event.
The menu exemplifies much that has made Theo Mio restaurant such a hit in Bangkok. The meal begins on a subtle note with Crudo di Pesce, an antipasti of raw yellowtail, beautifully served with a refreshing blend of cherry tomatoes, fennel seed, rocket and olive oil.
For his pesce course, Chef Theo has chosen Capesante e Gamberetti Spiedino, scallop and prawn skewer with marinated grilled vegetables, black olives and basil.
The menu's carne selection follows with an Italian classic: Ravioli di erbette, handmade ravioli filled with rocket, kale and ricotta served with sage butter. By meal's end, diners certainly will be in agreement this defines la dolce vita, the sweet life, and a signature Theo Mio dessert will confirm it.
Further enhancing each course are exquisite wines from Theo Mio's extensive list.
Enjoy all the flavors of superb Italian cuisine by Chef Theo Randall during his much-anticipated return to Bangkok. Theo Mio wine pairing dinner with Chef Theo Randall available 13 and 14 September 2016 only. Baht 3,200++ per person.
For more information or to make a reservation, please call: 02 656 0444 or visit: www.bangkok.intercontinental.com.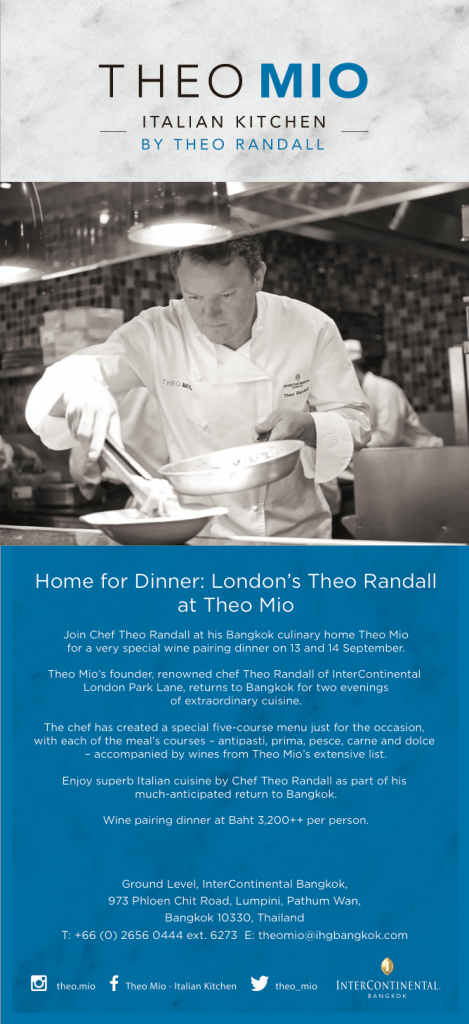 ช่วงเวลาสุดพิเศษเคล้ากลิ่นอายอิตาเลี่ยนกับเซเลบริตี้เชฟ ทีโอ แรนดัลล์ ณ ห้องอาหารทีโอ มีโอ โรงแรมอินเตอร์คอนติเนนตัล กรุงเทพฯ
ร่วมต้อนรับการกลับมาของเซเลบริตี้เชฟชื่อดังทีโอ แรนดัลล์ ที่บินลัดฟ้ามาจากประเทศอังกฤษ เพื่อมาปรุงอาหารอิตาเลี่ยนจานพิเศษให้คุณได้ลิ้มลอง ณ ห้องอาหารทีโอ มีโอ ให้เพลิดเพลินพร้อมไวน์รสเลิศเป็นคู่เมนูอาหารตั้งแต่เมนูแรกจนเมนูสุดท้าย
เริ่มด้วยจานเด่นเรียกน้ำย่อย Crudo di Pesce เมนูปลาหางเหลืองเสิร์ฟสดชื่นแบบอิตาเลี่ยนแท้  ด้วยร็อคเก็ตสลัดและมะเขือเทศ ก่อนลิ้มรสหลายเมนูที่เชฟชื่อดังทีโอ แรนดัลล์สร้างสรรค์ขึ้นเป็นพิเศษสำหรับโอกาสนี้โดยเฉพาะ ทั้ง Ravioli di Erbette ราวิโอลิไส้ผักและชีสริคอตตาในซอสเนยและเซจ รวมถึง Capesante e Gamberetti Spiedino เมนูกริลล์เนื้อกุ้งและหอยเชลล์รสเข้มเสิร์ฟพร้อมเครื่องเคียง และอีกหลากหลายเมนู  ก่อนปิดท้ายด้วยของหวานให้ดื่มด่ำกับบรรยากาศสไตล์อิตาเลี่ยนอย่างเต็มที่
สัมผัสประสบการณ์ดินเนอร์กับเซเลบริตี้เชฟทีโอ แรนดัลล์ ณ ห้องอาหารทีโอ มีโอ โรงแรมอินเตอร์คอนติเนนตัล กรุงเทพฯ ในวันที่ 13-14 กันยายน 2559 นี้ ณ ห้องอาหารทีโอ มีโอ ราคาท่านละ 3,200++ บาท
สอบถามข้อมูลเพิ่มเติม หรือ สำรองที่นั่ง โทร 02 656 0444 ต่อ 6273 หรือ www.bangkok.intercontinental.com
Related posts: