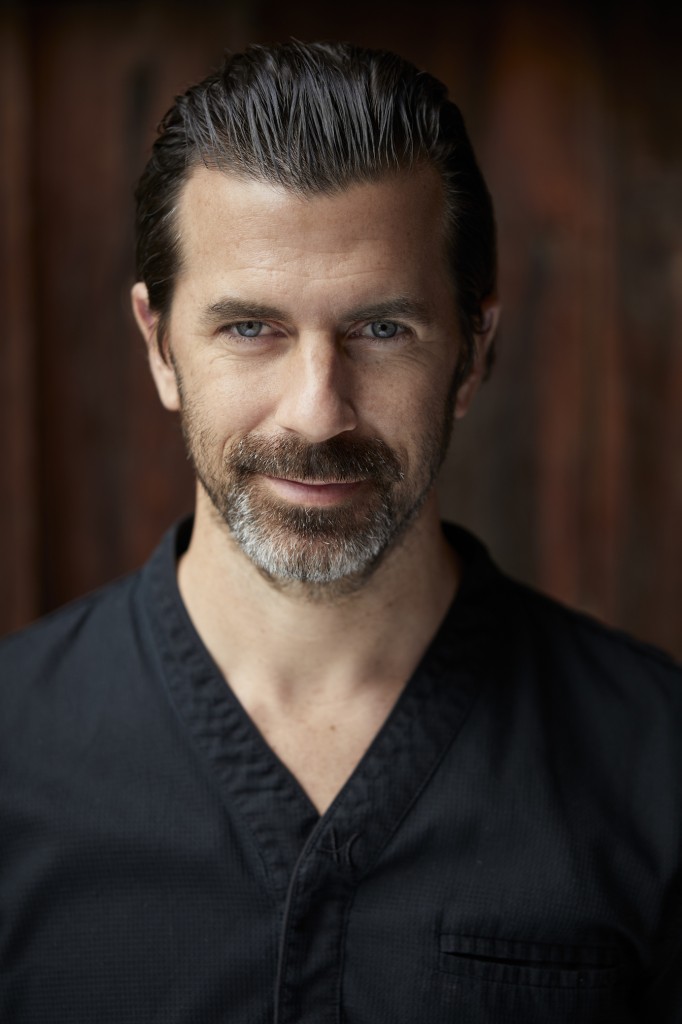 SHARING INTRIGUING FOOD WITH THREE-MICHELIN-STAR SWISS CHEF ANDREAS CAMINADA AT THE ST. REGIS BANGKOK 
With 3 Michelin Stars and worldwide acclaim, Swiss Chef Andreas Caminada of Schloss Schauenstein and IGNIV in Switzerland, shares his unique culinary perspective at Jojo, in the singularly sophisticated fine dining sharing experience of his 1-Michelin-Star IGNIV restaurant concept, at The St. Regis Bangkok, from 30th October to 2nd November 2018, from 6:00pm.
In the latest of The St. Regis Bangkok's top Michelin-Starred guest chefs from around the globe, world-renowned 3-Michelin-Star Chef Andreas Caminada is set to take over the kitchen at the ground-floor Jojo Restaurant, together with Marcel Skibba, the Head Chef of his IGNIV restaurant in Badrutt's Palace, a famous mountain hotspot in St. Moritz.
From Tuesday 30th October to Friday 2nd November 2018, from 6:00pm, The St. Regis Bangkok invites guests to limited-seating, exclusive evenings of intriguing culinary excellence. Chefs Andreas and Marcel will showcase the unique and sophisticated 1-Michelin-Star IGNIV fine dining sharing experience, in three very non-traditionally served courses. Combining the freshest ingredients, clean flavors and vibrant colors, to stimulate and intrigue the senses, guests will be able to sample up to 16 plates, throughout the evening.
"Our aim with IGNIV on tour is to create a sophisticated social experience: We want to bring people together around the table, to get them eating together, speaking to each other, sharing ideas, memories and moments, while sharing and enjoying our food," assures Chef Andreas Caminada.
Starters feature Hamachi-Radish-Avocado, Duck Liver-Yoghurt-Physalis, and Lettuce-Egg Yolk-Truffle, along with other tempting combinations. Main courses served include a range of fish, chicken, beef and pork belly dishes, all different and wonderfully presented, while dessert excites with such sweet treats as Egg Surprise-Caramel, Swiss Chocolate-Coffee, Passionfruit-Rice-Shiso and more.
As a bonus, the shared menu additionally features a small appetizer and post-dessert 'candy store' with coffee. Perfectly complimenting Chef Andreas' intriguing shared dinner menu, in the style of the 1-Michelin-Star IGNIV, an optional wine pairing is also available for an additional fixed price. This exquisite social experience from Chefs Andreas and Marcel is priced at THB 4,500++ per person, plus THB 2,800++ for the optional wine pairing.
A perfectionist and a pioneer, Chef Andreas pays homage to the palate with every dish. "Eating shall be a journey involving all senses, leaving a lingering impression," according to Chef Andreas Caminada's philosophy (www.andreascaminada.com).
Caminada has a preference for simple, familiar ingredients, prepared in exciting and different ways. His extraordinary talent for various preparations of a single ingredient ensures his plates are never lacking and always surprising. Each component fits into the whole, supplying a feast for the senses, balancing delectable flavors and aromas.
With an immediately accessible quality, Chef Andreas' food inspires wonder at its precise synchronicity and expert assembly, as culinary art. Each element on the plate is given a specific and impactful role to play, each bearing his signature, with absolutely nothing superfluous. Guests will delight at sharing time, fine food and a sense of convivial indulgence.
"With IGNIV we are serving not only excellent food but also an entertaining atmosphere," notes rising star Chef Marcel Skibba.
For reservations, please call +66 2207 7777, e-mail fb.bangkok@stregis.com or visit www.stregisbangkok.com. Connect with The St. Regis Bangkok on Facebook, Instagram, and Twitter.
About Chef Andreas Caminada 
Switzerland's most acclaimed chef, Andreas Caminada achieved three-Michelin-Star status by age 33. His career began at the Hotel Signina in Laax, followed by notable Michelin-Starred restaurants, such as Hotel Walserhof, the Bareiss Restaurant and Wiesengrund Inn, working under some of the best chefs in the world. Chef Andreas has held three Michelin stars since 2004, numerous high Gault Millau Points ratings and has appeared in The World's 50 Best Restaurants.
His restaurants include Schloss Schauenstein, IGNIV and Remisa – La Tavlada, all located in Switzerland. The Schloss Schauenstein restaurant is in a 12th century castle, offering a unique culinary experience, based on fresh ingredients, clean simple flavors and vibrant colors, to inspire and intrigue the senses. With exquisite cuisine in a casual 'roundtable' ambience, Remisa – La Tavlada appeals to one and all. IGNIV by Andreas Caminada, in Bad Ragaz and Badrutt's Palace, is where haute cuisine meets the delight of sharing and a sophisticated, social experience, for one-of-a-kind fine dining.
About Chef Marcel Skibba 
German-born Marcel Skibba was raised and trained in the German Black Forest. After gaining experience in different Michelin-Star kitchens, he joined Andreas Caminada's team in Switzerland back in 2015. Marcel soon became his sous-chef at the 3-star restaurant Schloss Schauenstein. When Chef Andreas Caminada opened his IGNIV restaurant in St. Moritz' prestigious Badrutt's Palace, Marcel was first choice for the kitchen lead, which proved to be an excellent stroke of genius. Guide Michelin awarded IGNIV its first Michelin Star in October 2017, just 9 months after opening, while Gault Millau awarded a 16-point rating.
Related posts: