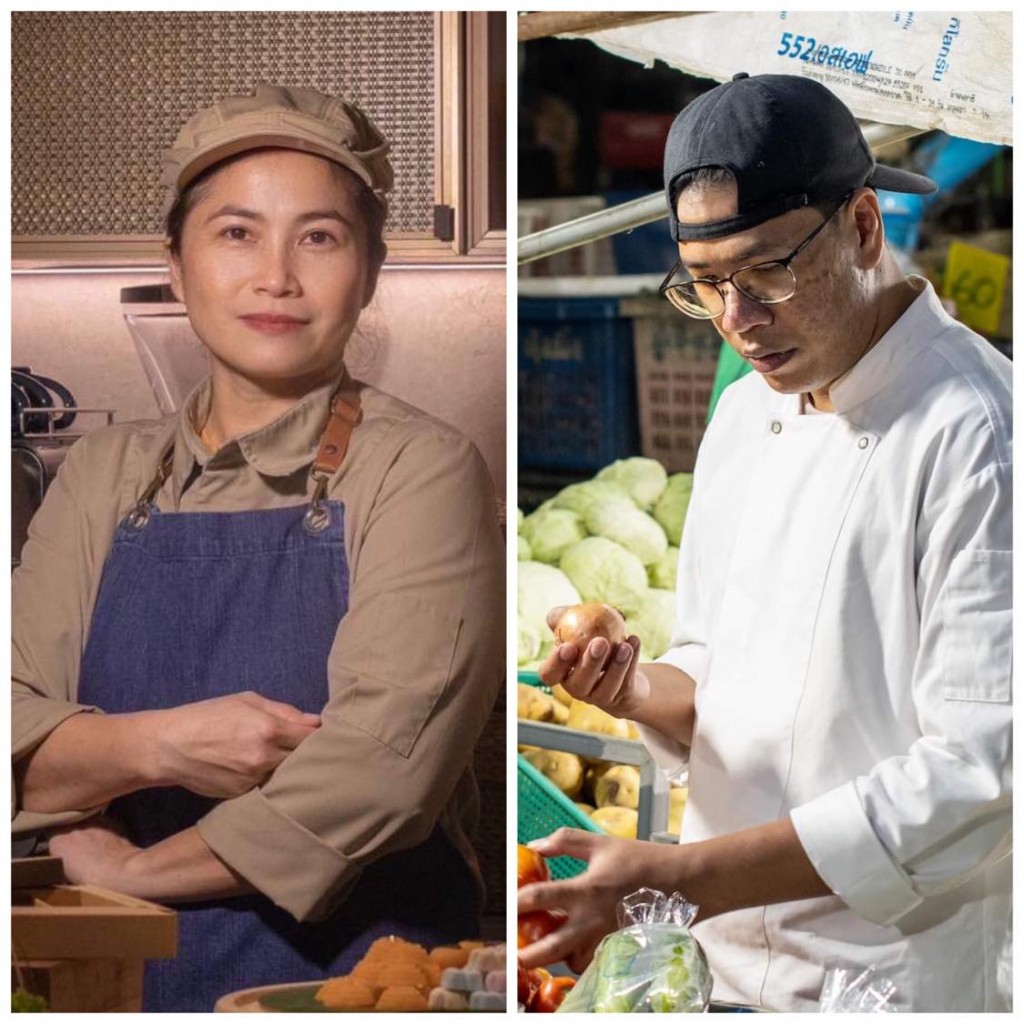 From Lanna to the Andaman
Riverfront Thai Restaurant Phra Nakhon to welcome Chiang Mai's acclaimed Kiti Panit, offering a sumptuous epicurean journey highlighting indigenous Northern and Southern Thai fare 
For three days only on 10-12 March 2023, Capella Bangkok's authentic Thai restaurant Phra Nakhon will set the stage for a show-stopping four-hand culinary collaboration. The urban resort's Thai Chef de Cuisine Kannika Jitsangworn will join forces with Pramkamon "Bas" Suantong, the Executive Chef of Northern Thai restaurant Kiti Panit in Chiang Mai in Four-Hand Local Feast: From Lanna to the Andaman. Both chefs will take diners on a scrumptious expedition through the flavours of Thailand's mountainous north and the oceanic treasures of the country's south.
Drawing on the rich bounty of northern Thailand, chef Bas has been cooking up authentic Lanna cuisine in one of Chiang Mai's most striking heritage mansion since Kiti Panit's opening in 2020. His expertise in the use of the indigenous ingredients pairs harmoniously with the deep culinary prowess of Chef Kannika, who has extensive experience cooking southern Thai specialties and forged strong connections with local fisherfolks who provide fresh and sustainably caught seafood to Capella Bangkok's Thai dining room.
Expect Lanna specialties such as Marinated Grilled Free-Range Chicken with Makwaen (northern Thai wild pepper) and Ab Pla Chon Talay (Marinated Snakehead Fish Wrapped and Cooking in Banana Leaves), served alongside chef Kannika's exquisite creations such as Khao Yum Nuear Puu Maar (Ranong Crab Meat served with Herbs and Sangyod Puffed Rice) and Goong Lai Suer Yang Sauce Yeela (Seared Tiger Prawn from Phang-nga Bay with Yellow Curry Sauce and Rice cooked with Coconut and Shrimp Paste).
"I am excited about this collaboration showcasing the best flavours of Thailand's North and South," says Chef Kannika. "I have always been intrigued and inspired by Chef Bas' passion for sustainably sourced northern ingredients and recognize a devotion that is similar to my championing of locally sourced seafood".
The special Four-Hand Local Feast: From Lanna to the Andaman collaboration will be served for lunch on 10-12 March 2023 and dinner on 10-11 March 2023. The price is at THB 2,900++ per person. Optional wine pairing arrangements can also be on offer.
For reservations, please contact fb.bangkok@capellahotels.com or 02 098 3888 and 065 998 4690.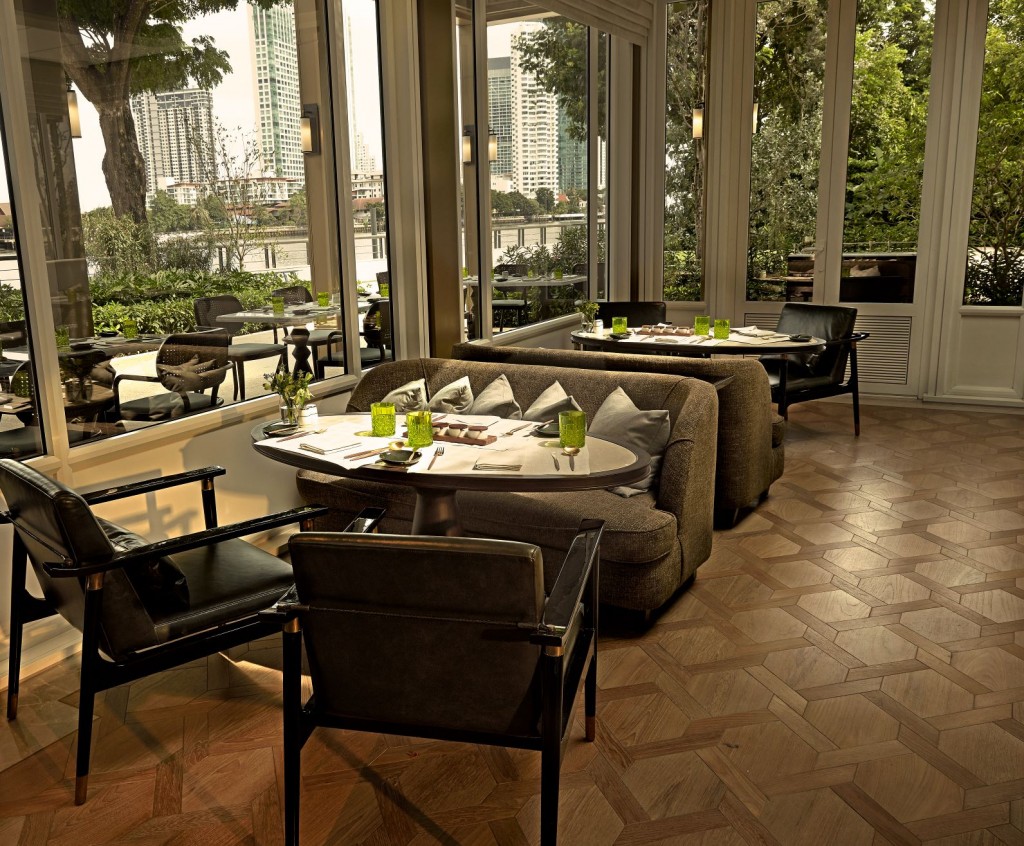 จากล้านนาสู่อันดามัน
ลิ้มรสมื้ออาหารสุดพิเศษผ่านการผสมผสานที่ลงตัวระหว่างอาหารไทย-ล้านนาและปักษ์ใต้ รสมือเชฟ จากร้านอาหารชื่อดัง กิติพานิช จากจังหวัดเชียงใหม่และเชฟกรรณิกา ณ ห้องอาหารไทยริมน้ำ พระนคร 
เพียงสามวันเท่านั้น ที่ท่านจะได้พบกับการจับคู่วัตถุดิบท้องถิ่นจากภาคเหนือของประเทศไทยกับเครื่องเทศรสร้อนแรงและอาหารทะเลสดใหม่จากท้องทะเลภาคใต้ วันที่ 10-12 มีนาคม 2566 ลิ้มลองเมนูพิเศษใน Four-Hand Local Feast: From Lanna to the Andaman นำเสนอโดยเชฟ กรรณิกา จิตรสังวรณ์ หัวหน้าเชฟอาหารไทยจากห้องอาหารพระนคร ร่วมกับ เชฟ เปรมกมล สวนทอง หรือเชฟบัส เอ็กเซ็คคิวทีฟเชฟจากร้าน กิติพานิช ร้านอาหารไทย-ล้านนาชื่อดังของจังหวัดเชียงใหม่ ในมื้ออาหารสุดพิเศษ ที่ห้องอาหารพระนคร โรงแรมคาเพลลา กรุงเทพ
ร้านอาหาร กิติพานิช เป็นร้านอาหารไทย-ล้านนา ในอาคารไม้สักเก่าแก่ บนถนนท่าแพ ใจกลางเมืองเชียงใหม่ที่มักจะมีแขกไม่ว่าจะไทยหรือต่างชาติมาแวะเวียนเพื่อลิ้มรสอาหารไทย-ล้านนารสชาติดั้งเดิม ความสามารถในการเฟ้นหาวัตถุดิบพื้นเมืองของเชฟบัสถือได้ว่าเป็นการผสมผสานที่ลงตัวกับทักษะในการปรุงอาหารไทยชั้นเลิศของเชฟกรรณิกาทีมีความเชี่ยวชาญในการปรุงอาหารท้องถิ่นสูตรปักษ์ใต้ เชฟกรรณิกายังมีความสัมพันธ์ที่แน่นแฟ้นกับชาวประมงท้องถิ่นที่คอยเป็นผู้ช่วยในการเฟ้นหาวัตถุดิบสดใหม่จากการประมงอย่างยั่งยืนมาสู่ห้องอาหารพระนคร โรงแรมคาเพลลา กรุงเทพ
ภายใต้คอนเซปต์ที่ผสมผสานรสชาติอาหารดั้งเดิมแบบไทย-ล้านนาและปักษ์ใต้เข้าไว้ด้วยกัน ท่านจะได้พบกับเมนูอาหารไทย-ล้านนาที่ถูกคัดสรรโดยเชฟบัส อย่างเช่น ไก่ย่างมะแขว่น และแอ๊บปลาช่อนทะเล ที่ถูกเสิร์ฟพร้อมกับเมนูอาหารไทยภาคใต้ที่ถูกปรุงอย่างพิถีพิถันโดยเชฟกรรณิกา อย่างเช่น ข้าวยำเนื้อปูม้าจากจังหวัดระนอง และกุ้งลายเสือจากอ่าวพังงาย่างซอสใบยี่หร่า
"ดิฉันตั้งตารอกับการร่วมมือในครั้งนี้เพื่อการถ่ายทอดรสชาติที่ดีที่สุดจากภูมิปัญญาครัวภาคเหนือและภาคใต้ให้กับทุกท่าน" เชฟกรรณิกากล่าว "ดิฉันชื่นชมและได้รับแรงบันดาลใจจากความตั้งใจในการค้นหาวัตถุดิบท้องถิ่นจากภาคเหนือของเชฟบัสมาตลอด ดิฉันรู้สึกว่าความตั้งใจของเชฟบาสนี้ใกล้เคียงกับความตั้งใจของดิฉันในการที่จะสร้างสรรค์เมนูอาหารจากวัตถุดิบสดใหม่จากทะเลใต้"
มื้ออาหารสุดพิเศษ Four-Hand Local Feast: From Lanna to the Andaman จะถูกเสิร์ฟในมื้ออาหารกลางวันตั้งแต่วันที่ 10 ถึง 12 มีนาคม พ.ศ. 2566 และมื้ออาหารเย็นตั้งแต่วันที่ 10 ถึง 11 มีนาคม พ.ศ. 2566 ราคาท่านละ 2,900++ บาท โดยไวน์แพร์ริ่งสามารถถูกรวมในมื้ออาหารนี้ด้วยได้
สำรองที่นั่งและสอบถามเพิ่มเติมโปรดติดต่อ fb.bangkok@capellahotels.com หรือ  02 098 3888 และ 065 998 4690.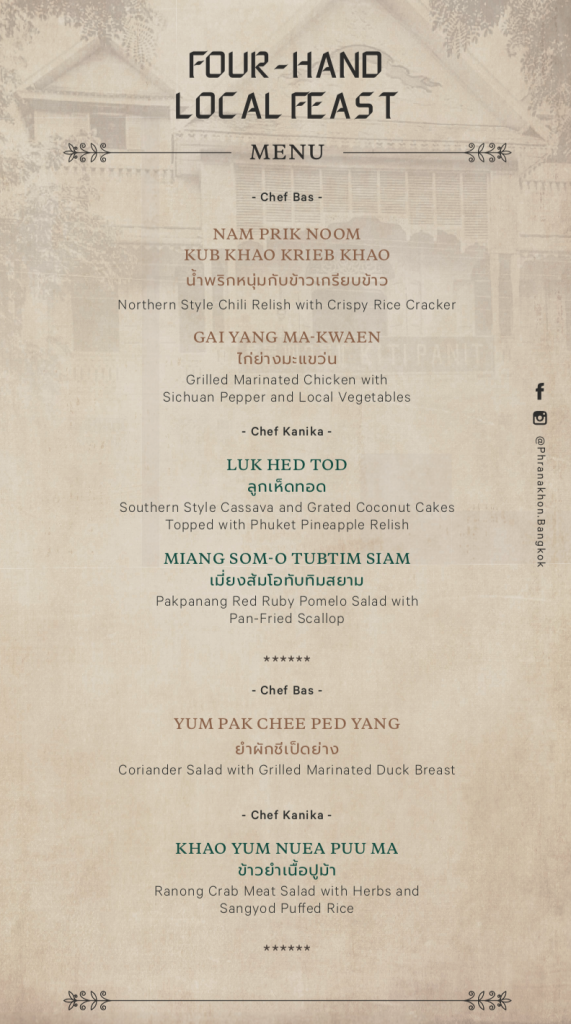 Related posts: