Portuguese Chef Miguel Laffan  of  1-Michelin star L'AND Vineyards  in Alentejo, Portugal,  conducted a cooking demonstration of one of his signature dishes,  "Pork Terrine, Langoustine Tart, Fennel Purée, Carrot Salad with Passion Fruit and Bergamot",  at the 18th World Gourmet Festival, a major gastronomic event in Bangkok, hosted annually by  Anantara Siam Bangkok.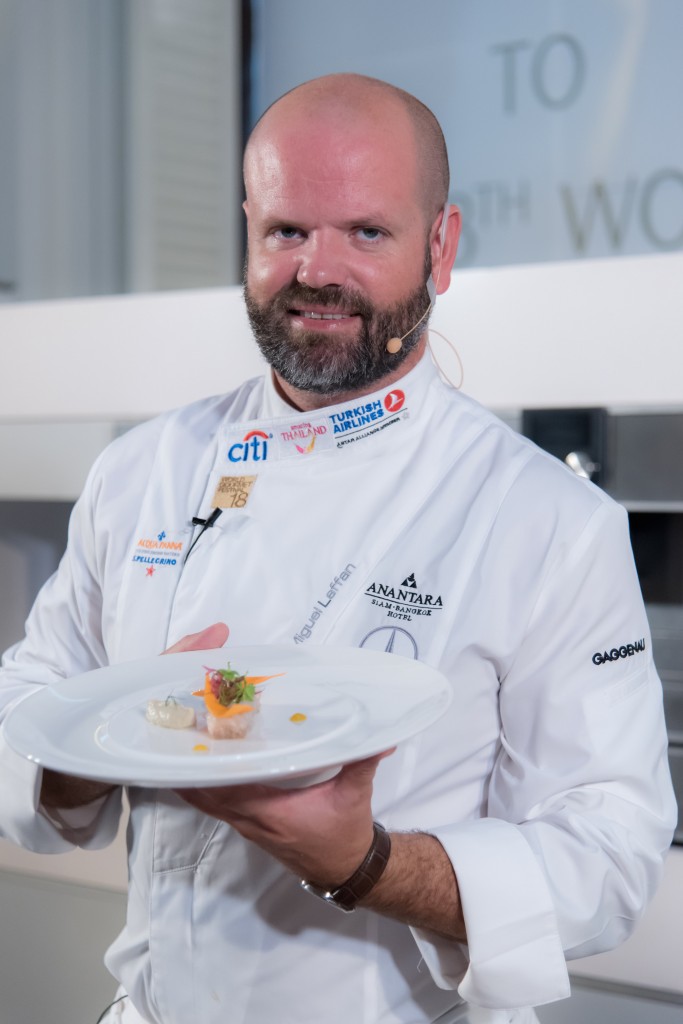 Chef Miguel Laffan
1-Michelin star L'AND Vineyards in Alentejo, Portugal
Portuguese-born Miguel Laffan developed a passion for food from a young age. He took the opportunity to travel abroad to fine-tune his craft, working in Michelin-starred kitchens of Fortaleza do Guincho and Le Clous de la Violette in France, before gaining experience in Brazil and Spain. Subsequently, he led teams in boutique hotels in Funchal and Madeira before finding a kitchen to call home in Alentejo. These international influences enrich his cuisine and have helped him to achieve a Michelin star in L'AND Vineyards luxury resort.
Part of a new wave of chefs leading the way in modern Portuguese gastronomy, Chef Miguel creates imaginative dishes with the freshest ingredients, all available locally. The modern Mediterranean-style restaurant sits in the unspoiled landscape of Alentejo, but the food transports diners to distant landscapes and flavours. Chef Miguel has also participated at international food festivals including Obsession UK, Peixe em Lisboa and Rota das estrelas Portugal.
Related posts: