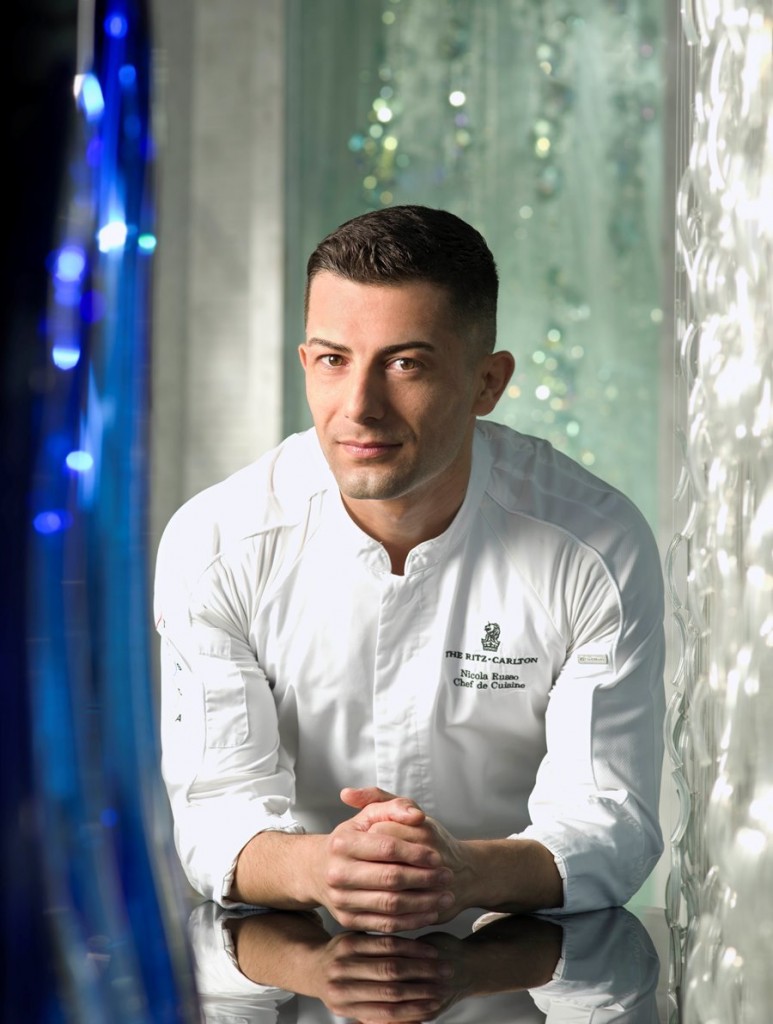 Michelin-Starred  Chef Nicola Russo of  Tosca Restaurant in Hong Kong  Re-Interprets  his  Tuscan  Heritage through  an Innovative Culinary Journey at The St. Regis Bangkok
Exquisite seafood and pasta dishes presented in degustation and a la carte menus at Jojo from the 21st to 24th February 2019.
Chef Nicola Russo of 1-Michelin-starred Tosca restaurant at The Ritz-Carlton Hong Kong presents innovative Italian fine dining at Jojo, drawing inspiration from his Tuscan roots and worldly experience. Exquisite ingredients are showcased in gastronomic lunch and dinner tasting menus, as well as a specially curated selection of a la carte dishes.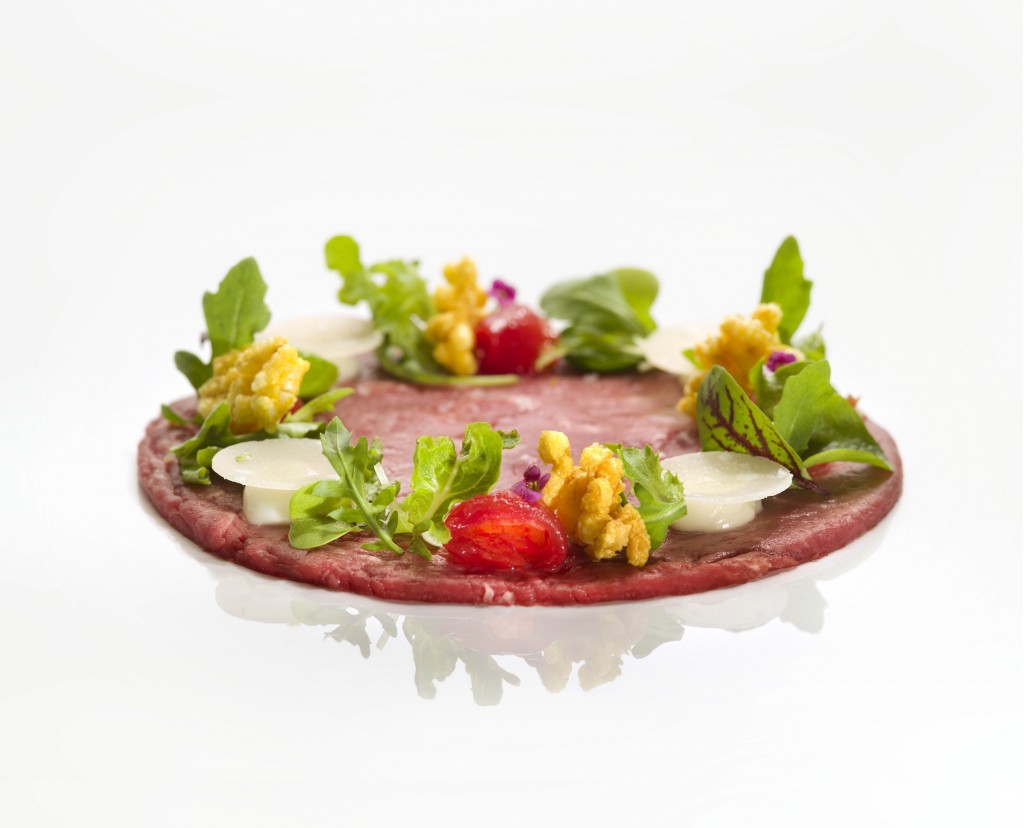 Born in Pisa, Chef Nicola honed his craft in a number of Michelin starred restaurants and luxury hotels around the world before he was handpicked to take the culinary helms at Tosca. Under his stewardship, the Italian fine dining restaurant has maintained its Michelin star rating for two consecutive years, during which time Chef Nicola has also become a figurehead of Italian cuisine in Hong Kong.
At the heart of the culinary experience is the use of quality ingredients, including risotto made with top quality aged Carnaroli rice called Acquerello, and for the main course, choice cuts of Smoked Beef Tenderloin and Mediterranean Seabass.
Chef Nicola's passion for delicate seafood is expressed through the choice of antipasti, including a beautifully presented Sea Cappuccino which captures the flavors of sea urchin and prawns; and Hokkaido Scallops paired with Jerusalem artichokes and winter black truffle.
The chef's Italian heritage shines through in pasta dishes, including a creamy Wild Mushroom Risotto made with 10 different kinds of mushrooms from Italy, France, and Japan; and Agnolotti stuffed with free range chicken and creamy chicken liver parfait.
For dessert, a Ricotta white chocolate indulgence presents strawberries prepared in four different ways and enhanced with a touch of ginger paying homage to the chef's current Asian home.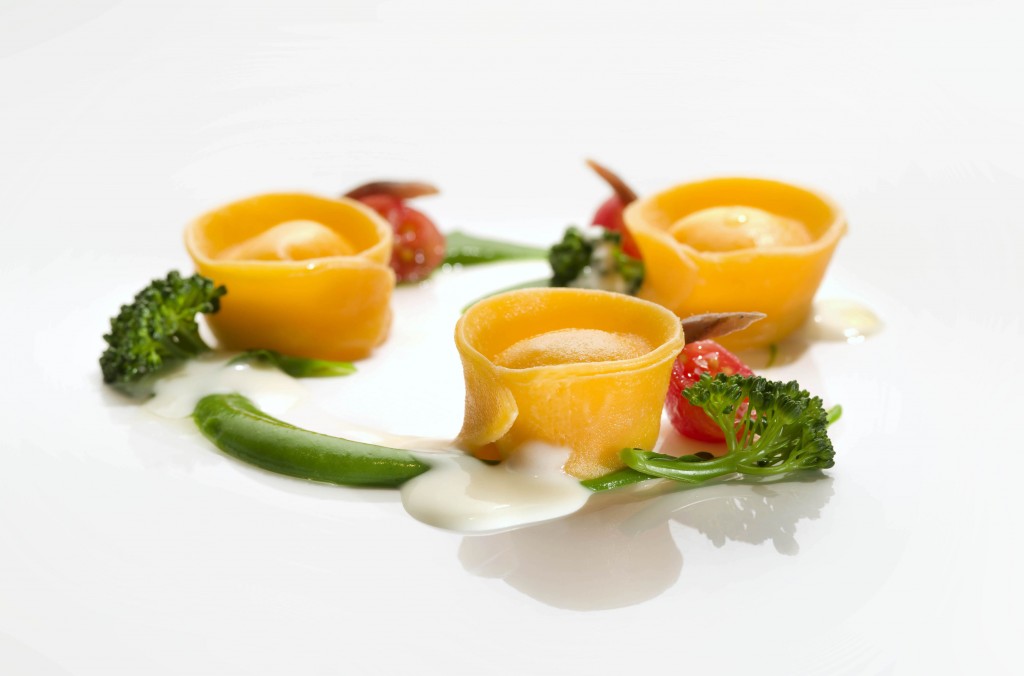 Chef Nicola Russo Menu Options:
4-Course Lunch Menu: THB 2,100++
6-Course Dinner Menu: THB 2,950++
An a la carte menu available during lunch and dinner includes individual dishes from the tasting menus, along with additional options such as the traditional Piedmontese veal starter Vitello Tonnato, Lobster Linguine and Suckling Pig.
For reservations, please call +66 2 207 7777, e-mail fb.bangkok@stregis.com or visit www.stregisbangkok.com. Connect with The St. Regis Bangkok on Facebook, Instagram, and Twitter.
About Chef Nicola Russo
Born in the historical Tuscan city of Pisa, Nicola Russo's culinary career began early on, inspired by his love and respect for the art of cooking. After graduating from the culinary institute IPSCAT G. Matteotti at the age of 18, Nicola sought opportunities to hone his craft and refine his creativity at a number of Michelin starred restaurants and luxury hotels in Europe, Middle East and Asia.
In his last post before moving to Tosca, Nicola took his first Chef de Cuisine role at fine dining restaurant Il Ristorante at Bulgari Resort Bali. In 2017, Chef Nicola moved to Hong Kong to take the reins at Tosca restaurant at The Ritz-Carlton Hong Kong, where he received one Michelin star rating in 2018 and again in 2019.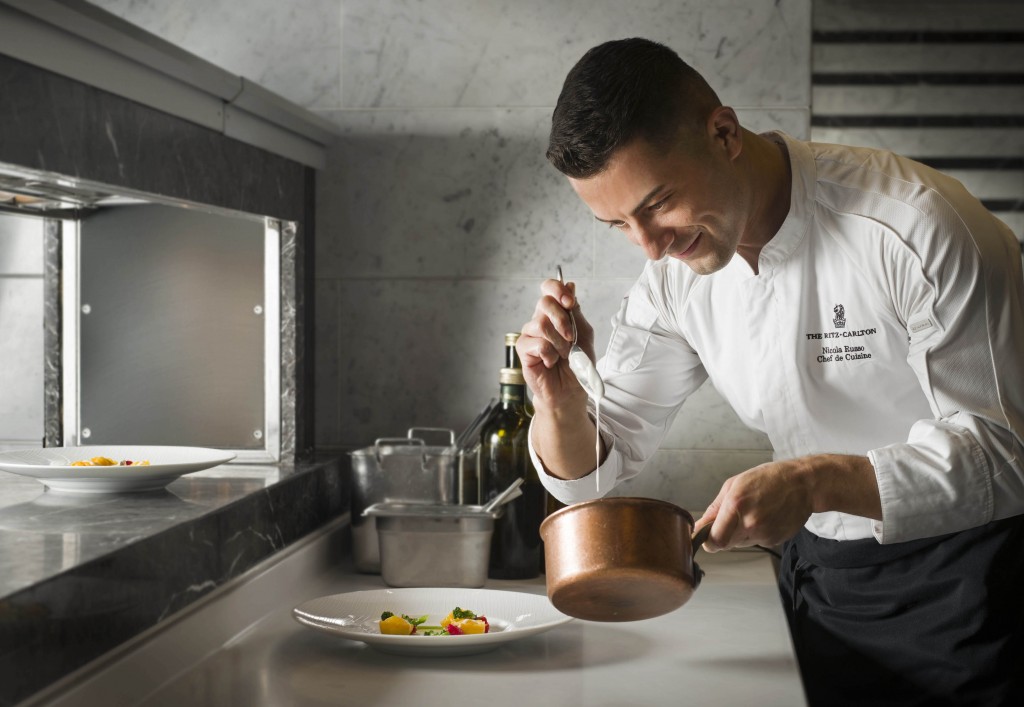 พบกับมิชลินสตาร์เชฟนิโคลา รุสโซ่  มอบความอร่อยให้กับนักชิม โดดเด่นทั้งในเรื่องการรังสรรค์เมนูอาหารทะเลและพาสต้า
นำเสนอเซ็ตเมนูและอาลาคาร์ท มื้อกลางวันและมื้อค่ำ ณ ห้องอาหารโจโจ ตั้งแต่วันที่ 21 ถึง 24 กุมภาพันธ์ 2562
ห้องอาหารโจโจ โรงแรม เดอะ เซนต์ รีจิส กรุงเทพฯ แนะนำเชฟนิโคลา รุสโซ่  จากห้องอาหาร Tosca ระดับมิชลิน 1 ดาวของโรงแรมเดอะ ริตซ์-คาร์ลตัน ฮ่องกง นำเสนออาหารรสเลิศแบบอิตาลีซึ่งได้รับแรงบันดาลใจจากวัฒนธรรมและความงดงามของแคว้นทัสคานี โดดเด่นทั้งในเรื่องของรสชาติและส่วนผสมที่ได้รับการคัดสรรค์อย่างประณีต ซึ่งถูกนำปรุงพร้อมในรูปแบบเช็ตเมนูสำหรับมื้ออาหารกลางวันและมื้อค่ำ รวมถึงเมนูอาหารตามสั่งที่คัดสรรมาเป็นพิเศษ
เชฟนิโคลา เกิดที่เมืองปิซา เป็นที่รู้จักด้วยฝีมืออันยอดเยี่ยม สั่งสมประสบการณ์มากมายในร้านอาหารระดับมิชลิน และโรงแรมหรูทั่วโลกก่อนที่จะถูกคัดเลือกให้เป็นหัวหน้าเชฟ ณ ห้องอาหาร Tosca  ภายใต้การดูแลอันยอดเยี่ยมของเขา   ทำให้ห้องอาหารติดอันดับดาวมิชลินหนึ่งดาวเป็นเวลาสองปีติดต่อกัน  ในระหว่างนั้นเชฟนิโคลาก็ได้สร้างชื่อเสียงโด่งดังด้านอาหารอิตาเลียนในฮ่องกงอย่างต่อเนื่อง
หัวใจสำคัญการปรุงอาหารของเชฟ คือ การเลือกใช้วัตถุดิบและส่วนผสมอย่างประณีตซึ่งต้องมีคุณภาพดีเยี่ยม   นำมารังสรรค์เมนูอาหารอิตาเลียนแนวโมเดิร์น   อาทิ  ริซอตโต้ทำจากข้าวคาร์นาโรลีคุณภาพดีเยี่ยมที่เรียกว่า Acquerello และสำหรับอาหารจานหลัก   เมนูเนื้อสันในรมควัน  หรือเนื้อปลากระพงเมดิเตอร์เนียนให้ลิ้มลอง
ความหลงใหลในอาหารทะเลของเชฟนิโคล่า ถ่ายทอดผ่านเมนูหลากหลาย เริ่มจาก   แอนติพาสตี้   อาทิ   Sea Cappuccino ที่นำเสนออย่างสวยงาม ความสด และรสชาติโดดเด่นของเม่นทะเลและกุ้ง   เมนูหอยเชลล์ฮอกไกโดจับคู่กับอาร์ติโช้คเยรูซาเล็มและแบล็คทรัฟเฟิ้ล
เชฟยังนำเสนอสุนทรียแห่งความงดงามของวัฒนธรรมอาหารอิตาเลี่ยนอย่างต่อเนื่องด้วยเมนูพาสต้า อาทิ Wild Mushroom Risotto หรือริซอตโต้เห็ดป่ารวมถึงสิบชนิดของอิตาลี   ซึ่งแตกต่างจากสูตรของฝรั่งเศสและญี่ปุ่น และน่าจะเป็นจานโปรดของทุกคน ด้วยกลิ่นที่หอมเตะจมูกของเห็ดป่าและเมนูพาสต้าทรงครึ่งวงกลม(Agnolotti) อัดแน่นไปด้วยไก่และพาร์ตับตับไก่ครีม
สำหรับเมนูของหวาน เชฟเอาใจนักชิมด้วยเมนูริคอตต้าชีสช็อคโกแลต มีส่วนผสมของสตรอเบอร์รี่นำเสนอสี่รูปแบบแตกต่างกันและเสริมด้วยขิง เพื่อเพิ่มความโดดเด่นของรสสัมผัส ซึ่งได้รับแรงบันดาลใจจากการทำอาหารเมนูโฮมเมดของเชฟชาวเอเชียในปัจจุบัน
นอกจากนี้เชฟได้เตรียมเมนูอาลาคาร์ทสำหรับมื้อกลางวันและมื้อค่ำรวมถึงอาหารจานเดี่ยวจาก tasting menus ให้ลิ้มลองเพิ่มเติมเช่น Vitello Tonnato คือเนื้อลูกวัวแบบดั้งเดิมของชาว     พีดมอนต์ ลิงกวินีโฮมเมดล๊อบสเตอร์ผัดซอสมะเขือเทศ  และลูกหมูกับแอปเปิ้ลมัสตาร์ด
มื้อกลางวัน และมื้อค่ำ ณ ห้องอาหารโจโจ ตั้งแต่วันที่ 21 ถึง 24 กุมภาพันธ์ 2562
2,100 บาท ++ ต่อท่านสำหรับ 4 คอร์สเมนูมื้อกลางวัน
2,950 บาท ++ ต่อท่านสำหรับ 6 คอร์สเมนูมื้อค่ำ
สอบถามข้อมูลเพิ่มเติมและสำรองที่นั่ง กรุณาติดต่อ โทร 02-207-7777 หรืออีเมล์ fb.bangkok@stregis.com เยี่ยมชมเว็บไซต์ได้ที่ stregisbangkok.com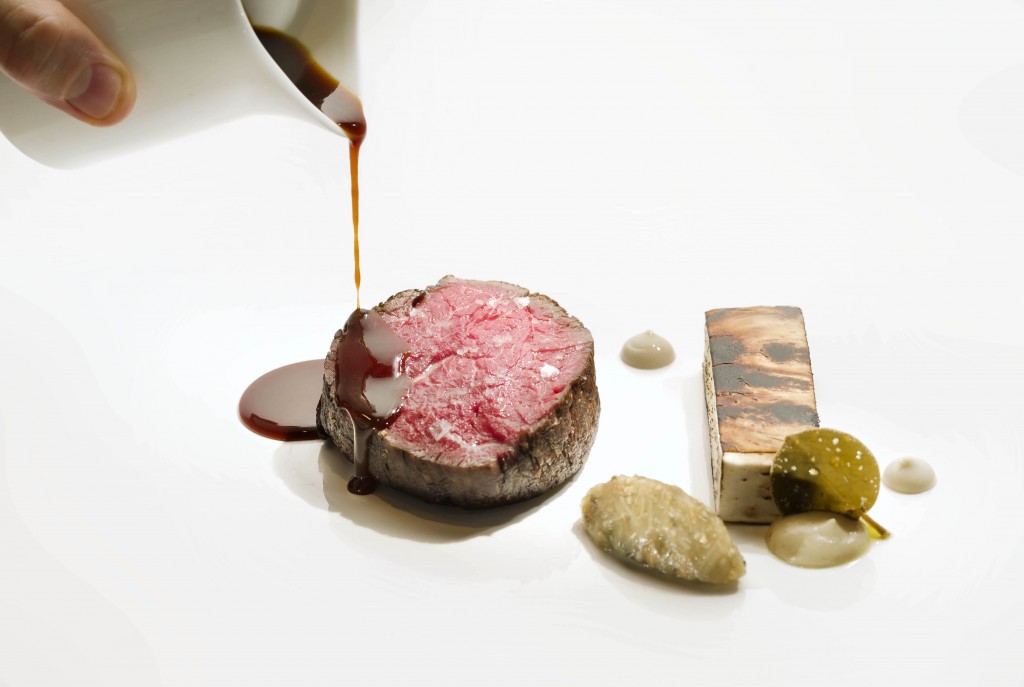 เกี่ยวกับเชฟนิโคลา รุสโซ่  
เชฟนิโคลา เกิดที่เมืองปิซา แคว้นทัสเคนี นิโคลาเริ่มเข้าสู่อาชีพการทำอาหารโดยได้รับแรงบันดาลใจจากความรักและความใส่ใจในศิลปะการปรุงอาหารของเขา หลังจากสำเร็จการศึกษาจากสถาบันการทำอาหาร IPSCAT G. Matteotti เมื่ออายุ 18 ปี เชฟนิโคลา ได้รับโอกาสสำคัญๆในการร่ทำงานเพื่อฝึกฝนฝีมือและพัฒนาความคิดสร้างสรรค์ของเขาที่ห้องอาหารระดับมิชลินและโรงแรมหรูในยุโรปตะวันออกกลางและเอเชียจากหลายๆแห่ง
ก่อนเขาที่จะย้ายไปที่ห้องอาหาร Tosca นิโคลารับบทบาทหัวหน้าพ่อครัวคนแรกที่ห้องอาหาร Il Ristorante ที่ บุลการี รีสอร์ท บาหลี ในปี 2560 จากนั้นเชฟนิโคลาย้ายไปที่ฮ่องกงเพื่อดูแลห้องอาหาร Tosca ที่เดอะ ริตซ์-คาร์ลตัน ฮ่องกงซึ่งเขาได้รับการจัดอันดับดาวมิชลินหนึ่งดาวในปี 2018 และอีกครั้งในปี 2019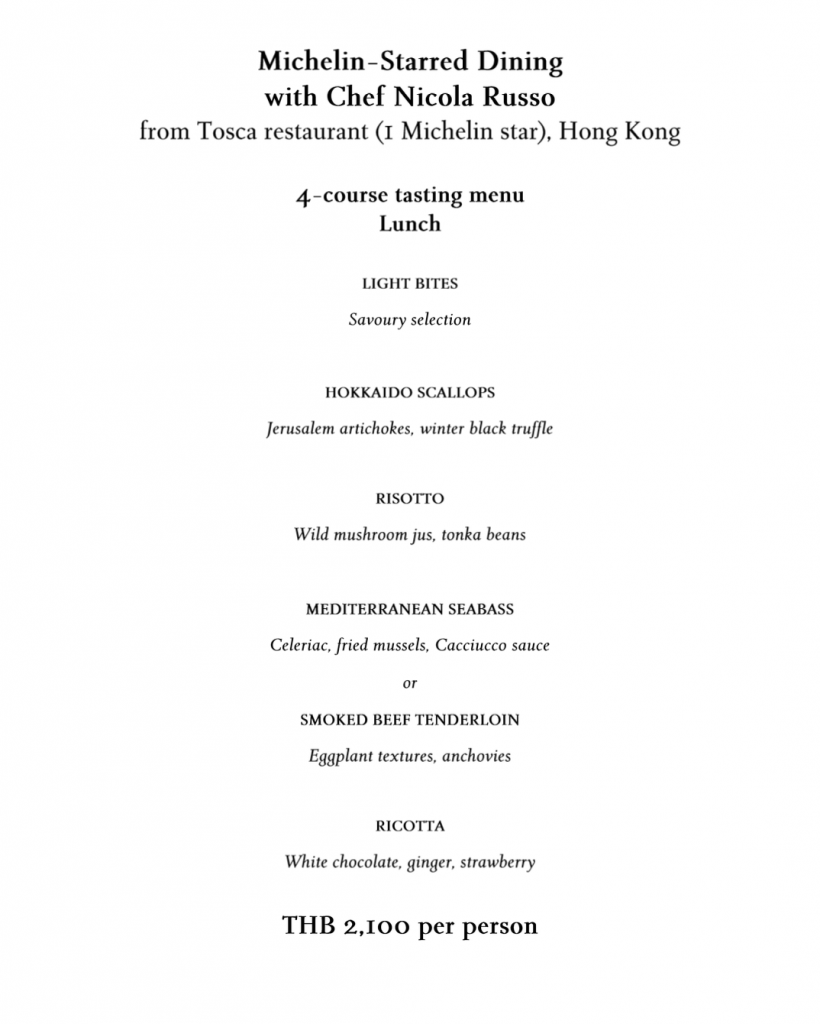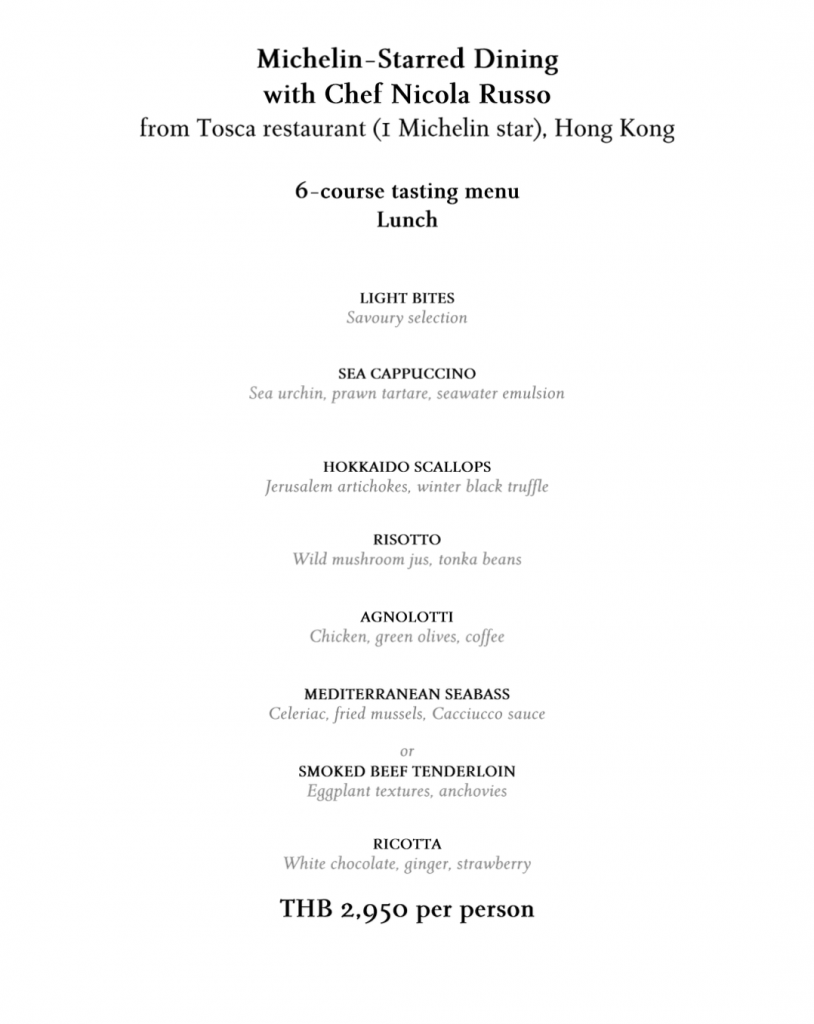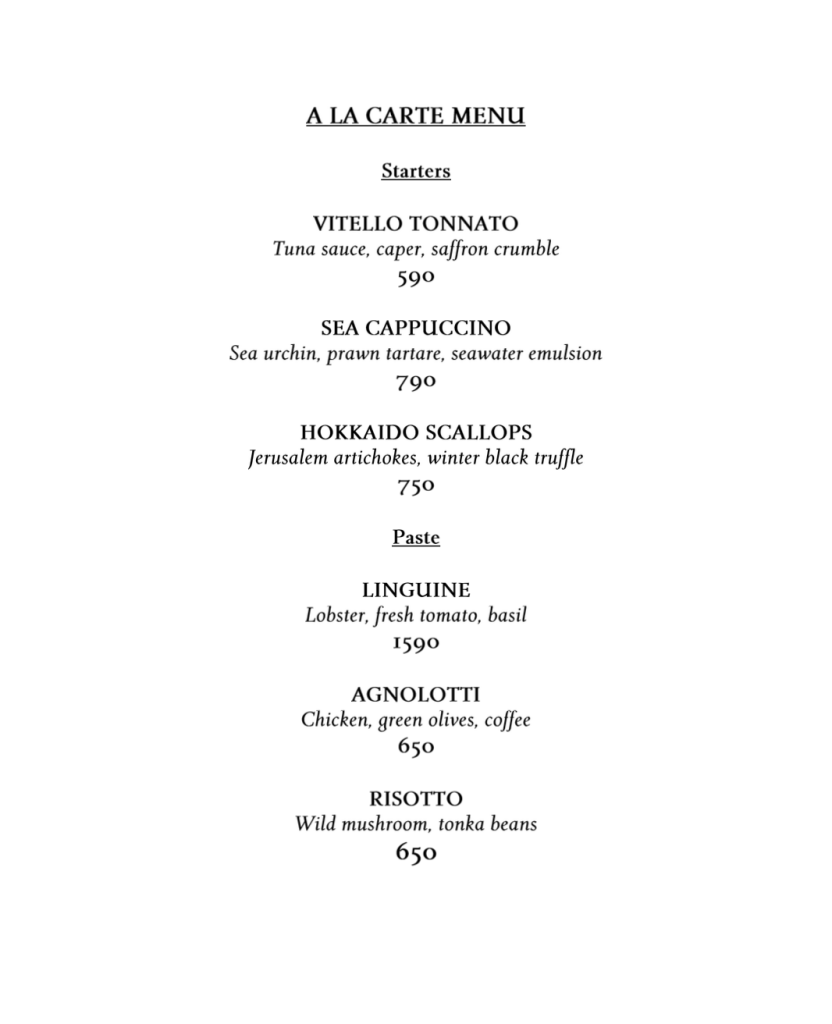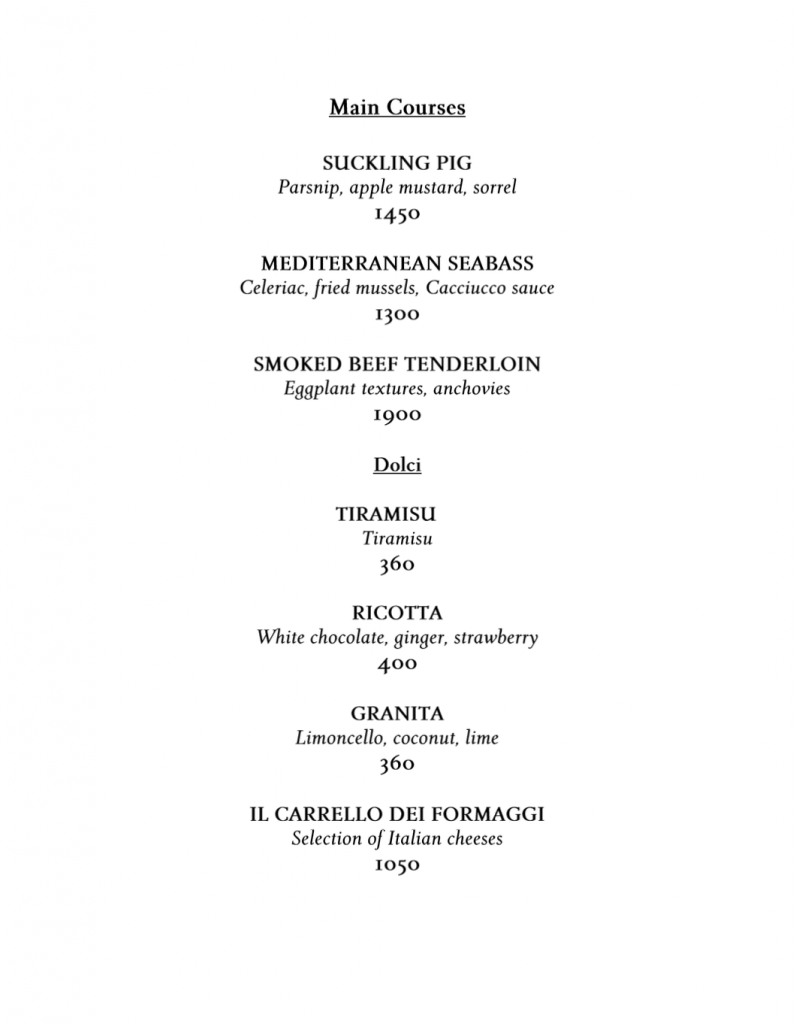 Related posts: