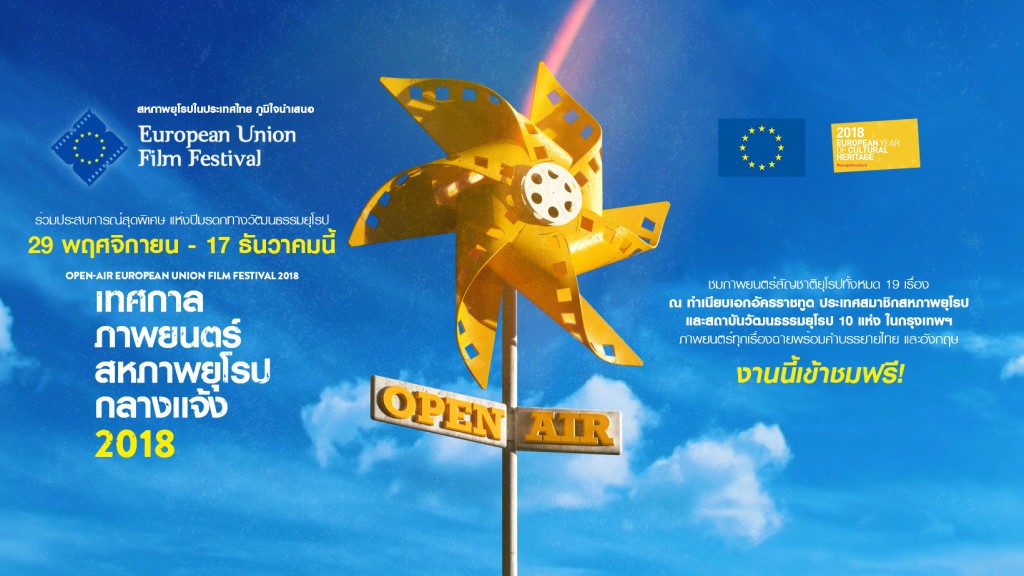 First ever open-air film screening experience at European Union Film Festival 2018
The 27th European Union Film Festival returns to Bangkok this year, presenting an open-air movie screening experience for the first time ever as the European Union celebrates the European Year of Cultural Heritage (EYCH) in 2018.
The festival will feature 19 premium quality and award-winning films from 19 European Union Member States. The 2018 edition will also offer a rare and unique opportunity for all audience as ten Residences of EU Member State Ambassadors and EU cultural institutes in Bangkok will open their doors for the screening of the films.
The festival will officially kick off on 29 November at the House No. 1, a historical house with European heritage located on Captain Bush Lane with the screening of Mademoiselle Paradis, a film from Austria portraying a blind pianist in the 18th-century Vienna who forms an extraordinary relationship with the physician who is trying to restore her sight.
The European Union Film Festival 2018 runs from 29 November to 17 December where 19 premium quality and award-winning films will be screened at ten European heritage venues in Bangkok.
All movies will be shown in soundtrack with Thai and English subtitles. Admission to all film screenings is free. However, pre-registration is required for entry to each film screening. More details can be found via EU Facebook Event Page or contact Khun Wethita Layamanuman at Tel: 02-305 2687. Seats are limited and will be allocated on a first come, first served basis.
# # #
European Union in Thailand
The European Union (EU) is composed of 28 Member State who have decided to gradually link together their know-how, resources and destinies. Over the past 60 years, they have joined forces to build a strong political union of stability, democracy and sustainable development whilst maintaining cultural diversity, tolerance and individual freedoms. At the same time, the EU has developed into a global actor committed to sharing its achievements and values with countries and peoples beyond its borders.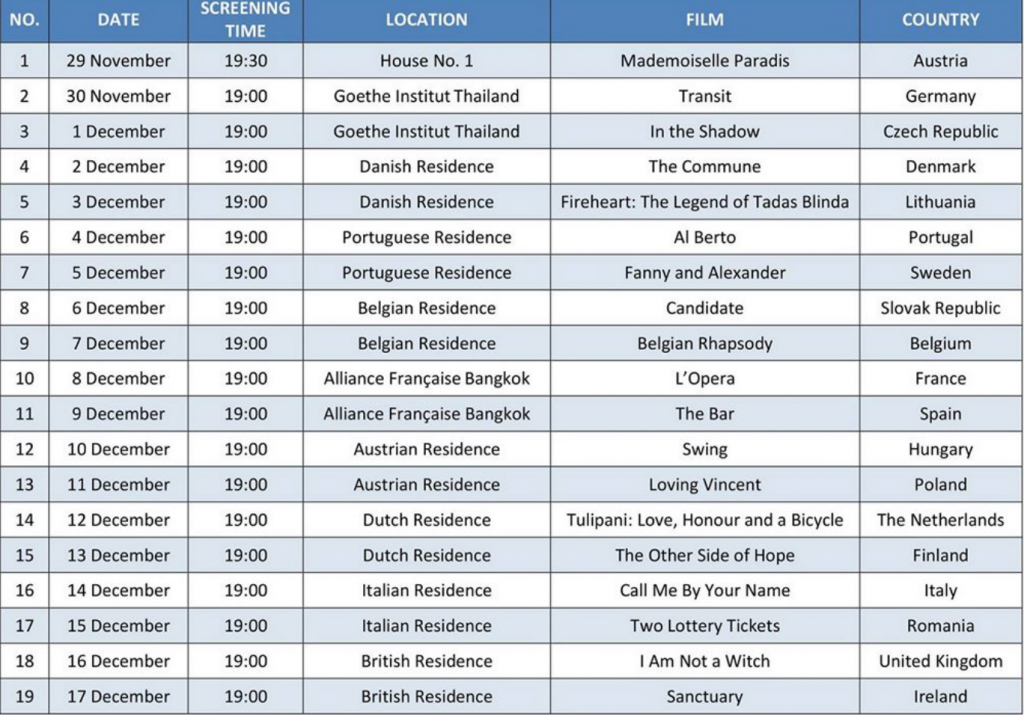 ครั้งแรกกับงานเทศกาลภาพยนตร์สหภาพยุโรป "กลางแจ้ง" ประจำปี 2018 
เทศกาลภาพยนตร์สหภาพยุโรปครั้งที่ 27 กลับมาสู่กรุงเทพฯ อีกครั้ง โดยในปีนี้จะจัดพิเศษกว่าทุกครั้ง ด้วยการฉายภาพยนตร์ในรูปแบบ "กลางแจ้ง" เป็นครั้งแรก ในโอกาสที่สหภาพยุโรปเฉลิมฉลองปีแห่งมรดกทางวัฒนธรรมยุโรป (European Year of Cultural Heritage หรือ EYCH) ประจำปีพ.ศ. 2561
เทศกาลนี้จะฉายภาพยนตร์ยุโรปคุณภาพเยี่ยม และร่วมถึงภาพยนตร์ที่ได้รับรางวัลจำนวน 19 เรื่อง จาก 19 ประเทศสมาชิกสหภาพยุโรป  และยังเป็นโอกาสพิเศษครั้งแรกที่ทุกท่าน จะได้เป็นแขกคนสำคัญของทำเนียบเอกอัครราชทูตประเทศสมาชิกสหภาพยุโรป และ สถาบันทางวัฒนธรรมยุโรป ทั้งหมด 10 แห่งในกรุงเทพฯ ที่จะเปิดบ้าน ชวนชมภาพยนต์กลางแจ้งในสวนกับการต้อนรับอาคันตุกะอย่างอบอุ่น
เทศกาลภาพยนตร์จะเปิดตัวในวันที่ 29 พฤศจิกายน ที่บ้านเลขที่ ๑ ซึ่งเป็นบ้านประวัติศาสตร์ของสายสัมพันธ์ยุโรปในอดีต ซึ่งตั้งอยู่ในซอยกัปตันบุช โดยจะฉายภาพยนตร์เปิดเทศกาลเรื่อง 'Mademoiselle Paradis' ผลงานการกำกับของบาร์บาร่า อัลเบิร์ต ผู้กำกับหญิงรุ่นใหม่ของออสเตรีย เนื้อเรื่องเกี่ยวกับนักเปียโนที่มีความพิการทางสายตา อยู่ในศตวรรษที่ 18 ในเวียนนา กับความสัมพันธ์ที่ไม่ธรรมดากับหมอผู้ที่พยายามจะทำให้เธอกลับมามองเห็นได้อีกครั้ง
เทศกาลภาพยนตร์สหภาพยุโรป "กลางแจ้ง" ประจำปี 2018 จะมีขึ้นระหว่างวันที่ 29 พฤศจิกายนถึง 17 ธันวาคม โดยจะฉายภาพยนตร์คุณภาพเยี่ยม และได้รับรางวัลจำนวน 19 เรื่องใน 10 ทำเนียบเอกอัครราชทูตประเทศสมาชิกสหภาพยุโรป และ สถาบันทางวัฒนธรรมยุโรปในกรุงเทพฯ
ภาพยนตร์ทุกเรื่องเข้าชมฟรีไม่มีค่าใช้จ่าย ฉายพร้อมคำบรรยายไทยและอังกฤษ  กรุณาลงทะเบียนเพื่อสำรองที่นั่งล่วงหน้าก่อนเข้าชม สำหรับข้อมูลเพิ่มเติม กรุณาเยี่ยมชมที่ EU Facebook Event Page หรือ ติดต่อคุณเวทิตา ลยมานุมานโทรศัพท์หมายเลข 02-305 2687 ที่นั่งมีจำนวนจำกัด
# # #
เกี่ยวกับสหภาพยุโรป
สหภาพยุโรป ประกอบไปด้วยประเทศสมาชิกทั้งหมด 28 ประเทศ ซึ่งได้เชื่อมโยงความรู้ ความชำนาญ ทรัพยากรและทิศทางของกลุ่มประเทศสมาชิกร่วมกัน ในช่วงเวลา 60 ปีที่ผ่านมา  ประเทศสมาชิกของสหภาพยุโรปได้ร่วมกันสร้างสหภาพทางการเมืองที่มั่นคง เป็นประชาธิปไตย และส่งเสริมการพัฒนาที่ยั่งยืน ในขณะเดียวกัน ยังคงรักษาความหลากหลายทางวัฒนธรรม การเปิดกว้างทางด้านความคิดและเสรีภาพส่วนบุคคล   นอกจากนี้ สหภาพยุโรปได้พัฒนาขึ้นมาเป็นผู้นำระดับโลกที่มุ่งมั่นในการแบ่งปันความสำเร็จและคุณค่าที่สหภาพยุโรปยึดถือ กับประเทศและประชาชนทั่วโลกอีกด้วย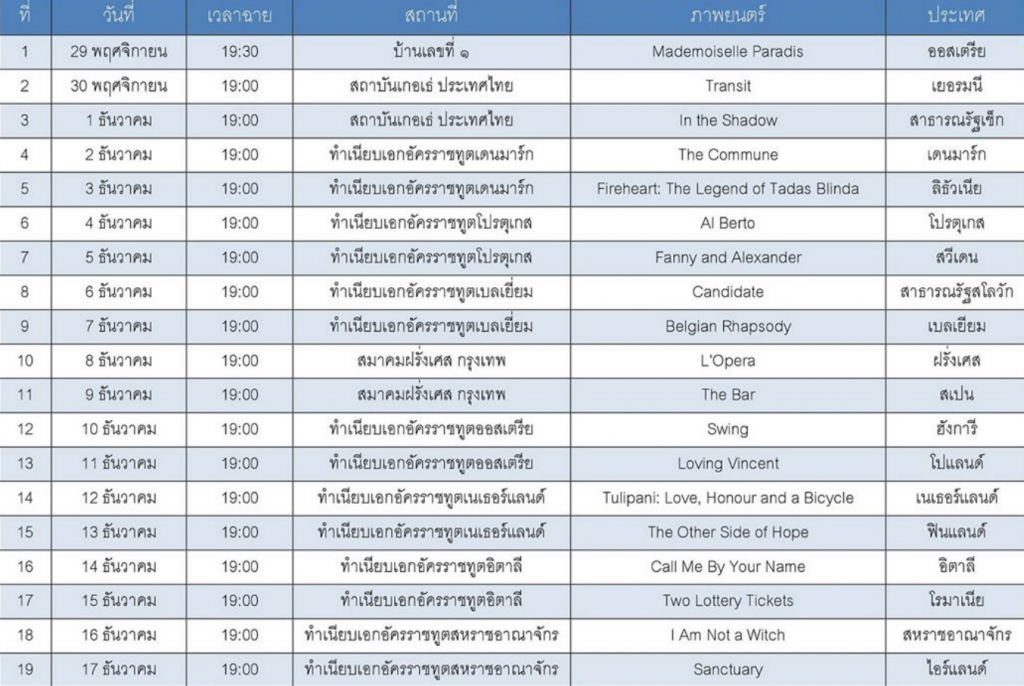 Related posts: