NEXT GENERATION ITALIAN MICHELIN-STAR DINING WITH CHEF MASSIMILIANO MASCIA   AT JOJO, THE ST. REGIS BANGKOK
Chef Massimiliano Mascia of 2-Michelin-Starred San Domenico in Imola, Italy, presents his unique highly contemporary Italian cuisine to guests at Jojo, in The St. Regis Bangkok, from 6th to 11th November 2017.
The St. Regis Bangkok presents the culinary talents of renowned Chef Massimiliano Mascia of the 2-Michelin-Star Ristorante San Domenico, in Imola, Italy, to diners at Jojo Italian Restaurant, in Bangkok.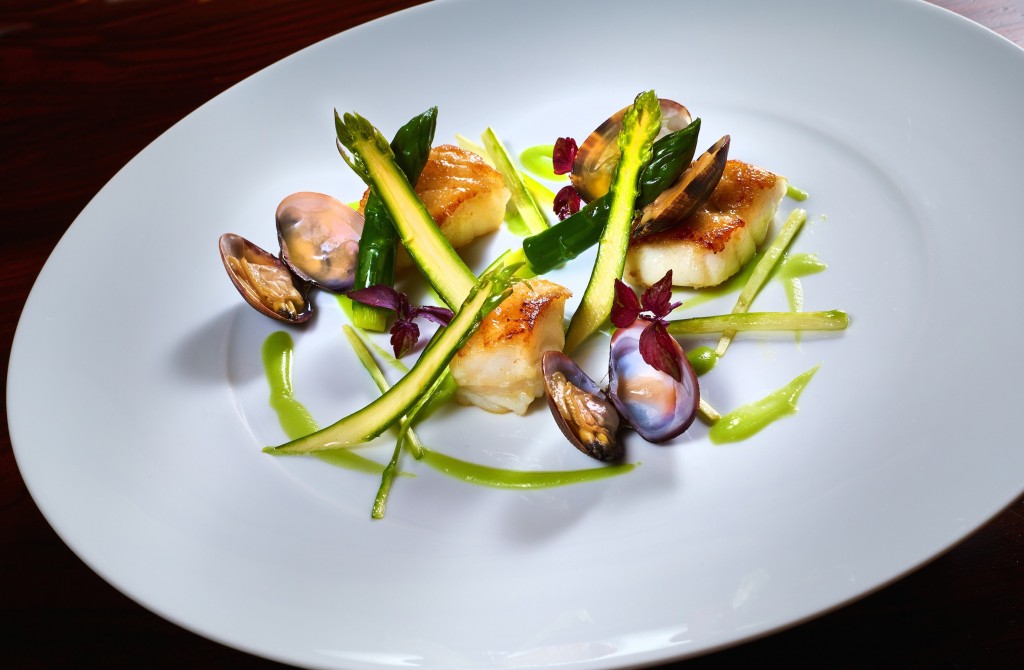 Creating truly next-generation Italian cuisine, with evolved flavours, seasonal ingredients and global influences, Chef Massimiliano is set to delight with two exclusive degustation menus. Serving at lunch and dinner respectively, each menu offers an optional and perfectly matched wine pairing.
"As I see it, respect for ingredients and their seasonal freshness is essential as it lays the foundations for further research and innovation of preparation techniques," notes Chef Massimiliano Mascia
For one week only, guests at The St. Regis Bangkok can enjoy this Michelin-Star experience, from Monday 6th to Saturday 11th November 2017.
Chef Massimiliano Mascia Menu Pricing:
5-Course Lunch Menu: THB 3,800++ (plus THB 2,500++ for wine pairing)
7-Course Dinner Menu: THB 5,800++ (plus THB 3,000++ for wine pairing)
In artistically orchestrated plates, flavours include such temptations as marinated amberjack with yuzu, baby vegetables and a spray of gin and tonic. Scallops all plancha come with a reduction of oysters and dry martini, as well as clams with herbs. The veal sirloin is accompanied by black truffle, and each menu concludes with infused almond cream and rhubarb crisp.
For bookings and further information, guests can call +66-2207-7777, email fb.bangkok@stregis.com or visit www.stregis.com/bangkok.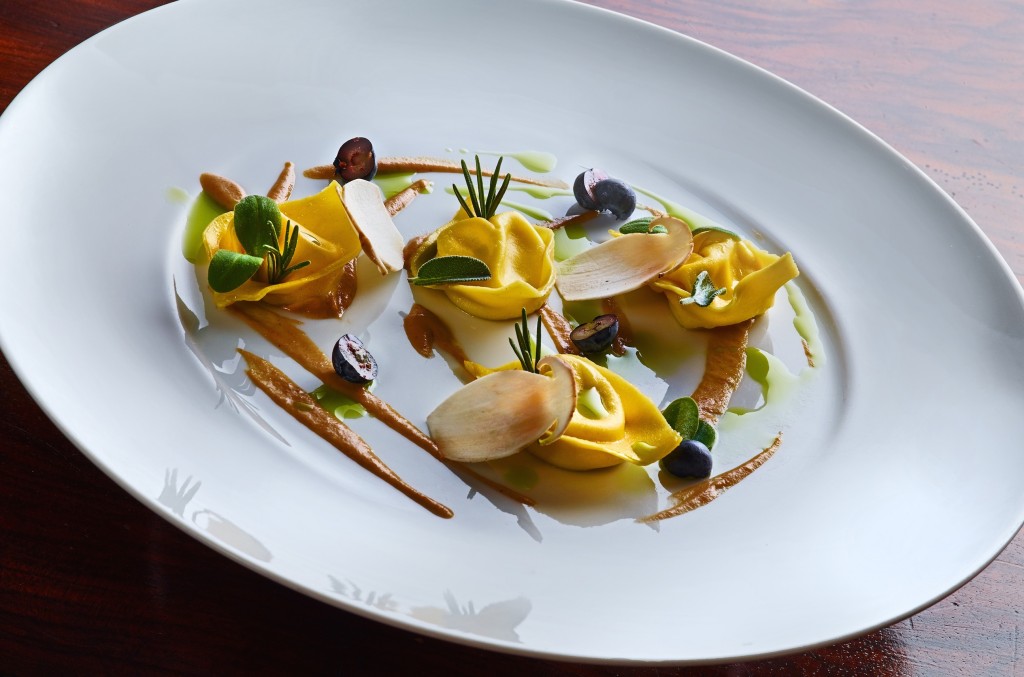 About Chef Massimiliano Mascia
Italian-native Chef Massimiliano Mascia began his career at just 14 years old, alternating hotel studies and kitchen work. Upon completion of school, he commenced a series of travels, to extend and enhance his understanding of raw ingredients, culinary techniques and flavours.
His impressive collection of professional experience has taken him from Italy to the US, to France and back to his homeland. In Italy, he worked his way through the kitchens of Ristorante Vissani and Ristorante Romano di Viareggio, and then in New York, he added the Osteria Fiamma to his resume. Once in France, he first served at the Bastide Saint Antoine, before moving to the multi-starred Alain Ducasse au Plaza Athenée, in Paris.
Today, at 33 years old, Massimiliano works alongside his grandparents Natale and Valentino Marcattilii, in organising and managing the kitchen of the 2-Michelin-Starred San Domenico, in Imola, Italy. Massimiliano is part of a new generation at the San Domenico, creating highly contemporary Italian cuisine, yet he also represents a continuity of innovation and renewal, while retaining the solid roots of Italian gastronomic traditions.
ประสบการณ์อาหารอิตาเลียน ฝีมือมิชลินสตาร์เชฟ มัสสิมิเลียโน มัสสะ     จากห้องอาหารมิชลิน 2 ดาว แห่งเมืองอิโมลา ประเทศอิตาลี
วันที่ 6 ถึง 11 พฤศจิกายน 2560 ณ ห้องอาหารโจโจ เดอะ เซนต์ รีจิส กรุงเทพฯ
โจโจ ณ เดอะ เซนต์ รีจิส กรุงเทพฯ เชิญสัมผัสประสบการณ์แห่งอรรถรสกับเมนูอิตาเลียน  รังสรรค์โดยมิชลินสตาร์เชฟ มัสสิมิเลียโน มัสสะ (Massimiliano Mascia) จาก San Domenico ห้องอาหารระดับมิชลิน 2 ดาว แห่งเมืองอิโมลา ประเทศอิตาลี ในวันที่ 6 ถึง 11 พฤศจิกายน 2560
มัสสิมิเลียโน เชฟผู้ที่หลงใหลในการปรุงอาหารผสานอาหารแบบอิตาเลียนดั้งเดิมกับเทคนิคการทำอาหารแบบสมัยใหม่ (next-generation Italian cuisine)  เป็นที่รู้จักและได้รับการยอมรับในเรื่องความพิถีพิถันในการปรุงอาหารอย่างสร้างสรรค์ เพื่อรสชาติของอิตาเลียนแท้ในทุกๆ เมนู
"ความสดใหม่ของส่วนผสมและวัตถุดิบที่สลับสับเปลี่ยนไปในแต่ละฤดูกาลนับเป็นหัวใจสำคัญต่อการพัฒนาเทคนิคต่างๆรวมถึงนวัตกรรมในการปรุงเพื่อให้อาหารทุกจานสมบูรณ์แบบยิ่งขึ้น" เชฟมัสสิมิเลียโน มัสสะ กล่าว
พบกับเมนูไฮไลต์ อาทิ ปลาสำลีน้ำลึกหมักกับส้มยูซุปรุงรสด้วยละอองของจินและโทนิค (Marinated amberjack with yuzu, baby vegetables and a spray of gin and tonic) หอยเชลล์ย่างกับซอสที่เข้มข้นปรุงจากหอยนางรมและมาร์ตินี่ เสิร์ฟพร้อมหอยตลับกับสมุนไพร (Scallops all plancha come with a reduction of oysters and dry martini, as well as clams with herbs) เนื้อลูกวัวสันนอกเสิร์ฟพร้อมเห็ดทรัฟเฟิลดำ และปิดท้ายมื้ออาหารด้วยครีมอัลมอนด์กับรูห์บาร์บ (infused almond cream and rhubarb crisp) อีกทั้งเมนูอื่นๆให้คุณได้ลิ้มลอง
ลิ้มลองอาหารพิเศษจากมิชลินสตาร์เชฟมัสสิมิเลียโน ทั้งมื้อกลางวันและมื้อค่ำ ณ ห้องอาหารโจโจ ด้วยราคาพิเศษดังนี้
-           3,800 บาท ++ ต่อท่านสำหรับ 5 คอร์สเมนูมื้อกลางวัน
-           6,300 บาท ++ ต่อท่านสำหรับ 5 คอร์สเมนูมื้อกลางวัน เสิร์ฟควบคู่กับไวน์
-           5,800 บาท ++ ต่อท่านสำหรับ 7 คอร์สเมนูมื้อค่ำ
-           8,800 บาท ++ ต่อท่านสำหรับ 7 คอร์สเมนูมื้อค่ำ เสิร์ฟควบคู่กับไวน์
สอบถามข้อมูลเพิ่มเติมและสำรองที่นั่ง กรุณาติดต่อ โทร 02-207-7777 หรืออีเมล์ fb.bangkok@stregis.com เยี่ยมชมเว็บไซต์ได้ที่ stregisbangkok.com
เกี่ยวกับเชฟมัสสิมิเลียโน มัสสะ
เส้นทางสายอาชีพของเชฟหนุ่มชาวอิตาเลียน มัสสิมิเลียโน มัสสะ เริ่มต้นขึ้นด้วยวัยเพียง 14 ปี จากการร่ำเรียนสาขาการโรงแรมควบคู่ไปกับการทำงานครัวที่เขาใฝ่ฝันในร้าน Vissani และ Romano di Viareggio ประเทศอิตาลี หลังจากจบการศึกษามัสสิมิเลียโนออกเดินทางไปยังมหานครนิวยอร์ก ประเทศสหรัฐอเมริกา โดยฝึกฝนและพัฒนาฝีมือในร้านอาหารชื่อดังอย่าง Osteria Fiamma ก่อนย้ายไปยังประเทศฝรั่งเศสเพื่อเพิ่มพูนความรู้ความเข้าใจเกี่ยวกับรสชาติ วัตถุดิบ รวมถึงเทคนิคการปรุงอาหาร ณ ห้องอาหารระดับมิชลินสตาร์ในโรงแรม Bastide Saint Antoine จากนั้นจึงมีโอกาสร่วมงานกับ Alain Ducasse au Plaza Athenée ห้องอาหารที่ได้รับความนิยมมากที่สุดแห่งหนึ่งในกรุงปารีส ซึ่งครอบครองรางวัลมิชลินสตาร์สามดาว และ ร้านอาหารติดอันดับโลก The World's 50 Best Restaurants 2017 อันดับที่ 13
ด้วยประสบการณ์ที่สั่งสมและพรสวรรค์ในการปรุงอาหารอิตาเลียนสไตล์ contemporary อันเป็นการผสานนวัตกรรมสมัยใหม่ที่ใช้ในการปรุง วัตถุดิบที่ปรับเปลี่ยนไปทุกฤดูกาล และเสน่ห์ของรสชาติแบบต้นตำรับเข้าไว้ด้วยกันได้อย่างลงตัว มัสสิมิเลียโน เชฟหนุ่มวัย 33 ปี  สานต่อธุรกิจร้านอาหารครอบครัวเชฟชื่อดังต่อจาก Natale และ Valentino ปลุกปั้นธุรกิจห้องอาหารอิตาเลียนในประเทศบ้านเกิดจนประสบความสำเร็จ ด้วยการคว้ารางวัลรางวัลมิชลิน 2 ดาวในที่สุด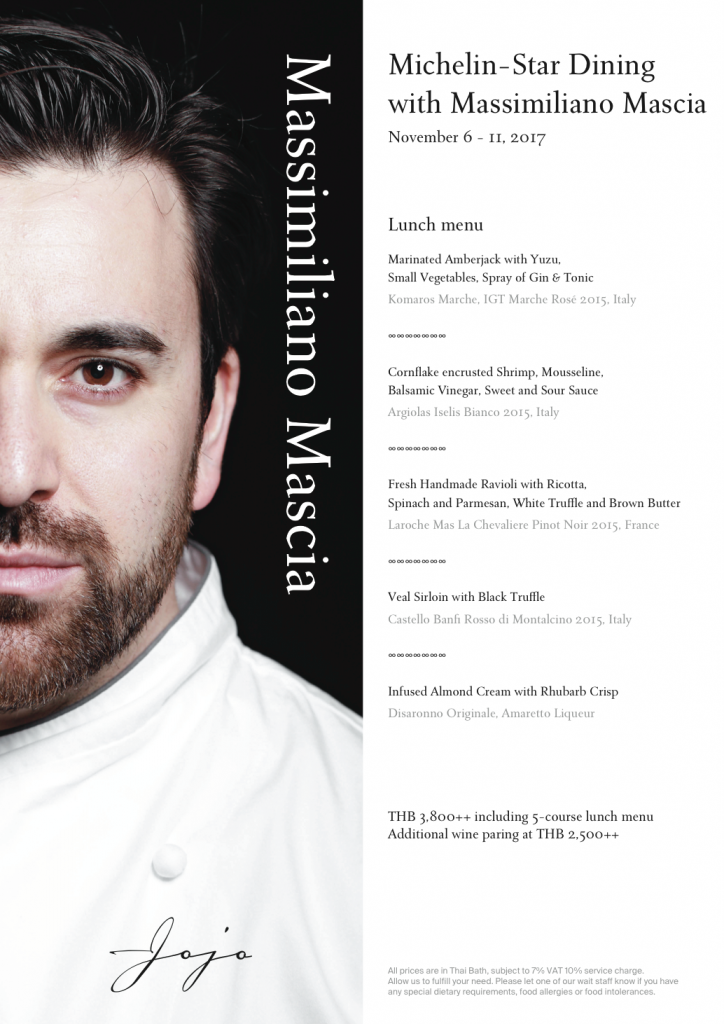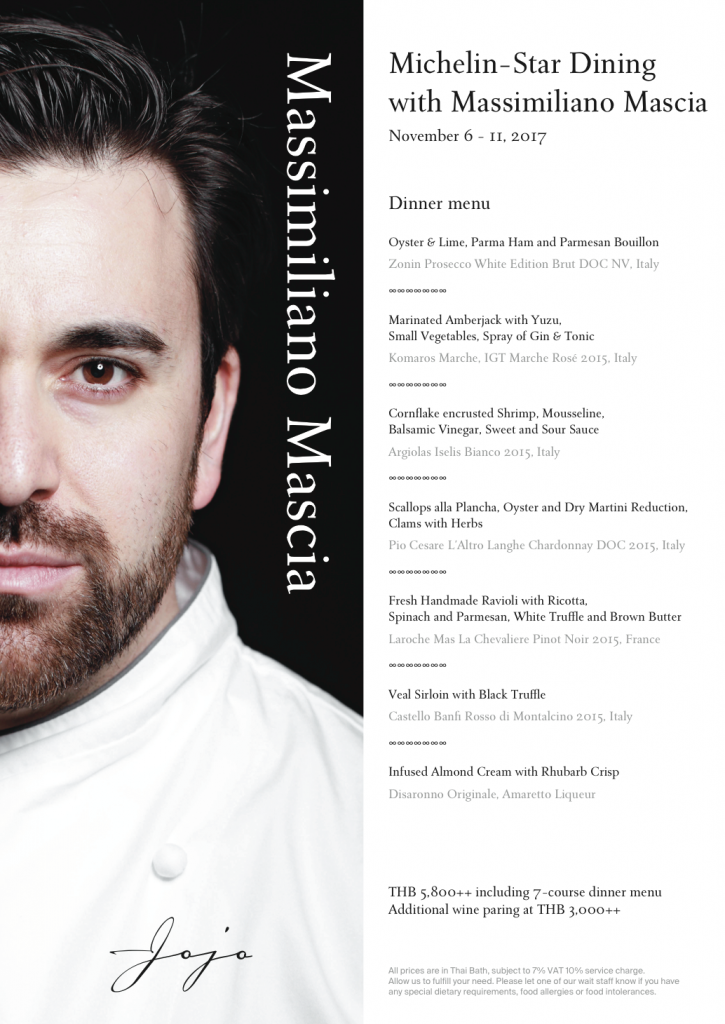 Related posts: