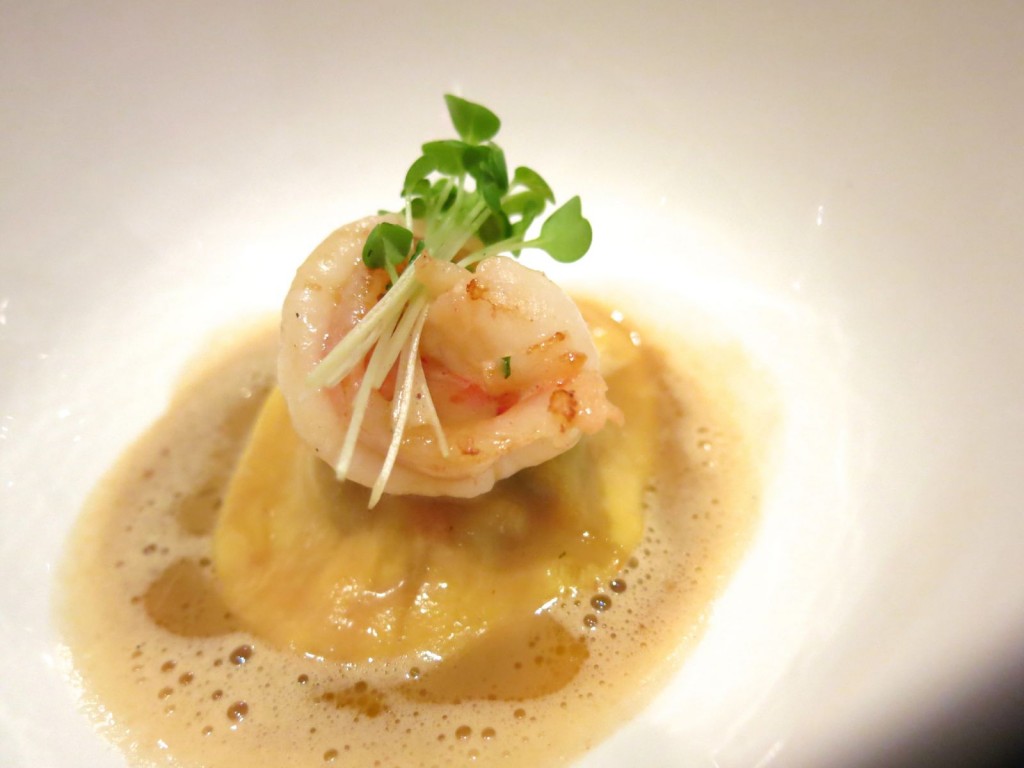 2 Starred Michelin French Chef Bruno Oger presented his recipe of "Raviole de Homard Breton" during his recent visit at The St. Regis Bangkok.
Ravioles de Homard Breton 
Homard  Precuire les homards, décortiquer les queue et les pinces, tailler les queues en troncon. Reserver.
Sauce Homardine  Concasser les têtes, la faire revenir dans une cocotte très chaude jusqu'a coloration avec un filet d'huile d'olive. Flamber au cognac, puis ajouter la carotte et l'oignon coupes en petit des. Deglacer avec vin blanc.  Mouiller avec un litre d'eau et ajouter les tomates et le concentre de tomate ainsi l'estragon.  Cuire 30 minutes, ajouter la creme, cuire 30 minutes, mixer, passer au chinois et faire réduire de moitié.
Pomme    Eplucher, tailler les pommes en palet, creuser. Cuire sous vide avec vinaigre de riz, cardamome noire au four vapeur a 100 C a juste cuisson.  Au moment colorer au beurre clarifie.
Pate a raviole  Dans la cuve du batteur, mélanger tous les ingredient et réaliser la pate a raviole. Realiser un boule, envelopper dans du papier film et reserver 1 heure au frais.
Realiser les ravioles.  Etaler finement 2 bandes de pate a raviole a l'aide d'une machine a pate italienne. Garnir a la 1ere bande avec un troncon de homard, mouiller le bord de la pate avec de l'eau a l'aide d'un pinceau. Couvrir avec la 2eme bande de pates a raviole, souder les bords en pressant fortement, puis détailler les ravioles
Finitions  Cuire les ravioles de homard, disposer sur les palets de pommes, garnir, verser la sauce.
Related posts: